Nepal Address Website, a free digital platform has been launched by EZ Online Solutions Pvt. Ltd. The free website is aimed to provide hassle-free address naming and locating service for Nepal. Google Maps have been the primary choice for locating and navigation in daily life. But finding someone's home address exactly is quite a hassle in Nepal. Hence, Nepal Address is here to solve the problem.
About Nepal Address Website
Subash Devkota, the founder and CEO of EZ Online Solutions, is a returnee from the US to Nepal in order to give something to the country. He resigned from the CXO post of payment giant company, F1Soft and got engaged in building the Nepal Address website. The idea behind this comes from his living tenure in the U.S. where there was a proper address naming system. Each street has a different name and every house has its own number, making it super easy to find the address.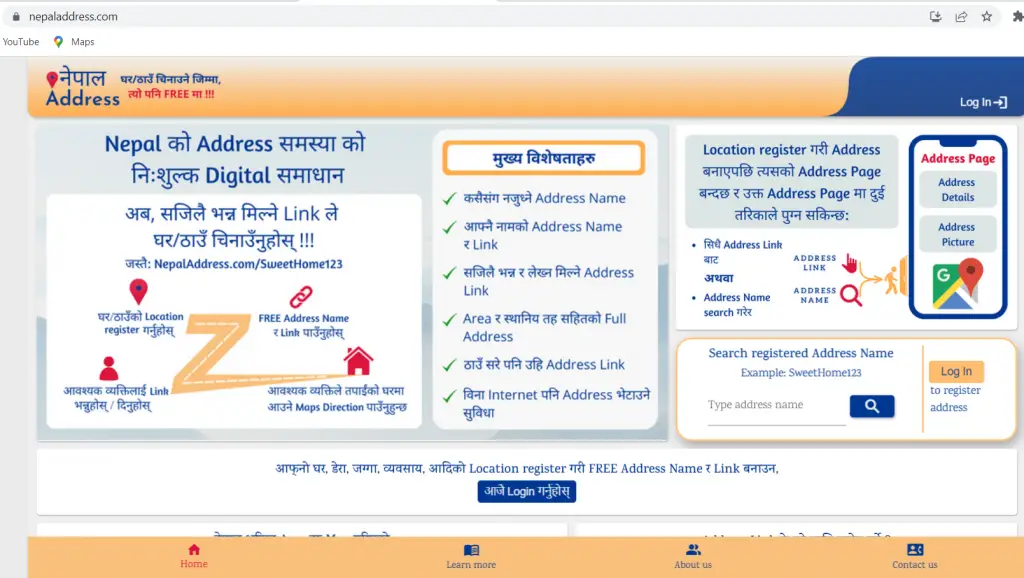 Mr. Devkota believes that this website will benefit both general people and business organizations to reach the exact location of a person's home. Nepal Address has completed mapping all 77 districts, 753 municipalities, and more than 5000 areas as per the CEO. The website is based on Google Maps for tracking and locating the address.
Also Read:-NIC ASIA Mobile Banking App Update, Tons of New Features!
How To Register on Nepal Address Website
Head Towards https://nepaladdress.com or download it via the chrome browser's customize button and press on 'Install App Option'.
Sign Up for an Account by inputting your name, email, address, etc
Click on Send Verification to email
Refresh the link after verification and Head towards adding a primary address, accept the terms and conditions, and grant permission to access your location.
Confirm your location, select your area, then name your address, in that order. On the website itself, a demonstration of the procedure will be provided.
After the completion, Nepal Address will provide you an email with your address link which you can share with your desired people.
Note:- Despite the website using google maps, searching the address will only work through Nepal Address website. It will show address information, address picture, map, and direction of the place.
For maps and navigation, almost everybody uses Google Maps. Its massive database has all famous landmarks, buildings, offices, streets, and whatnot. But in the context of Nepal, searching for a house of someone isn't that easy on the maps. Hence, Nepal Address comes into play where you can set your address and share it only with the ones whom you wish to. It assists a lot with online shopping and delivery precisely.
Users and organizations can use the service for free. While the platform is planned to integrate the API of the mapping systems in different B2C and B2B models. However, the API integration fee is kept minimum as per the CEO.
Have a Read:-CAAN Directs Heli Companies To Night Park Out of KTM!
So, what do you think about this new startup? Are you willing to give it a try? Do write us about what you feel, and think in the comment section below.