Nabil Bank Wins National HR Excellence Award 2022
Award conferred for the bank's way of mobilization manpower
Award for the bank's working culture and the employees' satisfaction with the bank
Nabil Bank has won the National HR Excellence Award 2022. The bank has been conferred the accolade by Growth Sellers for its remarkable work in human resource management. The company works as a consultancy service provider for HR management.
The bank received the award under HR Meet 2022, an annual event that concerns human resource development.
As per Growth Sellers, Nabil Bank qualified for the award for its excellent mobilization of human resources which has helped it achieve a satisfying working environment. Employees' perception of the bank was also the key measure to honor the bank with this recognition.
Also read: Withdraw Cash Without An ATM Card | NIC Asia Starts Service
Nabil Bank Wins National HR Excellence Award 2022
Upon earning the recognition, Nabil thanked Growth Sellers, the company behind the award. It said, "Human Resource is one of the core pillars that has strengthened Nabil Bank and is the biggest driving wheel behind many success stories. The bank has continuously invested in the development and growth of its team members who in turn are highly motivated in providing the best customer experiences that have become a synonym to Nabil and a road map for others to follow. Nabil bank is truly privileged to be awarded the 'National HR Excellence Award 2022' which is a true testament to our commitment."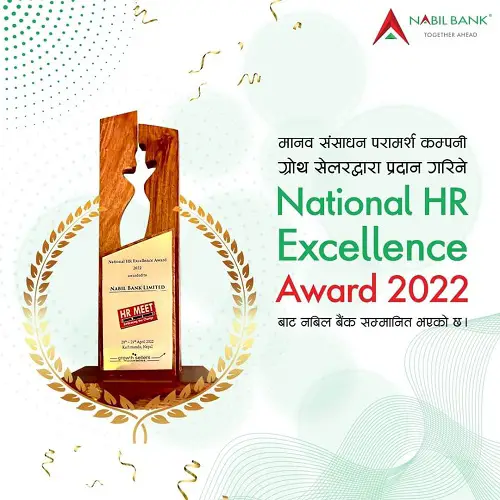 To receive the award, high-ranking figures of the bank were present at the ceremony. This included CEO Anil Keshary Shah, Deputy CEO Binay Kumar Regmi, Chief HR Officer Roshan Koirala, etc. who jointly received the honor for the affluent bank.
As for the selection of the winner, the company had formed a selection committee under the coordination of Professor Dr. Subash KC. The committee identified Nabil Bank for the prestigious HR award.
The committee assessed and found that the bank's working culture, incentives, and staff satisfaction with the bank's management stand out. Besides, Nabil Bank maintained an effective working environment by complying with health measures during Covid-19. It was another key highlight for the bank to receive the award.
Nabil Bank is the first private commercial bank in Nepal launched in 1984. It is one of the banks that has worked at digitalizing its services in Nepal.
The bank is serving across Nepal with 148 branches, 188 ATMs, and over 1,500 Nabil Remit Agents across Nepal.
Why do you think Nabil Bank stands out among the rest? Do share in the comments below.