The cinema hall jointly owned by Deepak Raj Giri and Deepa Shree Niraula named iNi Cinemas has come into operation from Bhadra 29, 2080 BS. Located in Naya Baneshwor, the film hall started screening with Nango Gaun and Ek Bhagavad ra Ek Gita.
Chairman of the Federation of Nepalese Chambers of Commerce and Industry, Chandra Dhakal, and the legendary actor/comedian Hari Bansha Acharya jointly inaugurated the much-hyped movie theatre.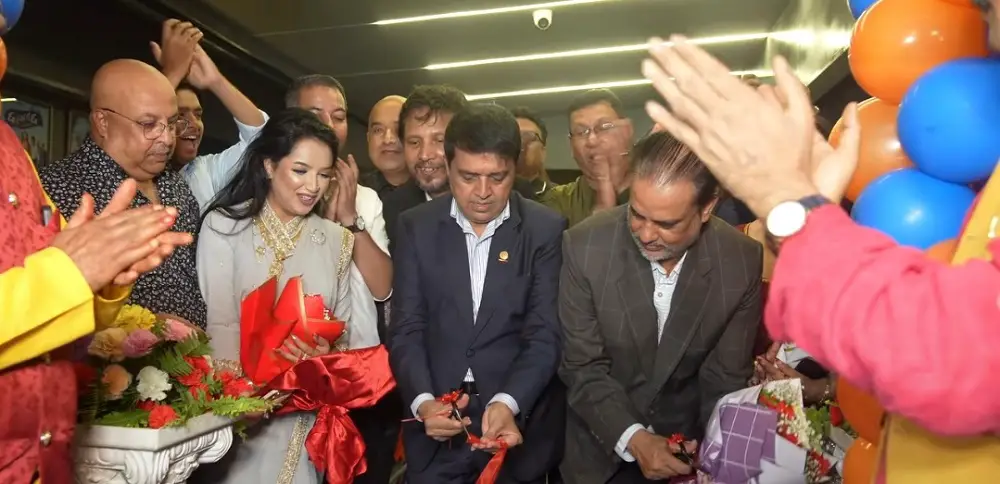 The hall has investments from Deepak Raj Giri, Deepa Shree Niraula, Nirmal Sharma, and other actors.
deepak-deepa owned iNi cinemas is located at the 4th floor, NB Center at New Baneshwor
Comedy legend Giri shared that the film hall iNi Cinemas opened to Nepali movies Nango Gau, and Ek Bhagavad ra Ek Gita. Along with these, the Hindi movie Jawan and Hollywood flick Nun 2 are also being screened. The film hall was decorated with lights before its opening.
The iNi Cinemas is being managed by Nepal's second-largest multiplex chain iNi Cinemas.
Also read: Film Halls Can Open at Midnight Too, FDB Has Decided 
Deepak-Deepa-owned iNi Cinemas comes into operation
The film hall features two screens with advanced sound and visual systems and can accommodate 387 audiences (210 and 177 seats in the two theatres). It took around 5 years to bring the hall into operation.
The movie theatre is equipped with the next-generation GDC Theatre Management System (TMS) and has DTS X for sound which offers an elevated surround sound experience.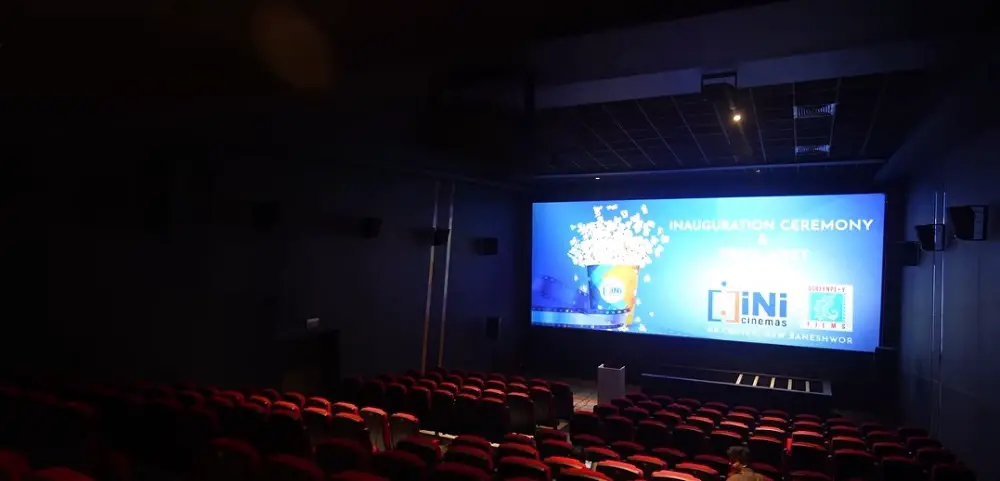 Giri said that Nepali movies will be given priority at the theatre which should be a good thing considering how few shows many Nepali films get as they compete with the Bollywood and Hollywood movies.
On the inauguration day, Deepak-Deepa-owned iNi Cinemas screened their own-acted movie Chhakka Panja 4.
Check out: Box Office System Implemented, Data Will Be Released Monthly
50% share to Nepali films
The actor-turned-film hall-owner Giri said that his film hall will provide 50% share to Nepali movies. Currently, cinemas offer 50% in the first week, 45% in the second week, and 40% and 35% in the subsequent weeks. The iNi Cinemas will be generous and offer half the shares to Kollywood movies.
The hall has been constructed at a budget of Rs 10 crores.