Nepali Electricity Authority (NEA) has been operating its NEA App to allow people to pay their electricity bills online, meter readings, and find information about charging stations, among others. The official app upgraded version of the previous app.
The app serves as an additional option for NEA customers to pay their bills online. Besides, the app will be valuable for a number of other services relating to electricity services.
You need to log in to the app and use its services while without an account you can still use limited services such as finding the location of charging stations.
Also read: NEA Launches NEA Charge App for Charging Station | Features
NEA Official App Features
NEA Official mobile app has many useful features such as allowing you to:
Check your electricity bill
Check the feeder status
Find Distribution Center contacts from across Nepal
Check power use rates of single-phase and three-phase connections
Find out charging stations for electric vehicles.
Latest news and information about NEA including vacancies, notices, etc.
Now you will gain full access to all the services you see on the home page including bill checking, feeder status, my meter, etc.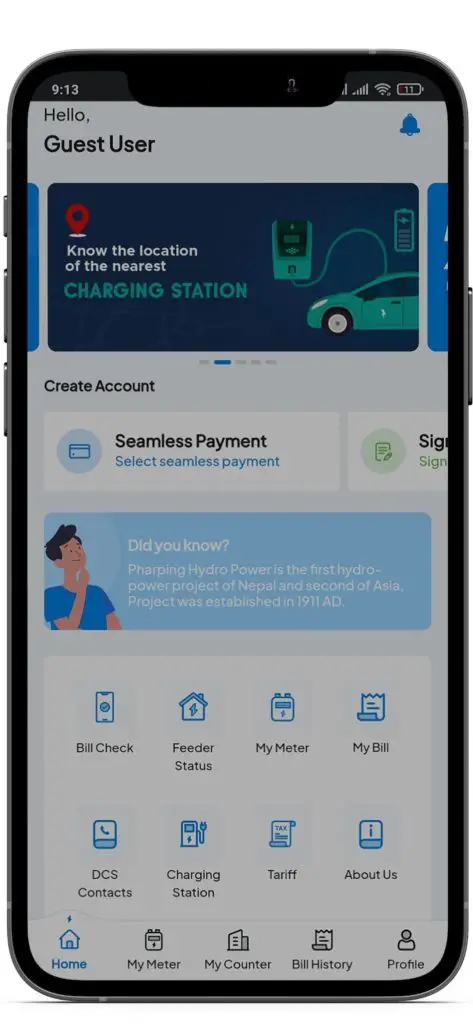 How to pay the electricity bills using the NEA app?
Download and launch the NEA mobile app.
Tap on Sing Up to create an account or log in if you already have an account.
Enter your number and enter the OTP you receive on the same number and verify.
Enter your password. Your password is required to be over 8 separate characters.
If your password is accepted, your NEA app account is created.
Now, you need to sign in with your number and password to use NEA services.
On the NEA app, tap on Add Your Meter on the home page.
Select your DCS counter.
Enter the SC and customer ID number and tap on Continue. If you don't know, you can find out SC and customer ID on your physical electricity bill as well.
Now you can see customer details which include the meter owner's name, DCS, SC number, and customer ID.
Go to Add address and submit your province where the meter is installed, local government, ward no, local name, street name, and the house number and submit. Now your NEA app account is set up. To pay the bill now, return to the app's home page.
Add DCS contact. Tap on Add Coutner and enter the required details and come back to the home page again.
Now update your Address Information.
You will now see the bill amount on your home page. You can also see a discount or fine if applicable.
You also go to Bill Check which will Generate your digital bill from the meter you created the account.
Tap on Pay Bill and Proceed to Pay to make payment for your electricity bill. You can use eSewa, Khalti, mobile banking apps, or other mobile payment vendors.
The app also provides related information and news about NEA from its home page.
If you want to avoid unauthorized access to the app, you can implement a biometric setup. You can also place your photo and email by tapping on Edit profile.
The app also lets you find the location of EV charging stations. Likewise, you can tap on Charging Stations and find them. You can also check out charging tariffs on the app.
Don't miss: NEA Building 50 Electric Charging Stations in Nepal, for EVs
NEA mobile app is one of the key government services rendered online. E-Governance is one of the pillars of the Digital Nepal Framework and online services greatly help people efficiently fulfill their government payments on the go. We expect the app to be more intuitive and effective in the days to come.
Download the NEA Official app: Android | iOS
For more on the NEA app and its features, do let us know your queries in the comments below.