In this post, we will jot down the steps to download SEE exam registration form online for 2081. This form is issued to class 9 students all over Nepal. Keep reading to learn about it in detail.
National Examination Board issued a notice on Friday, November 10, 2023, informing that it opened registration for the Secondary Education Examination (SEE) for 2081. As per the rule, students studying in class 9 must mandatorily have their names registered in NEB for the upcoming SEE exam in 2081.
So, this notice is for students currently studying in class 9 who will appear in the SEE exam next year in 2081. Eligible students may fill out the form and submit it from Kartik 24 to Mangsir 30 for Rs 300 only. Afterward, students can submit the form from Poush 01 to Poush 15 after paying Rs 600 in fines.
Things to remember: If you are in class nine, this form issued by NEB must be filled out to be eligible for SEE 2081. Also, a form shall only be processed from one school. In case, a form is filled on under the same student from two different schools, such forms will be rejected. Schools issue the form to students, have them filled out and then the documents are sent to the concerned bodies for further processing. SEE is a federally operated examination of Nepal.
Also read: Nepali Students to Get NOC Letter Online | Apply And Obtain
How to download SEE exam registration form online?
To download SEE exam registration form online, find the steps below:
Visit this link where you can see the form directly.
Tap or click on the down arrow on your right on top.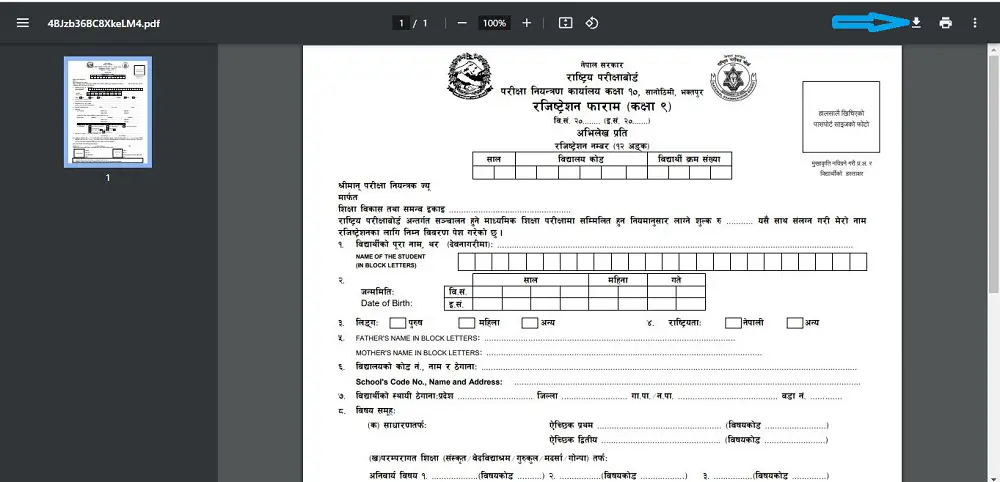 You can find the file in its downloaded folder.
The form can be filled out by the students themselves or schools can issue them to the students to have them filled out.
Students studying in class 9 in regular, traditional, or any format can have this registration form filled out for SEE 2081.