If you want to know "How to check if my license is printed?" to find the status of your smart license print information, there is a way. The Department of Transport Management (DoTM) provides a facility to those waiting, to know if their license is printed through an SMS. In this post, we will share with you the steps on how to know if your smart license is printed. Keep reading.
The service had, in fact, been in place for a long however was pulled before. But the transport department has resumed the service again which makes it easier for the trial-passed to check in on their current license print status.
In Nepal, DoTM started serving smart licenses in 2015. These digital licenses come integrated with electronic chips which carry holders' personal data for identification. And while they replaced the previous plastic cards, the process to obtain them follows a similar path- a written test then a successful trial.
But while the license took a change adopting technology, getting them still incurs the same inconvenience- a long wait, around 5 months. It can be understandably frustrating and you may want to find out the print status of your smart license.
Must read:
Smart license print check online in Nepal
DoTM has said that smart license print status can be found online in Nepal on its website. With this system, those waiting for their smart driving license can know if their license is printed and delivered to the office or is pending.
You can find out if your driving license is printed or not, if printed which office it has been delivered to, and other relevant information.
Follow the steps below to check driving license print status online:
Visit the link here.
Click on "smart card driving license print status" under Important Links or directly click here.
Enter your "Name" and "Driving License Number" issued to you and,
Click on "Check Status".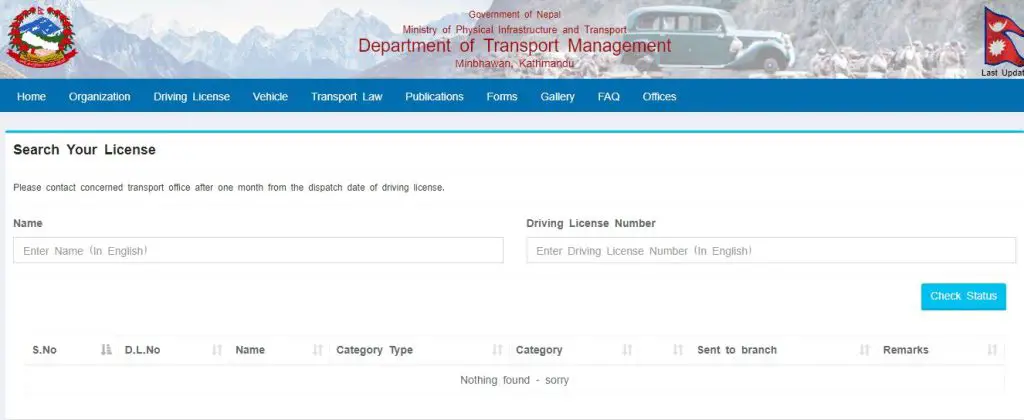 To deliver the service, the DoTM office has released a notice urging applicants for a new driving license and those renewing, to submit their mobile number.
How to check if my license is printed via SMS?
Below, find out the steps to know your license print information through SMS in Nepal.
Go to your phone's Message app.
Type the text LC<space>(application ID).
Send the SMS to 31003.
You will receive an SMS that gives you the print status of your smart license.
The office has likewise, urged visitors to submit their phone numbers to let them know about license print information via SMS.