Living in a digital age, many governmental services have become more accessible online, cutting off the need to visit physical offices. The Nepal Police has embraced this digital transformation, allowing citizens to conveniently get a police report through an online platform. In this blog, we will provide you with a step-by-step guide on how to get online police report in Nepal, making the process easier and more efficient.
How to get Online Police Report in Nepal
Why is Police Report Necessary?
A Police Report is a thorough check of the criminal records of a person and a clearance is given if found clean. This document is very important for applying for Visas for both foreign labor and study purposes. Working inside the country in various fields like airports, the army, and police stations also require a police report. In short, a police report provides a clearance about your criminal records.
Documents Needed for Online Police Report in Nepal
Citizenship/Passport
PP Size Photograph
Migration Document (If you have permanently migrated to a place)
Steps to Get Online Police Report in Nepal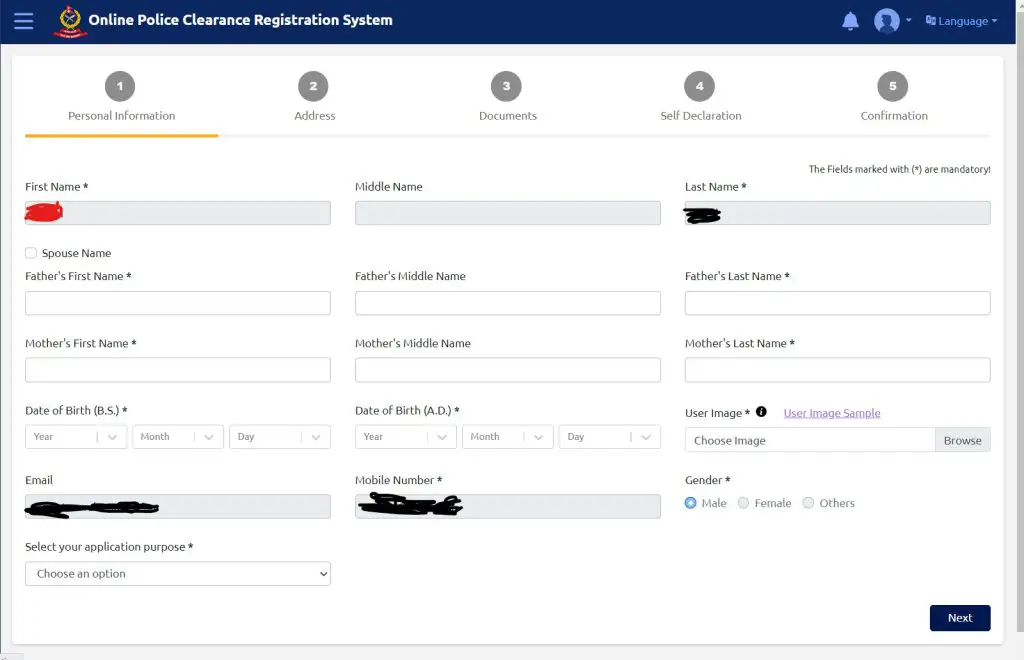 Step 1: Visit the Online Police Clearance Registration System website:
To initiate the process, navigate to the official website of the online police clearance registration system. A simple online search will lead you to their website, which serves as a gateway to various online services and citizen support systems. Or else, you can straightly head towards, https://opcr.nepalpolice.gov.np/
Step 2: Creating an Account:
The second step is to open an account if you haven't already. For that, you just need to input your name, gender, mobile number, and valid email address. In case, you have a previously created account, that will work too.
Step 3: Filling in Personal Info:
After creating an account, you can straighty log in and head towards the process. The first section is to fill up your personal info such as name, surname, name of your father and mother, email address, DOB, phone number, and such.
Step 4: Put your address info:
The next step is to put your address info. You have to fill in both your permanent and current address in the columns. In case you have migrated, you need to upload your migration document as well.
Step 5: Attach supporting documents:
The next step is to attach your government-issued documents such as citizenship, and passport.
Step 6: Self Declaration:
In order to obtain a clearance, you have to self-declare that, you don't have any criminal records or history.
Step 7: Confirmation
Before submitting the online report, take a moment to review all the information you have entered. Verify its accuracy and completeness. Double-check that you have attached all the necessary documents. Once you are satisfied, submit the report through the designated online submission button.
Step 8: Downloading and Printing
After a thorough check of your application, you'll be provided an online police report on the website itself. You can download the pdf and print it for your usage.
Frequently Asked Questions

How to Get Online Police Report in Nepal?
You can get an online police report in Nepal by filling up an online form at https://opcr.nepalpolice.gov.np/. You have to create an account first and log in to do so.
How much does it cost to get Online Police Report in Nepal?
It is completely free to obtain an online police report in Nepal. However, shopkeepers might take a service charge you if they fill up the form on your behalf.
How long is a police report valid in Nepal?
A police clearance report is only valid for a year. After that, you need to apply for a new one in case you need one.
Can I get a police clearance report from the local police station?
Yes, you can apply and get a police clearance report from your local police station for free.
Is the online and manual police clearance report different?
No, both the online and manually taken clearance report are the same and bear equal validity all over.
How to check the status of online police report in Nepal?
Can I download my police report anytime?
Yes, once you have gotten your police report, you can download it anytime from the website by logging in.
What are the other ways to access my police report?
Besides the official site, you can also access your police report clearance on Nagarik App anytime.
How long does it take to obtain an online police report?
It generally takes three to four days to get an online police report in Nepal. While you might have to wait for a longer duration sometimes.
Have a Check: How To Check License Print Information? With SMS, Find the Steps
Other Ways for Taking Online Police Reports in Nepal
Besides the aforementioned way, one can also follow a manual form-filling process by directly going to a police station nearby. Or, more conveniently, Nagarik App also lets you apply for one. The process is entirely the same as the online medium.
Obtaining an online police report clearance in Nepal has become more convenient and accessible, thanks to the digital initiatives undertaken by the Nepal Police.
Are you looking forward to obtaining one? Do not hesitate to drop your queries and thoughts in the comment section below.
Also Read: How to Lock Facebook Profile in Nepal? Find steps