Global IME Bank has announced that it will migrate its existing Internet banking users to mobile banking. Releasing a notice, the bank said that it will shift its customers to mobile banking starting from Bhadra 31.  
"The Internet Banking (Global Online) service of Global IME Bank will be transferred/migrated from this coming 31st Bhadra of 2080," the notice read, "Individual customers currently using the Internet Banking service of the bank can now enjoy the service through Global Smart Plus."
According to the bank, institutional customers who are using this service can now use the service through corporate internet banking. Check out: Mobile Banking vs. Internet Banking, Which One is Better?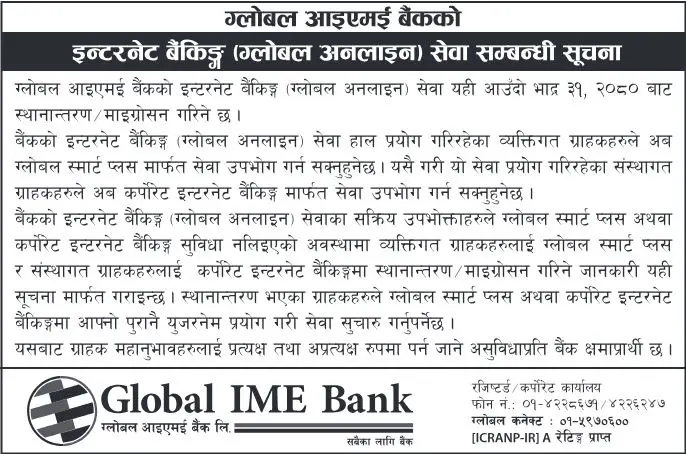 More details
The bank has mentioned that in case the active users of the bank's internet banking services do not use the 'Global Smart Plus' or corporate internet banking facility, individual customers will be transferred to the bank's mobile banking app "Global Smart Plus", and institutional customers will be transferred/migrated to corporate internet banking.
However, the users won't have to create a new account to log in after migration. The bank has said that the transferred customers can resume their services using their old username in Global Smart Plus or Corporate Internet Banking.