Elon Musk has pulled another 'stunt' and this time he has changed the iconic Twitter logo. What's even more baffling is that the SpaceX chief replaced the bird image with the popular dog meme.
Now, the home page of Twitter shows the image of kabosu, the Shiba Inu which inspired the doge meme. Also, when you open the Twitter web, the loading screen shows the same changed Twitter logo of the popular dog.
Not shying from sharing his antics, Musk announced the changed logo on Twitter by posting a screenshot with the caption "as captioned". The screenshot in concern is one of his conversations with a Twitter user who goes by "Chairman" with the handle "@WSBChairman" who seems to casually ask Musk to buy Twitter and "change the bird logo to a doge". To which, the world's richest man responded, "Haha that would sickkk". He has now fulfilled both. See the conversation below.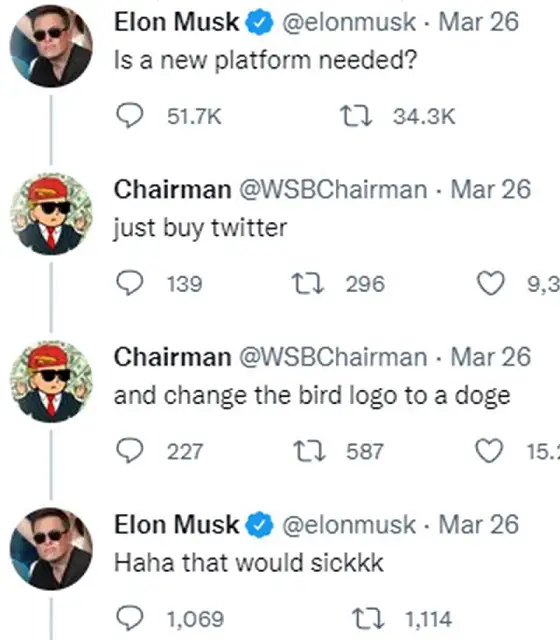 Musk completed the Twitter takeover on October 27, 2022, and now is its Chief Executive Officer too.
Elon Musk changes Twitter logo
Since the hilariously abrupt change of the Twitter logo, many have speculated whether Musk is even serious about continuing the same logo for the world's leading social media platform in its trivial form. Many even feel that the new Twitter logo is just an April Fools' joke. The change of the logo has ignited a series o hilarious comments on Twitter.
However, since the logo change, cryptocurrency Dogecoin has seen its price shoot up by 30 percent.
Musk himself is facing a $258 million racketeering lawsuit that alleges that he employed a pyramid scheme to advertise Dogecoin.
Serious about blue tick
We are not sure whether Elon Musk is serious about the meme dog featured for the Twitter logo but he is firm on the Blue Tick function on the platform.
Their stance is backed up after removing the Gold verified marker of the US news outlet New York Times (NYT). The organization with 55 million followers lost its checkmark after failing to pay for the verified account subscription.
Twitter has made it mandatory that willing Twitter users or firms, or organizations must pay to get the coveted Blue Tick on Twitter, however, the decision has been fiercely disputed, with some already quitting the platform for the same reason.
Do you like the new Twitter meme in earnest or do you think it is just casual teasing by Musk? Do share below in the comments section.