An all-electric ride-sharing service eDrive Nepal has come into operation. The service was inaugurated on Thursday, November 08 2023 with 52 electric taxis taking a round of Tundikhel in Kathmandu. The company says that its service will only use electric taxis and scooters and promote green transport while also generating employment opportunities.
Nepal Communist Party (UML)'s parliament member Mahesh Bartaula had inaugurated the startup's service. Nepal Electricity Authority (NEA)'s Managing Director Kulman Ghising was among the high-profile attendees at the same event. In his speech at the same event, Mr. Bartaula said that the use of EVs will protect the environment, and save Nepal's cash spent on buying fuels from other countries.  
The company eDrive Nepal has invested Rs 14 crore to bring its ride-sharing platform into service. The company's app "eDrive Nepal" is made by Nepali engineers. The app has an OTP system. Once the user chooses a rider nearby, an OTP confirmation must be confirmed for the service.
Check out: Top 5 Ride-sharing Apps in Nepal
An "all-electric" company
EDrive Nepal is perhaps the only ride-sharing platform that's plying only electric vehicles. The company has run the theme of green transport and will use electric taxis and electric scooters for its ride-sharing service. Currently, the company has over 20 electric taxis up for service and will soon procure 100 more. The company adds that it will also use existing EVs in Nepal for its service in the coming days.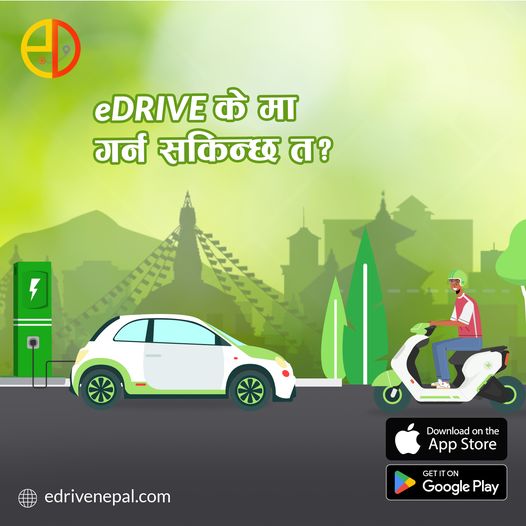 Besides ride-sharing/hailing, eDrive Nepal will also provide "Nepal Yatra" and food delivery services as mentioned on its app. We assume these extra value services will be soon available if it's not already.
The company said that its ride-sharing service will provide an attractive option for commuters because of its "extremely affordable" pricing, and likewise will draw riders because of low commission charges.
A ride-sharing company is investing all in EVs only and why not you? Find out the reason you might want to consider choosing an EV.
eDrive Nepal best features!
These are the reasons, eDrive Nepal can drive value to the customers:
It's an all-electric taxi and scooter-using ride-sharing platform.
It promotes green transport which lines with the government's sustainable development goals.
The app has an OTP system which is required to transact a ride-sharing service.
Offer to the willing riders to buy electric taxis with low down payment.
Also recommended: KU brings Nepal's first hydrogen car | Read all about it | Hydrogen car vs. electric car | Pros & cons
eDrive Nepal app download
eDrive Nepal app is available on both Android and iOS platforms. Below, we have provided the links to both the platforms' download links to make it easy for you.
Download eDrive Nepal app: Android | iOS
After you download the app, you can launch it and create a profile to start using its service. Registration is free in eDrive Nepal free of cost for both passengers and riders. You can use its services in Kathmandu, Kavrepalanchok, and a few select places.