Taiwanese semiconductor company MediaTek has launched its latest flagship smartphone chipset Dimensity 9300 built on a 4nm+ process. The hardware comes with four Arm Cortex-X4 cores, 33% power improvement, and doubled AI efficiency. The SoC also compares directly with Qualcomm's Snapdragon 8 Gen 3 for the top stop. Let's find out all the top features of Dimensity 9300 and how it fares to Qualcomm's greatest.
DIMENSITY 9300 FEATURES OVERVIEW
MediaTek's Dimensity 9300 is a premium smartphone chipset also called System-on-a-chip (SoC). It is the successor to last year's Dimensity 9200 (and also the Dimensity 9200 plus) and comes with some highlighting improvements and includes better Artificial Intelligence (AI) capabilities while getting in a bragging right with Snapdragon 8 Gen 3 processor. MediaTek says that its Dimensity 9300 scored 2,130,000+ in the AnTuTu test which almost equals Snapdragon 8 Gen 3's score.
Expect better performance, low energy consumption, and better battery life, among other improvements when it launches with the upcoming flagship smartphones.
FOUR ARM CORTEX-X4 CORES
One of the distinct highlights of the Dimensity 9300 chipset is that it consists of four Arm Cortex-X4 cores (All Big Core) to just one from Snapdragon 8 Gen 3. Additionally, there are four performance Cortex-A720 cores. That means the chipset features 8 performance cores.
There are no efficiency Cortex-A520 cores that S8G3 gets. What that means is all the cores focus on heavy computing power but that doesn't necessarily lose the balance. The Cortex-A520, which is inside the Snapdragon 8 Gen 3, has lower power requirements. But it also offers lower performance.
The 4 Cortex-A720 cores inside the Dimensity 9300 offer greater performance While consuming less power in a low-power state than the Cortex-A520 when it's running at its max-power state. This means that the A720 cores can be more energy efficient in their low-power state.
Also read: Redmi 12 Price in Nepal, Helio G88, Triple Cameras
MORE POWER EFFICIENCY
MediaTek's Finbar Moynihan argues that more powerful cores could be more power-efficient because they get the job done fast. As Google's Cortex-X1 cores also use the same theory, we may as well see a new trend where performance-heavy cores become more prominent in a chipset configuration.  
The Dimensity 9300 runs at a three-tier setup. One of the Cortex-X4 cores can run up to 3.2 GHz while the other three X4 cores can clock up to 2.85 GHz.
All the other four Cortex-A720 cores clock at the same 2.0 GHz. Here, the Cortex-A720 cores of the Snapdragon 8 Gen 3 run at 3.2 GHz. To compare, Snapdragon 8 Gen 3's performance cores clock at 3.2 GHz. This as per MediaTek has to do again with better efficiency.
BETTER GPU
The Dimensity 9300 chipset comes with the premium Immortalis-G720 GPU. MediaTek claims that the new GPU can deliver up to a 46% boost in GPU-related performance. These include image processing, gaming, and other graphics operations. It's also said that this GPU is 40% more power efficient compared to Dimensity 9200.
The Immortalis-G720 GPU also supports 2x MASSA and global illumination effects. It will also be ideal to play geometry-heavy games with 40% memory bandwidth savings. In sum, this GPU with the processor will provide an exceptional smartphone gaming experience.
SUB-6 5G, WIFI 7
For connectivity, the chipset supports a 5G R16 modem for 4CC-CA sub-6 GHz and 8CC-CA mmWave with UltraSave 3.0+ technology. The chipset supports 5G download speed of up to 7 Gbps.
The WiFi 7 technology allows up to 6.5 Gbps theoretical speed with Multi-Link Operation (MLO). It also supports WiFi/BT Hybrid Coexistence 3.0 technology. Likewise, the chipset supports LPDDR5T 9600 Mbps memory.
ENHANCED PHOTOGRAPHY FEATURES
The Dimensity 9300 seeks to redefine smartphone photography and videography with its innovative features. The chipset combines the power of AI-ISP and always-on HDR up to 4K resolution at 60 fps. It also supports 4K at 30 fps cinematic mode with real-time bokeh tracking. The company claims that the chipset offers professional quality bokeh enhancements, 4K AI noise reduction (AI-NR), and AI processing on RAW photos and videos.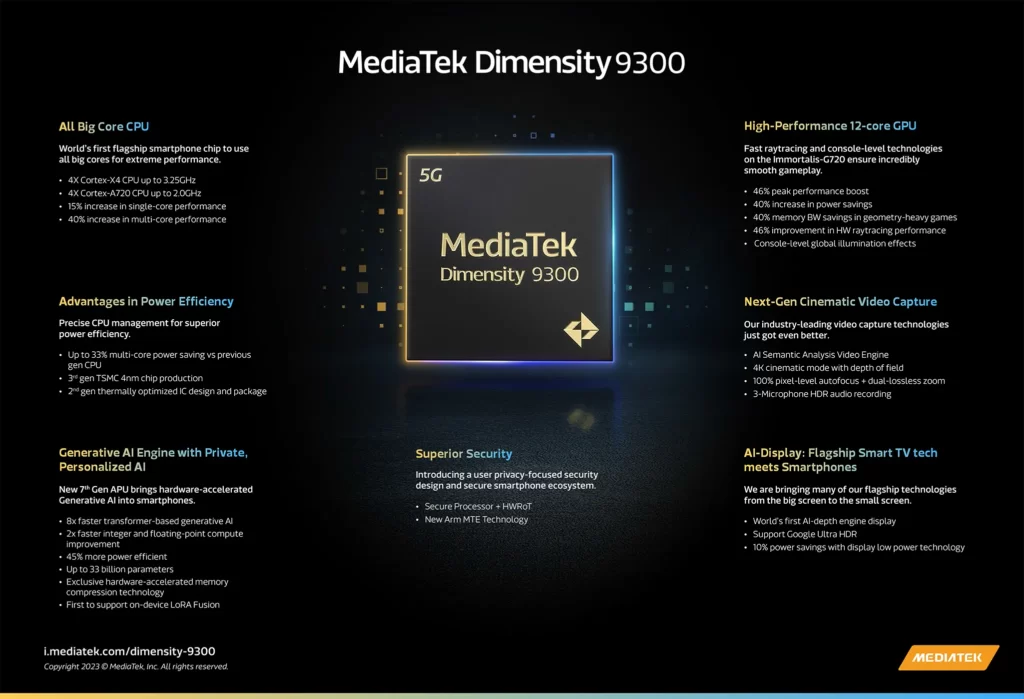 The Dimensity 9300 also supports the new Ultra HDR format on Android 14 for the next generation of smartphones. This technology makes photos look more vibrant while ensuring a universally supported JPEG format. The processor also supports groundbreaking ambient light adaptive HDR recovery technology.
Likewise, the 18-bit RAW ISP design comes with the AI Semantic Analysis Video Engine with 16 categories of scene segmentation adjustment. With these, you can stay assured of an immersive cinematic video capture. In sum, MediaTek wants to extend mobile photography to the next level with this premium chipset.
MUST READ: Xiaomi Mobile Price in Nepal | Latest 2023 Update
DISPLAY
The chipset supports WQHD display at 180 Hz (25% faster) and 4K up to 120Hz. On foldable phones, it will support dual-active display. At the same time, AI processing supports the new Ultra HDR format on Android 14 devices. There's also an anti-burn-in technology for AMOLED displays.
GENERATIVE AI
As expected, MediaTek has infused more Artificial Intelligence (AI) capabilities in the Dimensity 9300 chipset with the better APU 790. And the company seems delighted with the development. "This unique architecture, combined with our upgraded on-chip AI Processing Unit, will usher in a new era of generative AI applications as developers push the limits with edge AI and hybrid AI computing capabilities," said Joe Chen MediaTek President.
The Dimensity 9300 sports double the integer and floating point capabilities. It offers a 45% reduced power consumption. It supports large language models such as MEta Llama 2, Baichuan 2, Baidu AI LLM, etc.
The company claims that the latest chipset offers 8x better performance than its predecessor. The APU 790 uses INT4 (A16W4) to run smaller quantized models to keep memory needs in check. The APU 790 can run 7 billion parameter LLM a second of 20 tokens a second. This enables real-time AI app operations. On-device AI is only getting better. The chipset is also the first to support on-device LoRA Fusion.
MEDIATEK 9300 PHONES
The MediaTek 9300 will power devices in Asian and European markets as usual with the US plans not in focus. But yes, the chipset will soon debut with smartphones which might happen in November. The first device to get the Dimensity 9300 could be the upcoming vivo X100 series. Going by the trend, the chipset will largely remain in the Chinese markets. We will bring more updates when available.
Keep reading Techmandu.com for all the latest tech, eCommerce, and fintech news.