BYD's Ocean series electric car "Seal" has launched to bumper sales in Thailand. After its launch, a total of 1,104 units were sold within an hour. Out of them, 39 buyers were handed the brand-new EV units on the very day.
No doubt that BYD has established itself as a significant brand in the EV segment across the world and is hoisting the flag of new milestones with its new lineups. The combination of affordability, design, solid hardware, and rich features has greatly appealed to auto consumers who want an EV ride without not having to break the bank. In Nepal too, BYD cars are heavily popular. The good reception of the brand might likely continue given the positive market noise it continues to produce with its lineups.
In Thailand, BYD has launched the EV in three trim levels- Dynamic RWD, Premium RWD, and Performance AWD. Trim levels refer to the variation in features with the higher trim level signifying higher equipment and likely the higher cost.
Also read: BYD Seagull Electric Car Launched in China, Expected Price in Nepal
BYD Seal coming soon to Nepal
Due to the right-hand driving system, the seater sedan was launched slightly later, but its Thailand launch also paved the way for its arrival in the Nepali market.
In the recently concluded, NADA Auto Show 2023, BYD Seal was one of the major attractions. The visitors were drawn to its futuristic looks and features with many driven curious about its price and availability.
Cimex Inc, the official distributor of BYD EV cars responded that Seal will be available in Nepal soon.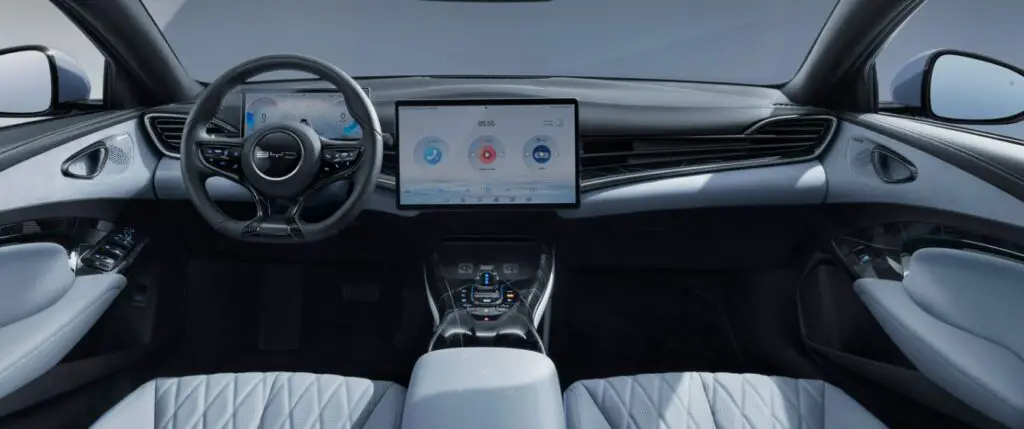 Recently, BYD batteries were put to the test by Cimex Inc. The company ran a nail penetration test on Blade and NCM (lithium-ion) batteries.
In the results, NCM batteries caught fire while the blade battery which is made of lithium-iron-phosphate resisted any impact. At a time when Tata EVs are generating undesirable news, BYD's PR is going strong as well as consumer interests and sales. The test will certainly work to the good for BYD sales in Nepal as well as its good word-of-mouth promotion.
Find out: Best Electric Cars Price in Nepal | Latest 2023 Update
Seal is available in three variants
Coming to BYD Seal, the EV is built on the e-Platform 3.0 architecture. It stretches 4,800mm in length, 1,875mm in breadth, and 1,460 in height. The EV features a wheelbase of 2,920mm.
BYD Seal is available in three variants featuring a 61.4 kWh LFP blade battery, an 82.5 kWh battery pack, and the one with the double motor on the same 82.5 kWh blade battery.
BYD Seal launched with a price tag of $36,200 in Thailand.