Yeti Airlines Ticket Booking Via Viber service is now launched by the airlines. Now people can book their tickets via Viber, arguably the most popular messenger in Nepal. The service has been named as virtual sales counter of the Tibet Airlines-backed Nepali company. Let's know more about Yeti Airlines Ticket Booking via Viber in this article.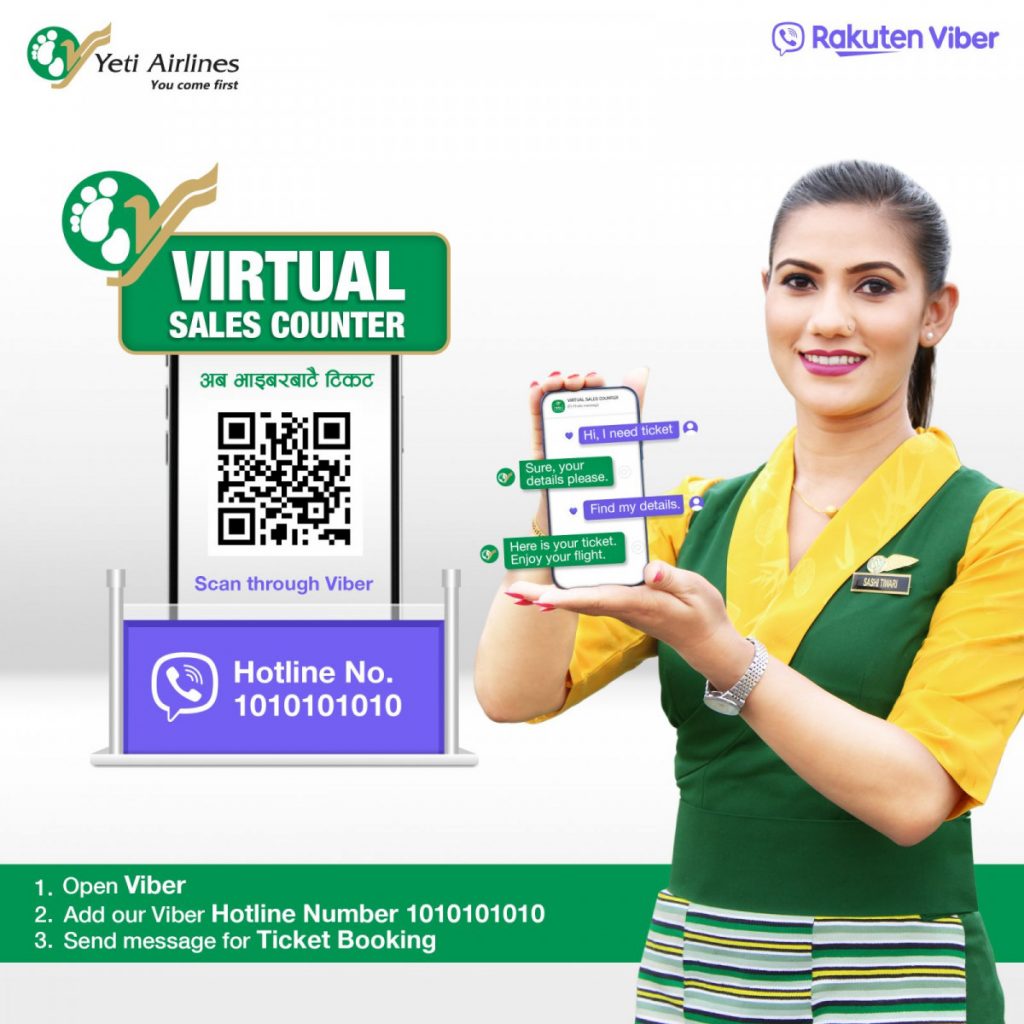 Yeti Airlines Ticket Booking via Viber Messaging App
With the world going digital, Yeti Airlines has commenced this service by collaborating with Viber. The virtual sales counter is aimed at providing air ticketing service in a handy and hassle-free way. As Viber's presence is huge in Nepal, the collab is going to benefit the travelers.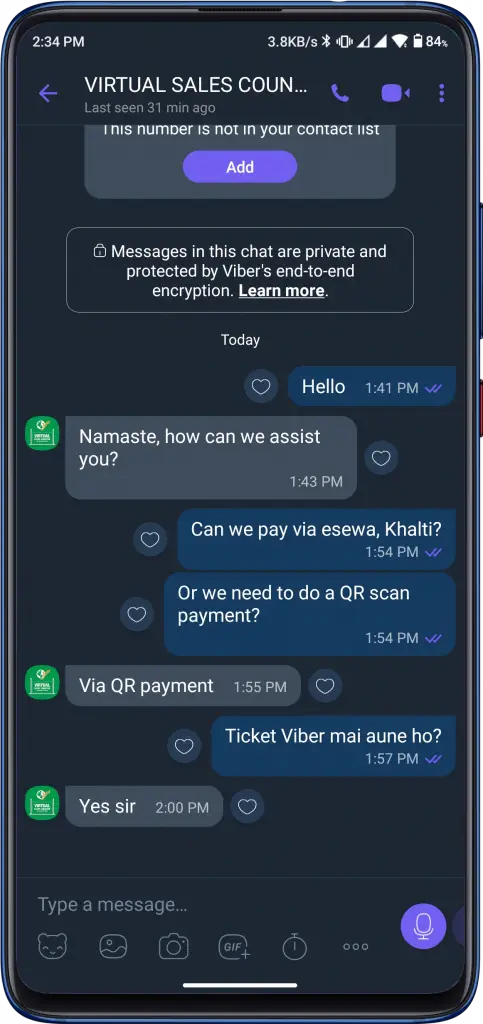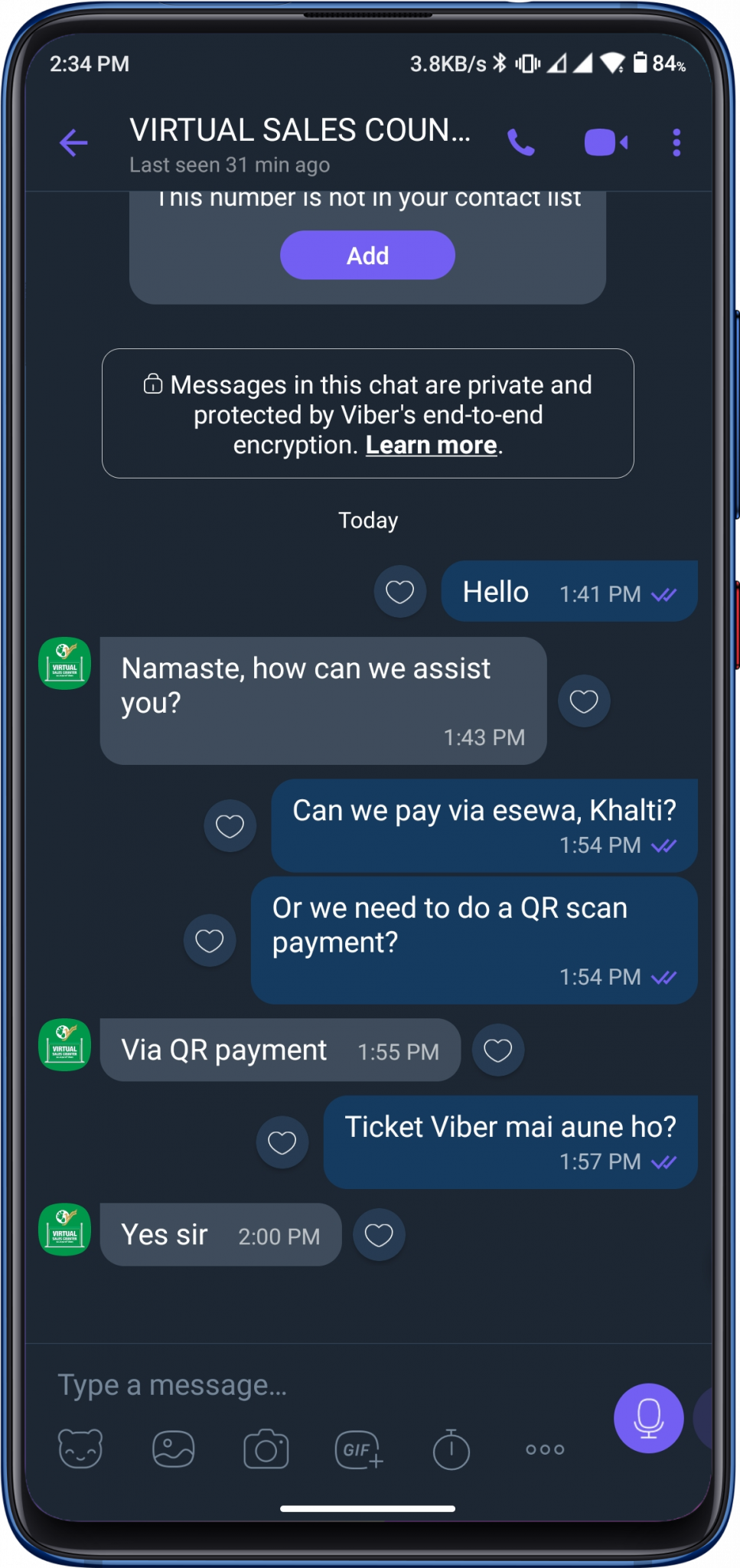 As per the company, the service has gone live from 30th June and the time of operation is from 7 AM to 7 PM. Passengers can book their tickets by sending a text on 1010101010 Hotline Viber number of Yeti Airlines. So, this is reducing the operational costs of the airlines and also paving an easy way for the users. You can also send inquiry texts on the Viber number. The response speed is also good.
Do Read: Nepal Airlines to Provide In-Flight WiFi Service
How To Do Yeti Airlines Ticket Booking via Viber?
Type Your Details; Name, Age, Gender, Destination, Date of Travel/Return, and a Valid ID/Passport
Send: After typing the info, do send it to the Hotline number; 1010101010.
QR Payment: After confirmation, you can proceed towards QR payment via Bank, Khalti, or eSewa.
Get the Ticket: If the payment is done, they'll send you the ticket in PDF format on Viber. It can be shown in the check-in counter at the airport on the day of travel.
About Yeti Airlines
Yeti Airlines is one of the pioneer companies for air travel in Nepal. Operating with five ATR 72-500 aircraft, the airlines fly to 8 destinations in Nepal. It also has a codeshare agreement with its sister company, Tara Airlines for flying in 15 remote mountain locations. The Himalayan country relies on STOL flights due to the complex geography for transportation. For other destinations, ATR 72 planes are quite famous with Buddha Air also using it.
The rise in digital tech has also massively grown digital payments in recent years. Almost everything has gone online from utility payments, fund transfers, ticket bookings, etc. With initiation like Yeti Airlines Ticket Booking Via Viber, booking tickets has become handier. To note, ticket booking in Nepal can be done online via the official website of airlines, mobile app, or a travel agent. This virtual sales counter is going to facilitate and enhance the services there are over 10 million Viber users in Nepal.
Also, Read: CAAN is Constructing a HeliPad in Nalinchwok Bhaktapur
So what do you think about Yeti Airlines Ticket Booking Via Viber, hasn't it made easier to book one? Do you frequently travel via Air? Feel free to write your thoughts, experience, and opinions in the comment box below.