The longest suspension bridge in the world has opened in the Czech Republic. The bridge took two years to build and is finally opened on May 13 to the pedestrians.
Named Sky Bridge 721, the giant infrastructure stretches 721 meters long (2,365 feet) that connects two mountains in the Northeast region of the country. It cost $8.3 million to build.
After the bridge came into service, it has claimed the record for the largest footbridge in the world. Previously, the title was boasted by the footbridge in the Gandaki province that connected Baglung and Parbat. It is shorter by 154 meters and now slips to the second position in the world.
Also read: Nepal Airlines to Provide In-Flight WiFi Service
More on the Longest Suspension Bridge
Called Sky Bridge 721, is suspended by cables and sits 95 meters above the valley. It is 1.5 meters wide and for the elevation, it hangs between 1,110 and 1,116 meters above sea level. It is expected to be a new hot spot for tourists who love thrills and enjoy expeditions to the high hills and mountains.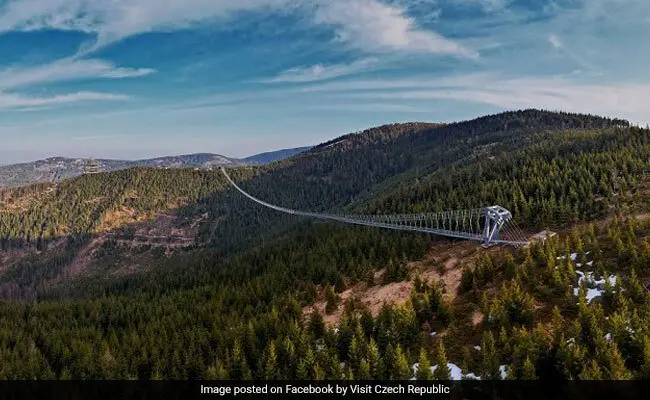 People can get to the pedestrian footbridge by a cable car. But it's a one-way bridge for the walkers. On exiting the walkway at the end, visitors take a paved forest path that details Czech history with various signs. There is also an arrangement for a virtual reality game.
Those who have made up their mind to visit the bridge shall book tickets on the Dolni Morava website. The pricing is different for people based on age. The Sky Bridge 721 is open for people of all ages for an ideal vacation.
Dolni Morava lies at the border with Poland. It is one of the country's most loved vacation spots. It is also popular on ski slopes.
The Sky Bridge 721 is a 2.5-hour drive away from Prague, the capital city of Czech.