Sparrow SMS, a leading bulk SMS service provider in Nepal, Marks its 13th Anniversary on March 20th. Since its launch in 2010 by Janaki Technology Pvt Ltd, Sparrow SMS has become synonymous with SMS and is known as the "Power of Text". The company offers various innovative SMS services that have made the daily lives of Nepalese people more convenient.
Read: Startup Company Ringaze Selected as Finalist in Tech4Democracy Asia
Sparrow SMS & Its Mission
Sparrow SMS's mission is to provide SMS services to businesses and individuals alike, not just for communication but also for promoting products and services. In addition, the company aims to deliver transaction passwords (OTP) alerts in an efficient and secure manner. The company has always maintained world-class servers, data secrecy, and affordability, making it an essential medium of communication.
Innovative SMS Services & Partnerships
Over the years, Sparrow SMS has established itself as a trusted name in bulk SMS and customized SMS applications. The company has partnered with Rakuten Viber to expand its business beyond SMS and now offers Nepalese businesses Viber Business Messaging. Sparrow SMS also offers Voice Broadcasting and Missed Call Marketing, which are prominent products in the business communication world.
In 2022, Janaki Technology was awarded the Awards of Excellence for Innovation in the emerging sectors of the province – ICT 2022 for their innovative practices in the ICT sector. Sparrow SMS has also teamed up with Swadeshi, a national movement that aims to empower domestic products and services.
Future Goals
On the occasion of the 13th anniversary, Sparrow SMS's CEO, Mr. Manoj Thapa, expressed his gratitude to the company's valued clients and partners. He further added that Sparrow SMS aims to be the largest business communication platform in Nepal. The company is committed to continuing its commitment to innovation and excellence, and expanding the horizon of its services.
Sparrow SMS Marks 13th Anniversary Limited-Time Offer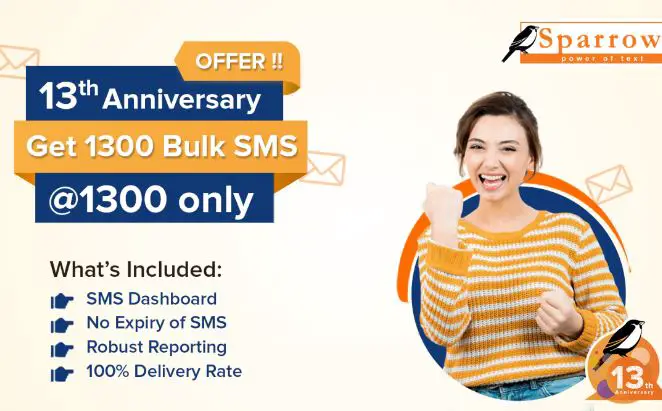 To celebrate the 13th anniversary with its existing and new clients and partners, Sparrow SMS has introduced an anniversary offer for a limited period of time. Find the offer below:
Get SMS Package of 1300 SMS @ Rs 1300 only
Free SMS Dashboard
100% Delivery Rate
Robust Reporting
No Expiry of SMS
Do Read: Number of Digital Wallet Users in Nepal Surpasses 1.61 Crore
Sparrow SMS has come a long way in the past 13 years and has contributed significantly to the advancement of communication technology in Nepal. Its commitment to innovation, excellence, and affordability has made it an essential tool for businesses and individuals alike. As Sparrow SMS continues to expand its horizon of services, it is sure to bring more convenience to the daily lives of Nepalese people.