The popular Sky Walk tower has opened in Kathmandu today (Friday, June 30, 2023). Stretching a massive 78-meter, the tower built in Kamaladi lets visitors walk on glass panels and enjoy a birds-eye view of the city. Wonders Nepal has built the milestone "view tower" in the nation's capital.
The construction for the tower had begun as early as 2078 Mangsir, but the Covid-19 pandemic delayed its operation, as per the company Managing Director Sohan Shrestha.
The tower is built on a land of over 13 ropani 4 ana. There is a plan to add bungee jumping in the near future.
Shrestha added that while Skywalk is becoming a norm across cities in many developed countries, Nepal was able to start it ahead of the neighboring country India. He continued, "There is also an amphitheater for domestic tourists, and it requires no ticket. You only have to pay for the skywalk."
Also read: View Tower Basement Parking in Kathmandu is Ready for 400 Cars 700 Bikes
Skywalk Tower Kathmandu capacity and safety
The Skywalk Tower Kathmandu allows 500 people aboard at a time. However, the company plans to let in only 250 to 300 people in the initial phase. The tower uses 33 mm steel which is a British standard, Shrestha states. Stressing safety, he assures,  "There is no doubt about safety, even the Kathmandu Metropolitan City (KMC) and Tourism Department have given permission only after repeated inspections."
The local government is also planning on using it as a tourist destination by adding gardens, restaurants, cafes, etc.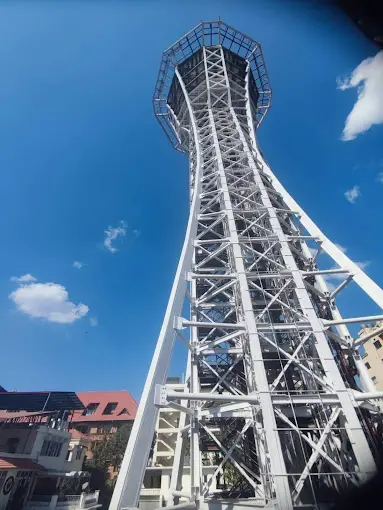 Operating from June 30 Friday onwards, the Sky Walk in Kathmandu will be open for the public from 8 am to 8 pm. Visitors can use one of the 2 elevators to reach the 18th floor and then reach the 22nd floor to observe the outside view. "It's not just a view tower where you can go to a high place and look outside, it's a pure skywalk, from where you can walk on glass with the surrounding view, it feels exciting," Shrestha relishes.
Check out: A Signature Bridge Will Be Built Over the Narayani River
Kathmandu Sky walk Tower ticket price
A ticket costs Rs 1,000 for a trip to the Sky Walk Tower Kathmandu. However, there are concessions included too. The charges for people over 80 years of age and those with height up to 3 feet, can enjoy their tower trip for free. As for people 70 to 80 years of age, the ticket cost has been fixed at Rs 500 per person.  
| | |
| --- | --- |
| Skywalk Tower Kathmandu ticket price | Ticket cost |
| General public | Rs 1,000 |
| People 70 – 80 years of age | Rs 500 |
| Those above 80 y/ below 3 feet | Free |
Ticket price for the Sky Walk Tower in Kathmandu
The company maintains that the first phase of the Kathmandu Sky Walk has been completed with an investment of Rs 2 billion.
It's claimed to be the tallest skywalk tower in South Asia.