Segway-Ninebot has launched its newest addition to its intelligent electric scooter category – Segway E110L in Nepal. It's a cutting-edge, intelligent electric scooter designed to suit mid to long-range travel. The trendy two-wheeler EV offers an unparalleled blend of forward-looking technology and heavy-duty performance.
The E110L combines a variety of industry-leading features with an equally impressive performance. It gets a max motor power of 2400W and has a battery capacity of 72V 24A, enabling a cruising range of more than 110 kilometers.
Segway Ninebot is the globally acclaimed brand for two-wheeled self-balancing personal transporters. The company offers short-distance transportation solutions and robotic services.
IHub Pvt. Ltd is the authorized importer and distributor of Segway-Ninebot in Nepal.
The intelligent electric Scooter Segway E110L is now available in the Nepali market.
The Segway E100 & E125 have already been a hit among customers garnering appreciation for their features and easy handling. IHub stated that they have a plan of strengthening its service bringing the best-in-class products that are available in the global arena and the launch of Segway E 110L fits that narrative. The company also promises better sales service and after-sales care to its customers. Below, we detail the distinguishing factors of the Segway E110L in detail.
Check out: Best Electric Scooters Price in Nepal | Latest 2022 Update
Segway E110L Key Features
100% Keyless Operation
Segway E110L is 100% keyless along with electronic seat locks, battery compartment locks, and tail boxes. To add to the convenience, the vehicle functions with Segway Launcher App and admin dashboard allowing fleet operators and shared-riders to easily manage and ride their vehicles. 
Intelligent Reference and Detection System
Segway E110L comes with an Attitude and Heading Reference System featuring abnormality and knock-over alerts. It also sends alerts to the rider with abnormal solutions with the Driver Occupancy Detection System that leverages automotive-grade technology. In addition, the kickstand detection reminds riders to retract the kickstand, avoiding potential hazards.
Automatic Parking Mode & Customized Audio
Its electronic parking mechanism can be super handy to prevent accidents caused by unintended accelerator touches. The intelligent electronic system can customize vehicle audio systems to suit your needs and personality.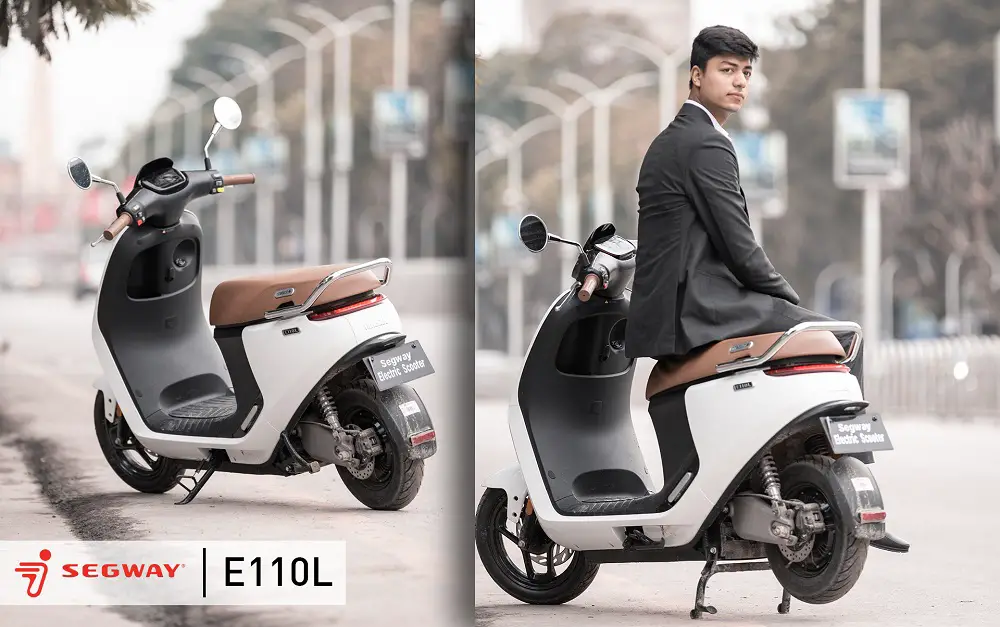 IoT Communication
The IoT empowers operator's upgrades to firmware online which avoids issues caused by outdated firmware. The Segway launcher App and admin dashboard efficiently control the vehicle.
BMS 5.0 Battery Management System
The self-developed battery management system provides benefits such as abnormal temperature protection, under voltage protection, hot plug protection, and overcharge protection. The company says the feature can protect the scooter from overcurrent protection and short circuit protection. 
Elevated Security Features
The E- lock feature prevents unauthorized movements and anti-theft screws secure phone holders and mirrors with a lock. It enables riders to immediately lock their vehicles after parking. 
Details for convenience and sharing
The E110L boasts a large-capacity 27L tailbox that can hold two helmets, as well as a seat cushion. It also has a hidden backpedal for passengers, a dual-sided USB charging port, and a conveniently centered kickstand.
Resolving individual customer lifestyle issues through well-designed and sophisticated products, Segway aims to improve quality of life through its design for comfort and safety. 
Also read: Why You Should Buy an Electric Vehicle in Nepal?
Segway E110L Price in Nepal
The company has priced Segway E110L at Rs 3.50 lakh as its introductory price.
| | |
| --- | --- |
| Segway electric scooter | Cost |
| Segway E110L | Rs 3,50,000 |
What do you think of the Segway E110L electric scooter regarding its modernistic features and design profile? Do share in the comments below.