Sahara provides 100% of the fare to riders with no commission, yes this is true. The ride-sharing platform is aiming to compete with already established Pathao & Tootle in Nepal. Digitization in transactions & swift in service is attracting users towards ride-sharing apps. Also, it saves time & the pricing is reasonable, marginally cheaper than using a common taxi. Let's know more about this commission-free initiation by Sahara.
Sahara Provides 100% of the Fare to Riders
After the year 2021 ended, Sahara has omitted commission for its riders. 100% of what users pay will go directly to the riders. For eg, if a ride is costing Rs.525, the entire money goes out to the bike rider. They don't have to pay any commission to Sahara. Sahara is taking this initiative to benefit their riders and also attract more riders to their service.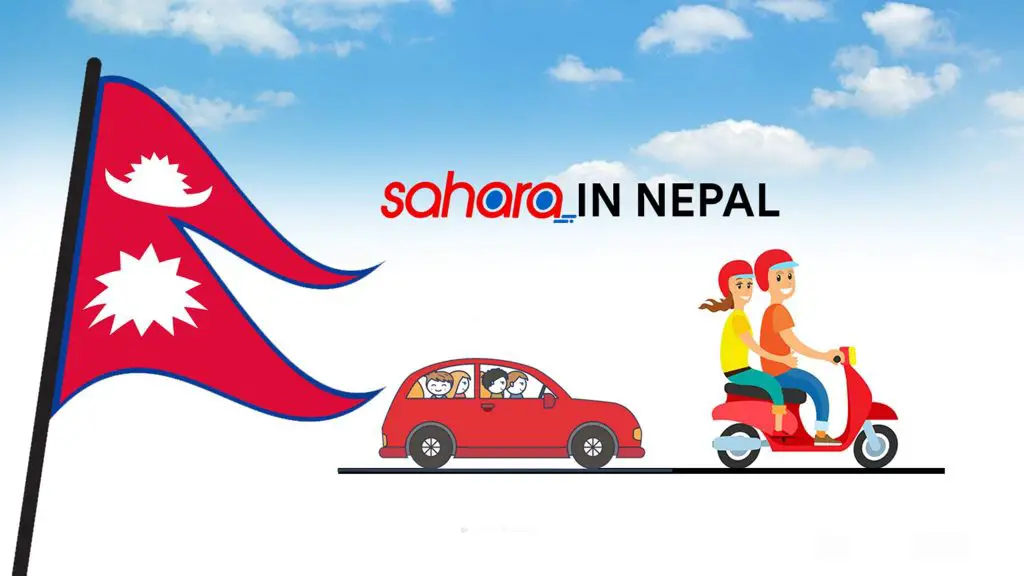 The company is aiming for the support of the community and help it grow along with competing against the likes of Pathao & Tootle. A commission-free policy is super beneficial for the riders. Recently, Sahara also started providing insurance to both riders and users in case of unfortunate accidents.
About Sahara
Sahara is a Nepali startup company established in 2019. The official app made its way in December 2019. This Ride-sharing company is offering bike, taxi & food delivery services. The area of operation is limited to Kathmandu Valley as of now. The app has 50K+downloads on Google PlayStore with a rating of 3.6 stars out of 5. There are discount vouchers & offers available on the app too. Sahara is also a third on our list for the top 5 ride-sharing apps in Nepal.
To be a rider on Sahara, a bike license, bike documents & a smartphone are required. For cab drivers, the documents need to be of a car and the process is the same. The registration can be done via Sahara Partner App.
Sahara App's User Interface
Sahara's App Layout is polished with a red & white accent. I signed up for the app and it was easy. The OTP was sent within seconds. The app consists of 4 sections; Home, Offers, History & Profile. The home section lets you book a ride via bike or cab and also lets you order food. The app also consists of a Sahara Wallet where you can load money and do cashless transactions. Going Digital has become the main motto of apps these days.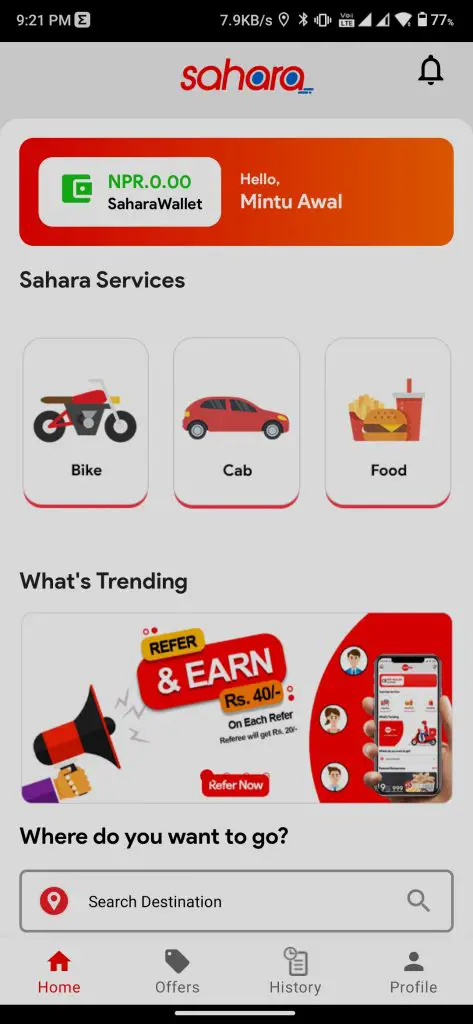 There is also occasional offer such as "Book 5 rides within 2 days & Win Rs.500 Sahara Voucher". While the "Refer & Earn" is always available where you can earn voucher by referring to a friend. You can also apply Promo Codes to get instant discounts on rides & food. Sahara Prime, the premium membership is coming soon. It will add on more benefits to the users once it arrives. The app UI is pretty smooth & I found no bugs so far. It was a clean experience.
Check out: Tootle Vs Pathao; Which ride-sharing app is better?
Our Thoughts on Sahara Provides 100% of Fare to Riders
The ride-sharing platforms have bloomed within the span of 4 years. Tootle started this trend and Pathao followed a year later. Currently, Pathao sits at the top position in ride-sharing platforms in Nepal. In this scenario, Sahara providing 100% of the fare to riders can be a boosting point to attract riders. It will surely add more bike riders as they don't have to pay any commission.
This 0% commission policy is going to be a key point to expand Sahara's business in the already competitive market. Growing digitization in financial transactions has enabled people to perform easy cashless transactions. That's why ride-sharing apps are also acquiring some benefits from this. Also thanks to the data packs provided by telcos & free WiFi by Worldlink, people are not hesitating to try ride-sharing apps on the go. Traveling in a crowded bus during the Covid situation is also not safe. For safety & swiftness in travel, people are opting ride-sharing apps these days.
Becoming a commission-free platform, Sahara provides 100% of the fare to riders. Isn't that a great initiative? Will you register to be a rider on Sahara? How often do you use Ride-sharing apps? Do write your views in the comment section below.
Download Sahara here:- Sahara (Android), Sahara (iOs)