Now, you can pay your LIC Nepal insurance premium from Khalti digital wallet
The service is aimed at enabling Khalti users to fulfill their insurance payments easily through the digital wallet
Users can use both the Khalti app and the website to pay their insurance premium
Nepal's prominent digital wallet Khalti now allows you to pay your LIC Nepal insurance premium. For this, the company has signed an agreement with the insurance company.
Khalti says the service is added to enhance its users' capacity to pay a premium on the go. This is aimed at making premium payment easier and more convenient.
Regarding the added new feature, Khalti CEO Binaya Khadka said, "Adding of LIC payment feature on our platform is a major achievement for us that makes insurance collection simple and effective. I am confident that this partnership will benefit our customers."
Also see: Renew Mero Share with Khalti for Free
How to pay your LIC Nepal insurance premium from Khalti?
To pay the LIC Nepal premium, you need to go to Insurance on the Homepage of the Khalti app or website. Then, select LIC Nepal Limited. Enter details and complete your digital transaction.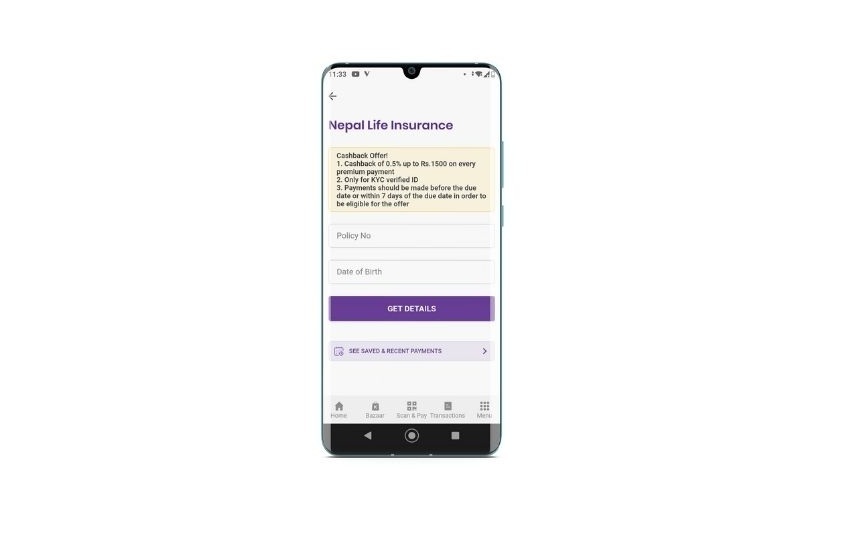 But if you want to pay your insurance premium over Rs.5,000 you must have a KYC-verified Khalti account.  
Khalti is an elite mobile wallet in Nepal. In just 6 years since its inception, it has become the second-largest digital wallet in the country exerting its distinct stamp in the fintech of Nepal.
Check out: eWallets vs Mobile Banking Apps, Which One is Better?
Khalti has over 2 million users across the country and serves through 50 thousand agents' networks. The company allows utility payment, government payment, allows booking of domestic flights, and bus tickets, premium payment, online shopping payment, etc. Meanwhile, you can also transfer money from one to another Khalti account and transfer money to banks.
Are you one of those to benefit from the scheme? You can always leave a comment below to learn more.