With the latest update, users will see the option of NOC payment in the Nagarik App. The No Objection Certification (NOC) is required by the students who pursue foreign study and is issued by the Ministry of Education. Now, the popular app will allow users to pay for their NOC without having to visit government offices.
Besides, the app will also help users learn about their nearby police station services, Covid-19 booster dose details, and other services.
The government-operated popular app the Nagarik App has received new updates. And one of the most notable features in the recent update has been the addition of NOC payment. The foreign studies aspirants now can pay for their NOC from the Nagarik App.
The feature including others has already been rolled out to both Android and iOS platforms. To get these services, users need to update the app to the latest version.
The government launched the Nagarik App to integrate multiple public services as part of the Digital Nepal Framework. And having a slim number of services in the first few months, gradually, the government has been integrating multiple services. And the option of the NOC payment in the Nagarik App is one of the latest.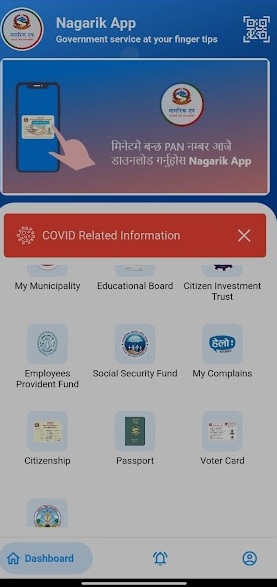 Besides, the users of the famous app will also get a Booster dose vaccine option in COVID verification. The pandemic scare has largely thawed lately, but the booster dose would further convince people of their immunity against the deadly virus. So, the government has added an option through which they can fill up and verify their booster dose status in the app.
Also read: Renew Your Vehicle From Nagarik App
NOC payment in Nagarik App plus more
And talking about services, the government has also added a Health Insurance Board renewal and payment options within the app. Users can now pay for their health insurance and also renew it on the go. Similarly, they can also get a more convenient vehicle update as it has been optimized.  
Additionally, the latest app has also integrated a new feature that allows users to get nearby police station service. The app lets users find out their nearest police station and obtain service from it.
To acquire this service, the users have to go to the Nepal Police option and give the app permission to their location. After this, the app will track your location with GPS, and avail you of the station's contact. Besides, the app also gives you the location of the police station. The app users will find this particular feature very useful.  
Likewise, the users will get more NEA services after this recent update. Plus, some bugs have been fixed with the latest version.
Don't miss: Easily Renew Bluebook from Khalti App
Which features have you found most convenient through the Nagarik app wish it was there? Do share in the comments below.