Ncell Axiata has introduced Ncell My Plan, an exclusive custom-based plan that allows subscribers to personalize their service bundled pack for voice, data, and SMS. This offering is specifically designed for enterprise customers under Ncell for Business and aims to provide affordable rates and flexibility. Read on to discover more details about this customizable offer.
Read:- How To Buy Mobile Data Pack in Ncell, NTC, and Smart Cell
Ncell My Plan Options
Ncell's My Plan scheme consists of two options: My Plan 500 and My Plan Flexi. These plans enable users to define and choose their desired volume of data, on-net and off-net voice, and SMS services according to their requirements.
Rental Basis
The Ncell My Plan scheme is available to all corporate and postpaid users on a rental basis for a cycle of 30 days. The My Plan 500 is priced at Rs 500 (including taxes) and allows users to create a bundle of voice, data, and SMS services worth Rs 500. Additionally, users who activate any of the plans for free receive 2500 minutes of on-net calls and 1000 SMS services during business hours from 6 am to 6 pm.
Flexibility with My Plan Flexi
With the Ncell My Plan Flexi, subscribers have the freedom to choose any combination of voice, data, and SMS to create their own customized bundled pack. The charges are based on the selected resources defined by the customers. The plan allows a maximum of 200 GB in data, 2500 minutes of talk time in voice, and 2500 SMS.
Meeting Diverse Corporate Needs
Ncell introduced the customizable My Ncell Plan pack to cater to the diverse needs of its corporate customers. By enabling customers to digitally define their service requirements through the Ncell app, this offering aims to deliver significant value to the corporate segment.
Do Read:- How To Activate Mobile Internet in Ncell, NTC, Smart Cell
Subscription Process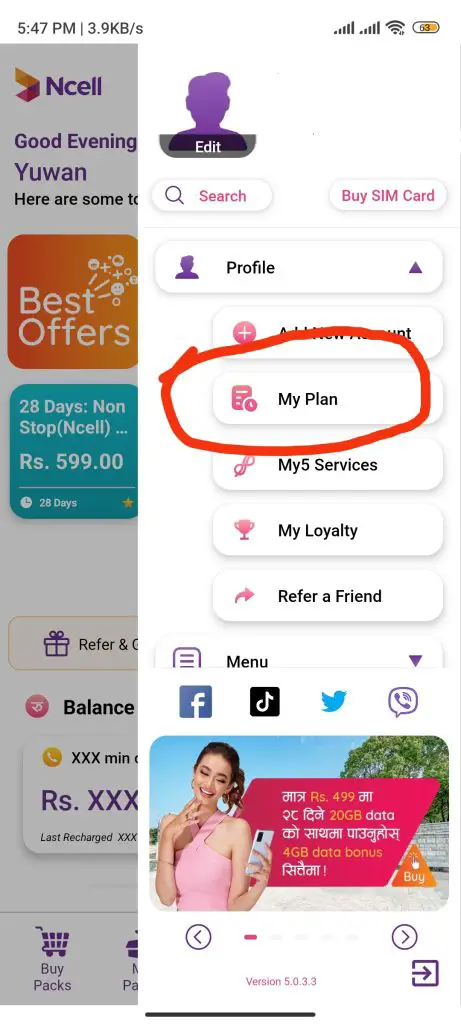 To subscribe to the Ncell My Plan pack, you need to follow these steps on the Ncell app:
Step 1: First launch the Ncell app.
Step 2: Now tap on the menu bar located at the top-right corner.
Step 3: Select the profile and then choose My Plan.
Step 4: Customize your service pack by selecting your desired voice, data, and SMS volume.
Example
For instance, Ncell My Plan 500 allows users to customize their service bundle, tailoring it to their specific needs. By combining Rs. 300 worth of data, Rs. 150 for off-net and on-net calls, and Rs. 50 worth of SMS, and customers can create a personalized bundle. However, it is crucial to pay the rental charge before the 30-day expiration to avoid limitations on outgoing calls, SMS, and data services.
The allocated resources can be utilized within the 30-day cycle, providing users with the freedom to manage their services effectively. During this period, customers can continue using standard services through the pay-as-you-go (PAYG) mode. Alternatively, they have the choice to purchase regular voice, data, and SMS packs according to their requirements.
Checkout: You Can Call a Ncell Number Without Balance, How? Find Details
Conclusion:
Ncell's My Plan is a groundbreaking offering that allows subscribers to customize their service bundled pack for voice, data, and SMS. By providing options such as My Plan 500 and My Plan Flexi, Ncell caters to the diverse needs of its corporate customers, offering them the flexibility to define their service requirements easily and digitally through the Ncell app. With this innovative approach, Ncell aims to provide affordable rates and a tailored communication experience for its users