Preeti font is a popular font for typing Nepali text in the Devanagari script. However, it is not compatible with many websites and applications that use Unicode encoding for displaying Nepali text. So, in this article, let's learn how to change Preeti font to Unicode Nepali.
How to convert Preeti font to Unicode Nepali
What's a Unicode?
Unicode is a standard that assigns a unique code point to every character in different languages and scripts. This makes it easier to share and process text across different platforms and devices. In short, Unicode grants universal applicability for the Nepali font on web platforms.
There are online tools available for converting Preeti fonts to Unicode Nepali. Plus, there is also a traditional way. We have listed both ways which are as follows:
Step 1: Convert Preeti Font to Unicode Nepali
First, you can open the document or file in a text editor that supports Preeti font, such as Notepad or Wordpad. Or you can directly type Preeti fonts on online editors.
Then, you can select all the text and copy it to the clipboard (Ctrl+C).
Head towards a website that offers Preeti to Unicode conversions, such as https://preeti.arthasarokar.com or https://www.ashesh.com.np/preeti-unicode/.
Paste your Preeti text in the input box and click on the convert button. You will see your text converted to Unicode Nepali in the output box.
Copy the Unicode Nepali text from the output box and paste it into your desired destination, such as a website, an email, or a document. You can also save it as a file with a .txt or .doc extension.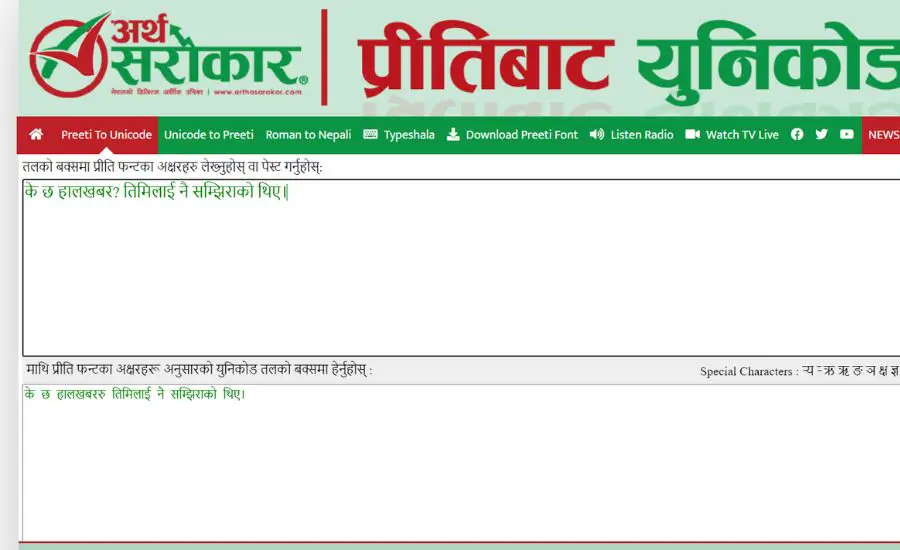 Or else, you can also directly type in Preeti and get direct conversion in Unicode on present days tools like EasyNepaliTyping, which is even far handier.
Do Note: There might be some errors while converting some characters or due to variances in the Preeti and Unicode fonts. Hence, you may need to manually edit or correct some parts of your text after conversion.
Have a Read:- How to Book Air Tickets Online in Nepal, Learn Several Ways!
Step 2: How to Convert Preeti Font to Unicode Nepali
First, make sure that you have the Nepali Unicode font installed on your system. If not, don't worry, you can download and install it from various sources available online.
Then, you can select and copy the Preeti font text that you want to convert.
After that, open a Unicode Nepali text editor or any software that supports Unicode Nepali input. Examples of popular Unicode Nepali text editors include Microsoft Word, Google Docs, or any text editor that allows you to switch the input language to Nepali Unicode.
The next step is to change the input language to Nepali Unicode on the application/software.
Then, just paste the copied Preeti font text into the Unicode Nepali text editor. As you paste the text, the Unicode Nepali font will automatically convert it to the corresponding Unicode characters.
Here as well, you need to check the errors and manually amend it yourself. So, that was all about How to convert Preeti font to Unicode Nepali. Do write us your queries in the comment section below.
Also Read:- How to lock Facebook Profile in Nepal? Find steps