How to book air tickets online in Nepal, today we are discussing in our article. As we all know, air travel has revolutionized and shortened travel time all around the world. With smartphone and internet penetration, booking domestic & international air tickets have gone easy and simple. So, let's know how to book air tickets online in Nepal.

How to Book Air Tickets Online in Nepal
Booking/Buying Air Tickets via a Travel Agency (The Old School Way)
Travel agencies have been a prominent part of the travel sector. They book air tickets, and hotel rooms, and make a tour package for the travelers. Before the internet and smartphone era, one has to visit the physical office of a travel agent to book an air ticket. Travelers had to go there with the necessary documents to make a booking.
Now as time has changed, you can just ring or text the agent and send your docs via email, Viber, Whatsapp, or any messaging app. And they'll book an air ticket on your behalf. Also, you have the option to do cashless transactions from eSewa, Khalti, IME Pay, mobile banking, etc.
Have a Read:- How to Check the Flight Status of Nepali Airlines
How to Book Air Tickets Online in Nepal via websites/portals
With the ever-growing tech, booking air tickets online have been quite popular. Here is how you can book your domestic and international flight tickets online in Nepal.
You can just log on to the websites of a travel agency or ticket agency like Sastotickets.
You can also go to specific airlines' websites like Buddha Air, Yeti Airlines, etc. This is for those who are willing to travel via preferred airlines.
You can fill up the info online regarding the travel date, destination, return date, name, nationality, national ID/documents, etc.
And you can choose to pay via cashless mediums like digital wallets, mobile banking, etc.
Voila! You'll get your ticket via email or just download it straight from the website as a pdf file.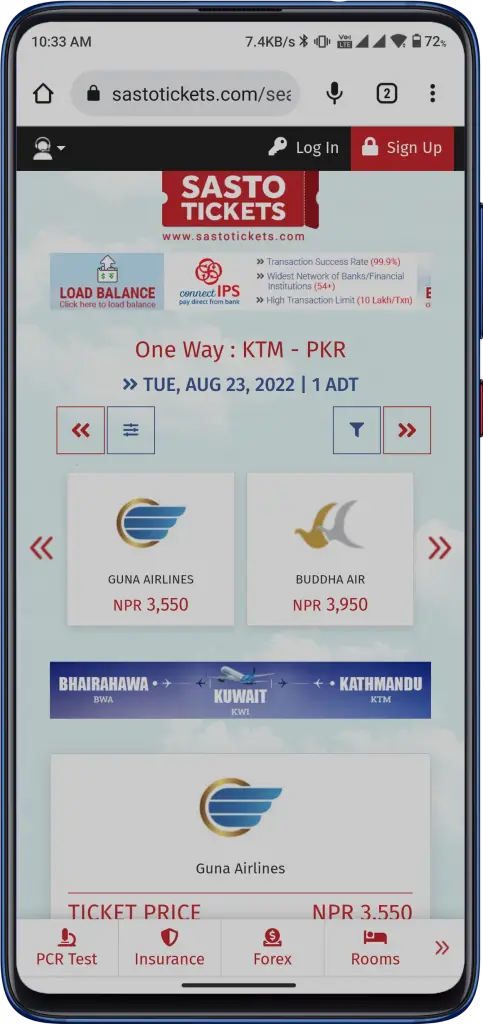 How to Book Air Tickets Online via Digital Wallets
Digital wallets in Nepal have also commenced providing air ticket booking from their respective apps. The top player in the market, eSewa, Khalti, IME Pay, etc. have had this feature for some years now. Also, other e-wallets like Namaste Pay, Cell Pay, Moru, and My Pay also let you book air tickets. Here's how you can book air/flight tickets via digital wallets in Nepal.
You can open any digital wallet app or its web portal with your KYC verified.
After that, you can head towards the air tickets section which might vary from one e-wallet to other.
Then, input the necessary information such as destination, date of travel, and return date.
Fill in the name, date of birth, citizenship or any national ID Card, no of passengers, etc as per your need.
When every detail has been filled up, hit the proceed button and pay via wallet balance or mobile banking balance as per the wallet's policy.
You'll get the air ticket in your email or you can also download it from the wallet itself.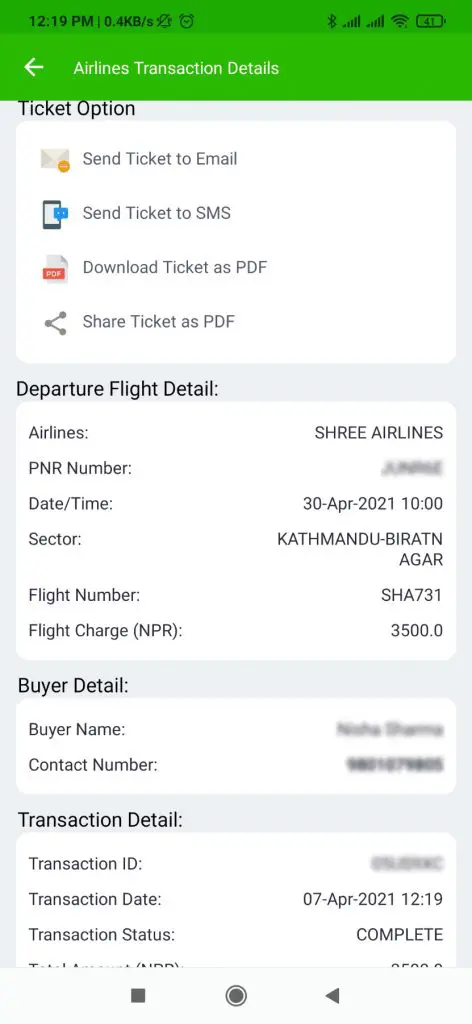 Do Read:- Nepal Airlines to Provide In-Flight WiFi Service
Booking Air/Flight Tickets Online via Other Ways in Nepal
There are also other ways to book air tickets in Nepal. Yeti Airlines Viber Ticket Booking service was just recently launched. Through the service, people can just send a text to Yeti's Viber number and can complete the entire process of the chat conversation. Likewise, there are ticket agents who can also book air tickets.
Check out: How to watch Fifa World cup football in Nepal?
Canceling an Air Ticket
Booked tickets can be canceled but the policy differs from one airline to another. Generally, domestic air tickets are non-refundable in nature. Also, cancelation should be done several days prior to the date of flying to claim refunds on refundable tickets. While, if the flights are canceled by the airline itself, passengers can get a new ticket or a refund directly.
So that was all about how to book air tickets online in Nepal. Not only domestic, but international flight ticket booking is now simple and easier than ever. This has become possible due to the internet and the digitization of goods in the world.
For international traveling, you might need to know this:- How To Get QR Covid Vaccination Certificate in Nepal?
Tell us what you think about our article. Do you usually book your air tickets online? How often do you travel via airplane? Feel free to drop your valuable opinions and experiences in the comment section below.