NMB Bank Limited and Kheti Farm App have joined a collaboration for a farm loan service that aims at providing loans to farmers without collateral digitally which is also the first of its kind in Nepal.
The loan is available from the mobile banking app of Nabil Bank 'eNMB'. The service allows farmers to get a loan digitally on their smartphones. The bank says that farmers get a loan within 5 minutes of submitting an application from the "NMB Kheti Karja" option in the bank's app.
Various initiatives have been taken from both the private and government sectors to digitalize farming and related practices. This digital loan service is equally innovative and beneficial to farmers. The Kheti Karja loan service thanks to NMB Bank and Kheti Farm collaboration seeks to provide loans easily for farmers and promote financial inclusion for farmers.
Also read: Digital Kisan Help Center established in Jhapa, to help farmers | Geo Krishi app
NMB Bank and Kheti Farm app collaborate for Kheti karja loan service
Thanks to the collaboration between the two entities, farmers can get a loan easily on a smartphone and without collateral. They can use the amount to buy agricultural seeds, products, and equipment. The partnership has made it easy to get loans as applicants won't have to submit any papers in the process. It's all done on a smartphone and the loan is granted within a few taps.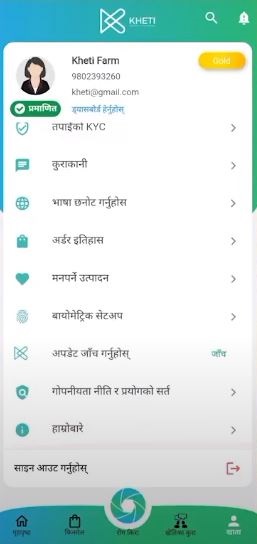 The loan service is completely digital. So, after an applicant submits an application for a loan, the farmer's previous transaction with the Kheti platform will be first assessed. Based on that, the loan grant approval is decided. The loan amount can be paid within the period of 3 months to 24 months. After repaying the loan, the farmer can apply for another loan immediately.  
Check out: Find how the Krishi Farm app is helping farmers in Baglung
Requirements to get kheti loan from NMB Bank
To get the kheti karja (farming loan) from NMB, you must have an account at the bank. Then you must also have the Kheti Farm app. You also need to ensure that you must enter all your customer ID details, and have carried out transactions of agricultural production and tools through the same app. The other requirement is that you must have participated in disease and pest management, farming, etc.