A popular Nepali app, Hamro Patro has been registered in India. This is the first time, a Nepali app has made its inception in the crowded market of the neighboring country. Let's get into the Hamro Patro in India news in this article.
Hamro Patro in India
Hamro Patro has registered to operate in the Indian region. This will allow the calendar app to expand its services in India. For starters, this app functions as an all-in-one app with a calendar, news, horoscope, birth charts, doctor consultation, forex, remittance, and whatnot! Also not to mention, it also doubles as a digital wallet "Hamro Pay".
Well, getting back to the news, Hamro Patro's CEO Rudra Pandey tweeted about the app's registration in India.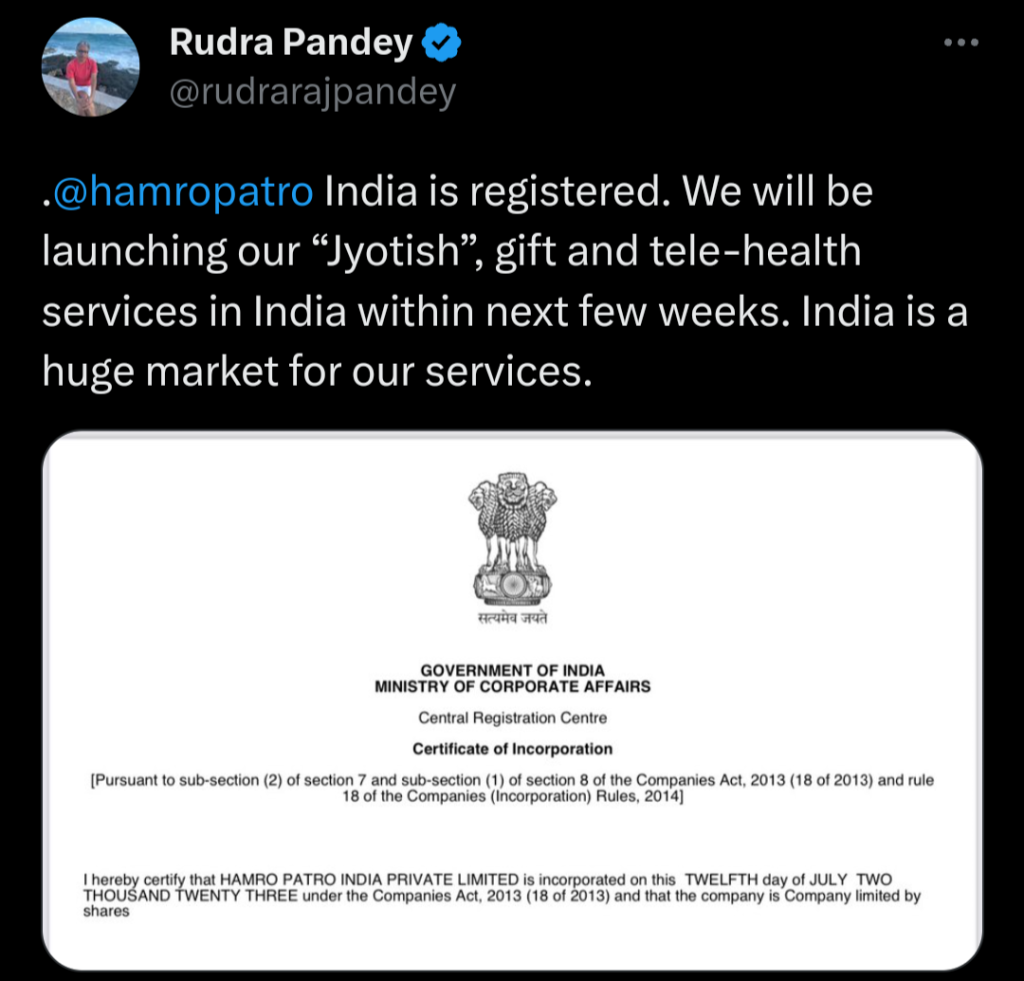 What's the plan of Hamro Patro in India?
As per Rudra Pandey, the calendar app is set to provide the 'Bikram Sambat' calendar service with telehealth, astrological solutions, and gifts in the moving time. The 'Bikram Sambat' calendar has long been followed in the Himalayan country of Nepal. After all, this lunar-based calendar stands as the official calendar in the country.
The Indian region on the other hand, especially the Hindu population still refers to the Lunar-based calendar for festivals and religious events. But for day-to-day tasks, the western solar-based calendar still reigns all over the place. In that regard, the entry of Hamro Patro and its potential growth shall hugely help the interested population discover the 'Tithis' and festivals. Their solar-based calendar also marks all of the festivals but a proper 'Bikram Sambat' calendar is always a clear step ahead in terms of Indian astrological value.
Do Read: WeChat Pay Officially launched in Nepal through NMB Bank
Hamro Patro in India, Will it Benefit Nepal?
Hamro Patro is a Nepalese startup company that has excelled with time. The add-ons of a plethora of features are making it an unbeatable app at the moment. In short, it has received the SuperApp status undoubtedly.
So, Hamro Patro's presence in India will definitely benefit Nepal both directly and indirectly. The revenue generation for the company will bring in more tax for the domestic country. While, competing in the crowded market of India, will open more ways. In fact, interoperability and remittance might foster between the two countries.
Also Read: Moru Wallet to Wallet Transfer in Nepal, Interoperability Begins!
So what do you think about Hamro Patro in India? How long have you been using Hamro Patro? Share with us your thoughts, opinions, and queries in the comment section below.