Facebook ads from Nepal will now be legal. Feat International has become the reseller of ads on the world's largest social media platform after striking a historic deal with the American social media globetrotter.
Feat International has struck up a partnership with Facebook becoming an authorized reseller of Facebook ads from Nepal. This can prove to become a significant milestone in Nepal's digital marketing history.

Facebook has become a major online platform for business promotion today. With its tremendous user base and popularity among all age groups, businesses can promote their products and services via ads to reach their target customers digitally.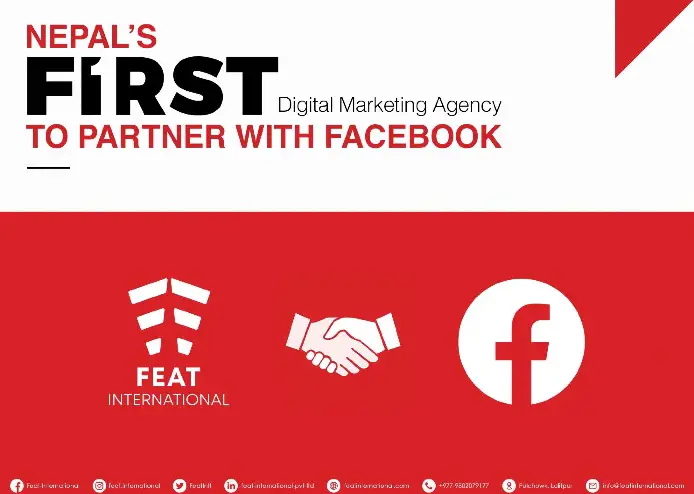 This partnership between Feat International and Facebook will facilitate digital marketers and agencies who wish to purchase ads on Facebook. It will enable Nepali businesses to make the most out of it by utilizing their local expertise, knowledge, and skill and promote their products and services.

So far Nepali businesses have relied upon third-party means to pay for their ads on Facebook. Estimation holds that Nepali businesses spend around NRs. 2 billion every year for Facebook ads from Nepal. However, due to the lack of a legal channel, the state revenues have always evaded due to the lack of a formal channel.

However, this deal will enable Facebook ads to be tracked via invoice billing. In addition, the Nepal government can also keep accounts of transactions done by Nepali agencies and organizations for Facebook ads.
Also check out: Top 5 Digital Wallets in Nepal: Updated (2021)
A "Milestone" Deal
Ravi Singhal, the CEO of FEAT International, stated that the association with Facebook "represents a major milestone for all agencies and brands alike". Adding further he said, "the company expects the association will usher in more opportunities and benefit the whole digital marketing industry."
Feat's South Asian Dream
Feat International is a digital marketing firm based in Nepal which aims "to change the face of digital marketing in South East Asia." The company is the creation of synergy of pioneers of digital marketing, the largest media house & the biggest IT company in Nepal.

In addition to the Facebook ads deal, FEAT has been the reseller of Oho Domain, Viber Business Messages, and Shoutout. Since its beginning, the firm has helped its clients' brand grow 'bigger, better, and brighter with its elite services.
Check out: Influencer Marketing in Nepal

After this deal, Nepali entrepreneurs, businesses as well as agencies will make their international transactions through the Nepal Rastra Bank. As for local payments, FEAT complies with Inland Revenue Department's guidelines.

Are you promoting your business on Facebook? What do you think of the deal between FEAT International and Facebook? Kindly drop your opinion in the comments section below.