eSewa Cashback Offer is here for linked Nabil Bank customers where you can get up to Rs.380 flat cashback on merchant payment. On the occasion of Nabil Bank's 38th Anniversary, the collaboration between the PSP and Bank has brought this offer. Let's know more about the eSewa Cashback Offer in this article.
eSewa Cashback Offer for Linked Nabil Bank Users
The scheme is valid for users having their Nabil Bank account linked to eSewa. So, if you have an account on the bank, you must link it to the eSewa first. Now, the users can get straight Rs.380 cashback on transactions done via a linked Nabil Bank account. This is valid only for today from 3 PM to 4 PM.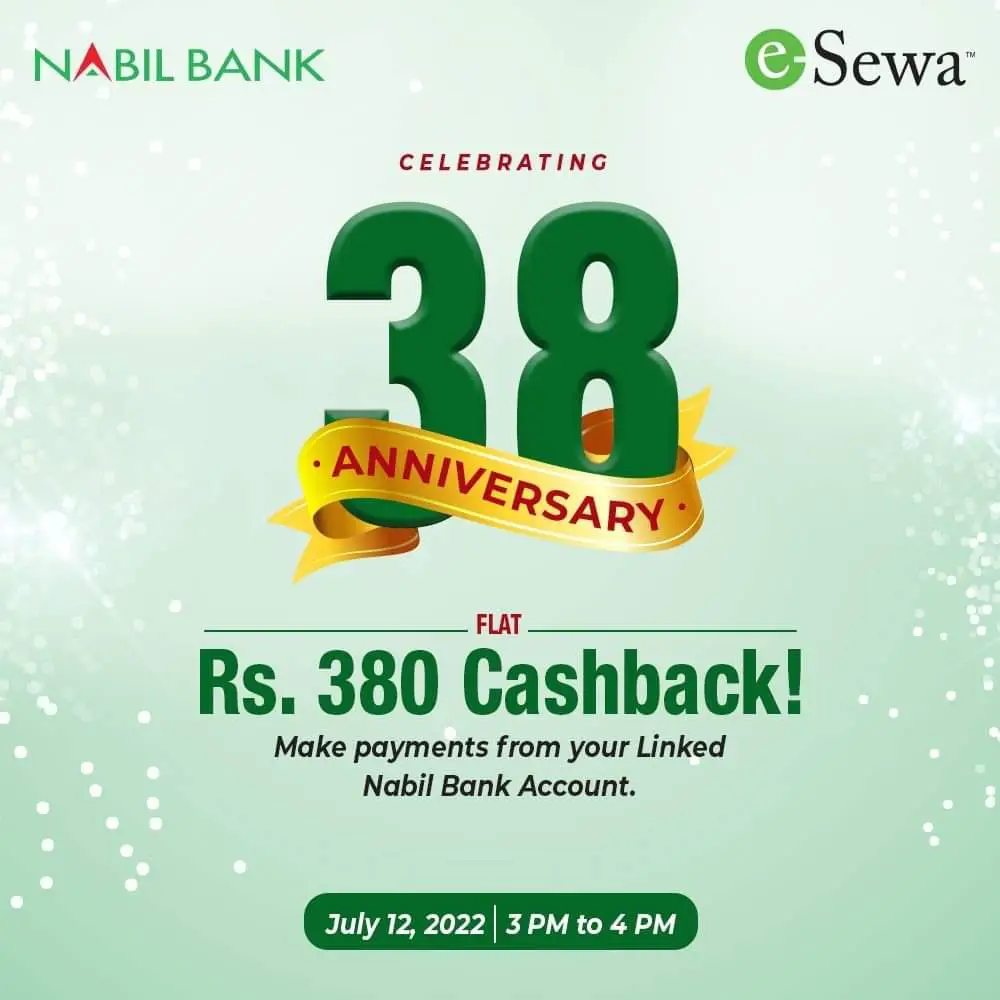 Terms and Conditions
The transaction amount should be Rs.500 or higher
Payment should be done via Nabil Bank on eSewa
Valid for transactions between 3 PM to 4 PM, July 12th, 2022
Users will get the cashback amount as eSewa balance
How To Get eSewa Cashback via Linked Nabil Bank?
Open eSewa with linked Nabil Bank Account
Head towards top-up or any payments option
Proceed after choosing the amount (Rs.500 and Above)
Select 'Choose Payment Option' and click on Nabil Bank LTD
Make the payment between 3 PM to 4 PM on July 12th, 2022
Voila! You will get Rs.380 cashback.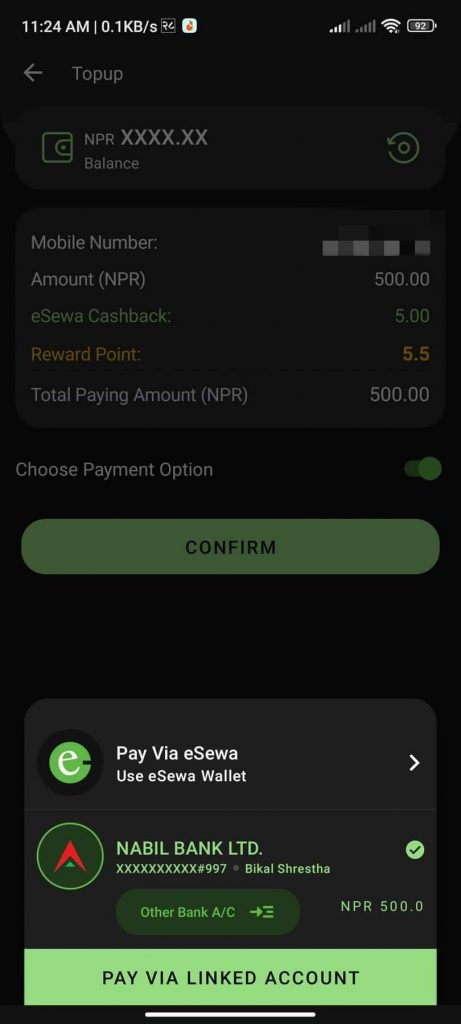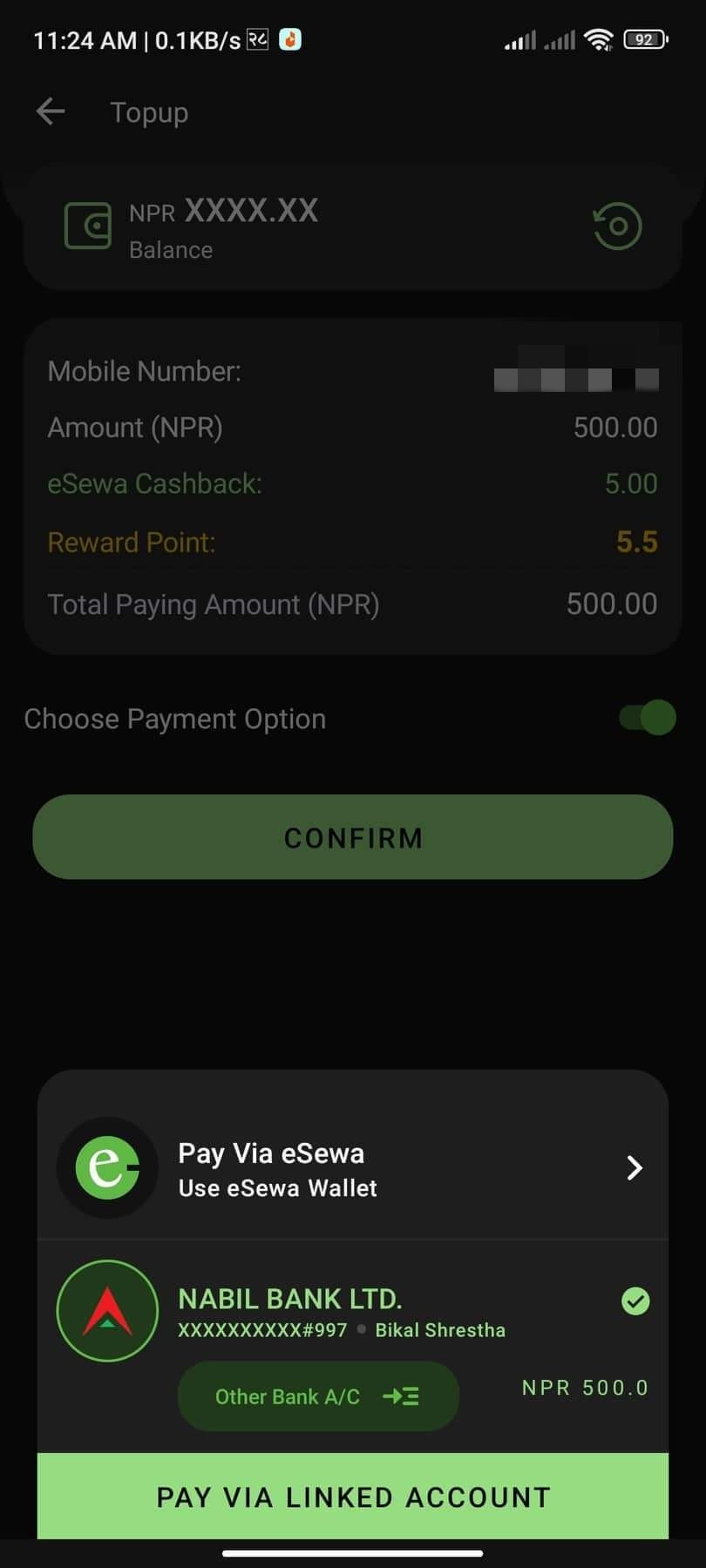 About eSewa and Nabil Bank
eSewa is the leading PSP in the country. Also being the first PSP in Nepal, the platform has been providing a plethora of services for the customers. One can top up, pay internet, water, and electricity bills, buy an air ticket, or a concert ticket, eSewa has it all. The inclusion of traffic fine payment, blue book renewal, and tax payment has made it easy for those having busy schedules. The digital wallet is the most popular due to its array of payment options and exciting offers.
Also Read:-Nabil Bank Wins National HR Excellence Award 2022
Nabil Bank is a pioneer name in the commercial banks market of Nepal. It is celebrating its 38th Anniversary today with this eSewa cashback offer. Established on July 12th, 1984, the bank has branches across the country. It is also one of the first banks to provide a video KYC option for those opening new accounts. Recently, it merged with Nepal Bangladesh Bank. The data migration, as well as system integration, has been completed today, marking its notable feat on its anniversary day. From now onwards, Nepal Bangladesh Bank will be known as Nabil Bank and its branches will also unify as one.
Have a Read:-NIC ASIA Mobile Banking App Update, Tons of New Features!
So that was all about the eSewa Cashback Offer for Linked Nabil Bank customers. The scheme is great for those having the bank's account linked to eSewa. Lets hope eSewa will bring such offers for other banks customers too.
Do you have an eSewa account with Nabil Bank linked on it? How do you find this offer? Make sure to avail this offer today. Do write us your thoughts, suggestions and opinions on the comment box below.