BYD Dolphin is launched officially in Nepal. Cimex Nepal, is the authorized distributor of BYD vehicles in Nepal. The electric vehicle arrives with various impressive specs & features. Here, you can learn more in-depth about the BYD Dolphin price in Nepal, specifications, features, and availability.
Read: BYD first automaker to make 5 million NEVs
Table of Contents
BYD Dolphin Overview
Design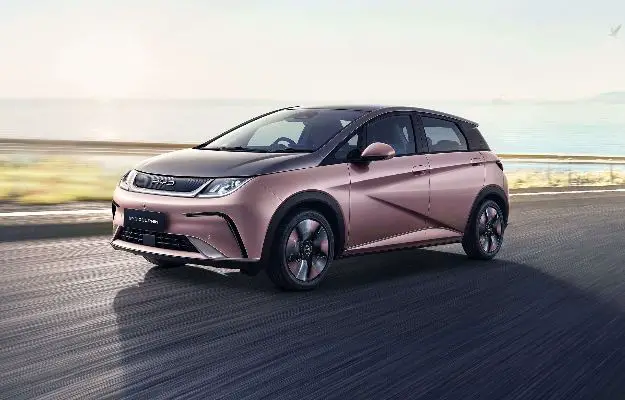 The BYD Dolphin's design embodies a careful blend of practicality and comfort. Its compact yet well-proportioned dimensions, measuring 4070 mm in length, 1770 mm in width, and 1570 mm in height, with a wheelbase of 2700 mm, strike a perfect balance. This thoughtful design translates into a spacious interior that comfortably seats up to five adults.
Whether you're running daily errands, commuting, or embarking on an extended road trip, the Dolphin ensures that every passenger enjoys a comfortable and roomy ride. It's a versatile electric vehicle that caters to the needs of families and friends, underlining its commitment to providing both convenience and comfort in a stylish package. The car is available in different colors: Sand White, Coral Pink, Maldive Purple, and Urban Grey.
Performance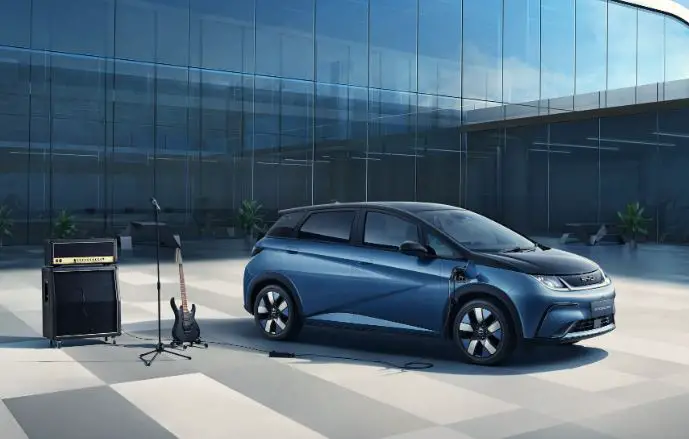 The BYD Dolphin's performance is a remarkable fusion of efficiency and exhilaration. It is powered by a 70 kW electric motor producing 180 Nm of torque, this electric vehicle accelerates from 0 to 100 kmph in just 12.3 seconds. So, it delivers quick and responsive driving dynamics while minimizing its carbon footprint, embodying a perfect harmony between eco-friendliness and performance.
Coming to the suspension of the EV, it comes with the Macpherson Strut front suspension and Torsion Beam rear suspension. The car has Ventilated Disc front brakes and rear Disc brakes.
Battery Life & Charging Options
The BYD Dolphin boasts a 44.9 kWh battery, in synergy with its 70 kW electric motor, forming a powerful and efficient duo at the core of this exceptional electric vehicle. This advanced combination not only grants the Dolphin an impressive 340-kilometer range, certified by the stringent WLTP standards but also ensures a seamless and eco-conscious driving experience. 
This efficient pairing not only delivers eco-friendly performance but also contributes to a cleaner future. In terms of charging, it offers versatility with support for both DC and AC options. DC fast-charging through CCS 2 at 60 kW enables rapid charging, taking the battery from 20% to 80% capacity in just 42 minutes. Meanwhile, the AC charging choice using Type 2 at 7 kW provides convenient and accessible charging, whether at home or standard charging stations.
Safety and Features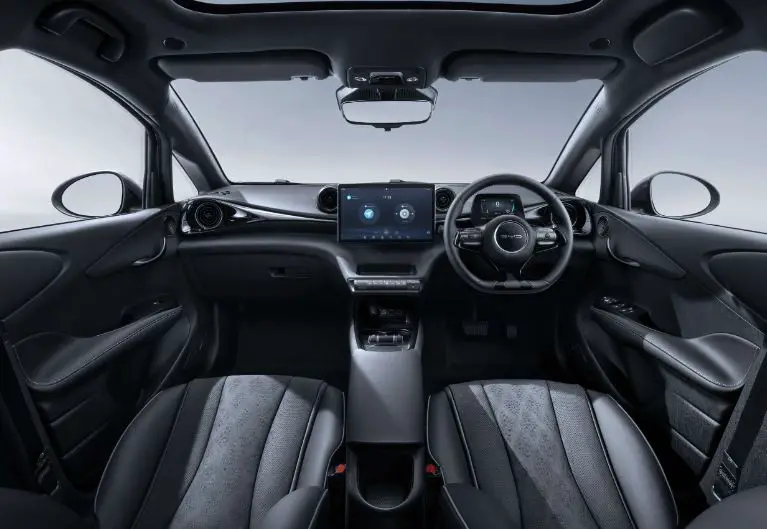 The BYD Dolphin EV impressively combines advanced features and a comprehensive safety package. Inside, it boasts a flat-bottom multi-function steering wheel, a 5-inch full LCD instrument panel, and a generous 12.8-inch floating central control screen for a modern and intuitive user experience. Passenger comfort is enhanced with features like front seat heating and electronically adjustable seats. 
On the safety front, the Dolphin is equipped with six airbags, TPMS, ABS with EBD, EPB, ESC, and TCS, ensuring robust protection and stability. Its 360-degree camera aids in parking and maneuvering. Notably, the Dolphin goes beyond conventional safety by offering an array of Advanced Driver Assistance Systems (ADAS), including Adaptive Cruise Control, Automatic Emergency Braking System, Rear Collision Warning, Blind Spot Detection, and Rear Cross Traffic Alert, among others, reaffirming its commitment to passenger safety and convenience.
Also Read: BYD Atto 3 Price in Nepal | Specs and Availability
BYD Dolphin Technical Specifications
Dimension: 4070 mm x 1770 mm x 1570 mm
Ground Clearance: 175 mm
Wheelbase: 2700 mm
Max Power: 70 kW
Max Torque: 180 Nm
Transmission: Automatic
Drive Type: FWD
Acceleration: 12.3 (0-100 kmph)
Battery Capacity: 44.9 kWh
Range: 340 km (WLTP)
Charging Time: DC 60kW: 42 mins (20% – 80%)
Charging Type: DC: CCS 2 60kW / AC: Type 2 7kW
Front Tyre: Ventilated Disc
Rear Tyre: Disc
Tubeless Tyres: Yes
Safety System: Airbags, ABS, EBD, CSC, HA
Suspension Setup: MacPherson strut and Torsion Beam
Seating: 5-Seater
Colors: Sand White, Coral Pink, Maldive Purple, and Urban Grey.
BYD Dolphin Price in Nepal: Rs 39,80,000
BYD Dolphin Price in Nepal and Availability
The BYD Dolphin price in Nepal is Rs 39,80,000. It is available in different colors like Sand White, Coral Pink, Maldive Purple, and Urban Grey.
| | |
| --- | --- |
| BYD Dolphin | Price in Nepal |
| BYD Dolphin  | Rs. 39,80,000 |
BYD Dolphin Price in Nepal
Checkout: Best Electric Cars Price in Nepal | Latest 2023 Update
Our Verdict
The BYD Dolphin stands out as a remarkable advancement in electric mobility, blending practicality with a 70 kW electric motor for quick acceleration. Its compact design (4070 mm x 1770 mm x 1570 mm) and spacious interior for five passengers make it versatile. Its 44.9 kWh battery ensures an impressive 340-kilometer range by WLTP standards, eliminating range concerns. As for the charging options are flexible, with DC fast-charging (60 kW) taking the battery from 20% to 80% in 42 minutes and AC charging (7 kW) offering convenience. As a green choice, the Dolphin emits zero tailpipe emissions, emphasizing sustainability. In essence, the BYD Dolphin excels in design, performance, and eco-consciousness, epitomizing progress in electric mobility.
BYD Dolphin is now available for purchase in Nepal. Likewise, BYD Nepal will also provide a warranty of eight years, or 1,60,000 km warranty on the battery.
Do check out: Best Electric Cars in Nepal | Detailed Specs