Search engine Toolkit Company Ahrefs has launched called YEP, a search engine. The company says it wants to pay a huge chunk to the bloggers for the revenues it generates from their new service. Find more.
In a world where Google already predominates, why would a company build a search engine? Ahrefs for that has a unique scheme to cope with.
The company says it will pay content creators when the ads get clicks and it wants to split the revenues 90/10. 90% of ad revenues will go to the bloggers.
For an instance, one advertiser will pay YEP to promote a product or service for a query. When someone searches for that query and visits your site, Yep will pay you (the content creator) the 90% ad revenue.
This looks strikingly astounding for bloggers. However, skepticism remains among the content creators.
But what makes YEP a capable search engine, or is it even one?
Yes, YEP is a capable search engine but will only need more work to be competitive. YEP to begin, has the potential to be an efficient search engine alternative because it has resources.
Ahrefs runs a large-scale bot that spans the web round the clock since 2010. It has so far stored and indexed petabytes of data. This data has abled Ahrefs to create SEO tools. That has also motivated them to launch the million-dollar search engine.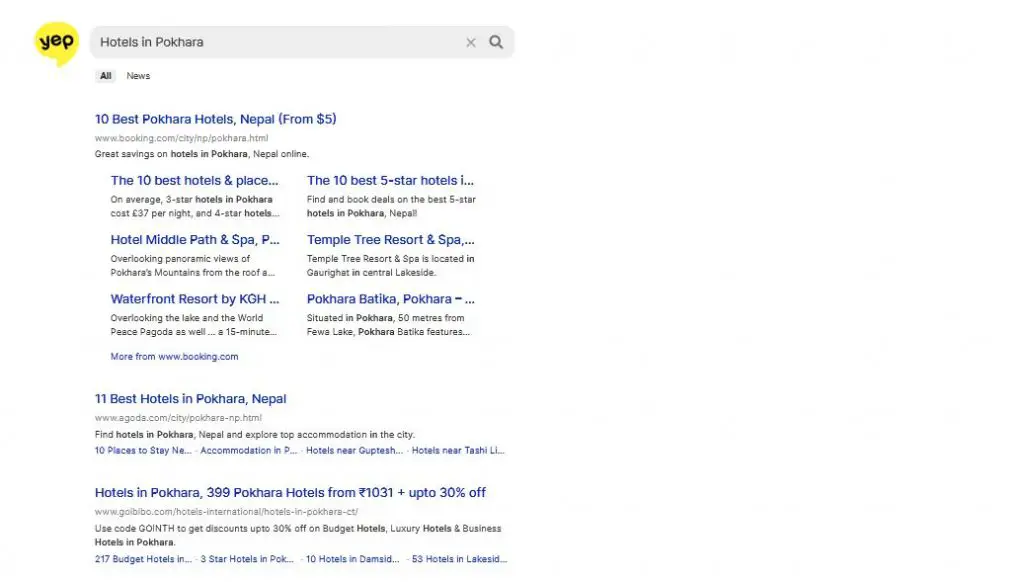 Ahrefs says, "Our aim has always been to build good products faster than the giants and avoid feeding them endlessly by leaving money in the community."
Also read: How To Search On Google Like A Pro? Learn 5 Tips
Ahrefs CEO on YEP launch
Dmytro Gerasymenko, Ahrefs founder and CEO talked about YEP's revenue-sharing model and privacy matters.  He said, "Creators who make search results possible deserve to receive payments for their work. We saw how YouTube's profit-sharing model made the whole video-making industry thrive. Splitting advertising profits 90/10 with content authors, we want to give a push towards treating talent fairly in the search industry."
Gerasymenko also delved into how much the company has emphasized privacy with its search engine.  "We do save certain data on searches, but never in a personally identifiable way. For example, we will track how many times a word is searched for and the position of the link getting the most clicks. But we won't create your profile for targeted advertising," he added.
Do read: YouTube Go is Shutting Down with improvements on the main app
Still a work in progress
However, skepticism is appearing on the web as to how YEP will stand on the promise of paying the content creators while some have questioned its working in the beginning.
Slow results, crashes, and "Something Went Wrong messages" have underwhelmed some of the early birds who tried to search via YEP.
The benefit of the doubt is YEP is still a work in progress. It will take time to prime it up and return relevant results on queries. Competing in the sphere where Google dominates is not easy. Many have failed brutally already.  Let's cut Ahrefs some slack for their attempt. They are paying the blogger, let's not forget that.
Ahrefs is headquartered in Singapore. It generates $100 million in revenue annually from its 50,000 subscribers.
The YEP project has 11 members working on the ambitious project. The search engine is the brainchild of Ahrefs CEO Dmytro Gerasymenko.
Can YEP or any search engine make a commendable impact and force us to make a switch from Google? Do share your opinion in the comments below.