Wondering how to check local-level election results? There are many ways you can do so. Find them below.
The local-level polls held on n May 13th have concluded across the country except for some areas where elections could not be held. People lined up from 7 AM to 5 PM to cast one vote for their favorite candidate and we are all waiting on the results.
The Election Commission has announced that the counting of the votes will begin shortly after the voting is done. As per the news sources, many areas will have counting started right from today, while others will have the counting beginning from tomorrow May 14. So, you may want to be more than eager to know the fate of your favorite candidate who you chose to lead your local level jurisdiction. But how can you keep updated with the live updates?
It shouldn't be difficult these days. Depending on your location whether you are in your residence, or outside, there are different ways you can keep yourself updated with the vote results. We are listing them below.
Also read: What Type of Ballot Paper is Used in Your District | Local Elections
Television channels, radio, apps
The most obvious source of election updates is the electronic media. With a TV, you can keep live check on the results from your area, and that of the whole country. To be more specific, several news channels broadcast live feeds with their correspondents on constituencies. On the screen, you can see the live results on your tube.
On the other hand, if you don't have a TV, or not convenient to watch a TV. You can avail yourself of a radio or FMs. They also broadcast vital election results and updates continuously.
By the way, you can also use a smartphone app to play TV channels on your phone and check on the election result. For an instance, if you subscribe to the NetTv, then you can simply launch the app, and choose a news TV channel to render the giant TV screen onto your handheld device. With mobile data, you can get the latest updates on the go.
Check out: How to check your name with Voter ID online?
Official website and news portals
Similarly, you can also grab election results on an official website managed by the government. For this, you go over to this portal and then click on Local election result, or directly click here.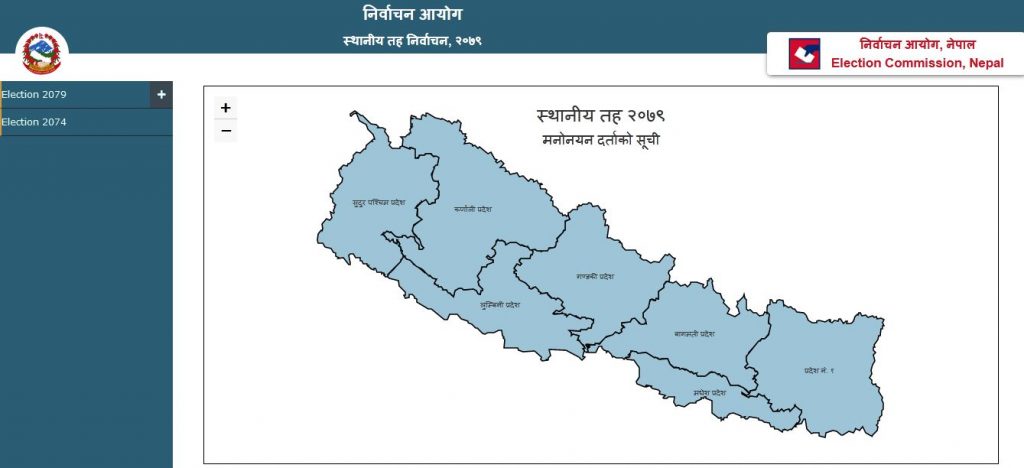 The portal is well advanced and you will need to start by choosing first your province, district, and then the local-level area of your concern. The government updates all the results on it and it is a very reliable source for the updates.
Besides the official website of the government, you can also make use of other private online sources. Prominent news portals such as Onlinekhabar, Ratopati, Kantipur, etc. dedicate a section on their home page. If you have a smartphone with an internet connection, you can always stay updated on the election results with news portals too.
Print media
While this is not an instant source for the results per se, it is still one reliable medium. The only drawback is, with newspapers, you are not getting any live feed on the results. And you have to wait on another day to get the remaining updates from an entire day.
The Election Commission says 64 percent of the total eligible voters turned out in the local level election 2079.
Election Commission is expected to complete the counting of votes and declare the results by May 19, which is within 6 days from the day of the election.
Are you an election fanatic? If you are, don't forget to share with us which is your preferred way to keep updated with the election results below in the comments.