One of Nepal's elite online marketplaces Hamrobazar has introduced a new feature "Boost" for customers to promote their products. The feature will help customers increase the visibility of their products and increase the chance of finding a buyer more quickly.
The exciting addition will help customers entice more possible buyers for their products. Enhanced visibility online ensures more chance of a quick sale. Hamrobazar.com is one of the popular online marketplaces for selling new or used goods in Nepal.
 "Boost helps your product reach more potential buyers with top-of-the-category placement for a limited time, this assures high engagement and visibility on the product. Our smart algorithm assures that when people are searching for related products they see your listings at first followed by regular listings," Hamrobazar.com says in a statement on its website.
After boosting the ads, customers can also monitor "increased reach" in their Analytics from their profile.
Check out: Top 10 Online Shopping Sites in Nepal
How to boost products on Hamrobazar.com?
To boost products on Hamrobazar.com, follow the steps below:
Add your product to Hamrobazar.com.
When the product is live, Visit: Hamrobazar.com/boost.
Depending on your choice, select the hours/days you want to Boost your product for.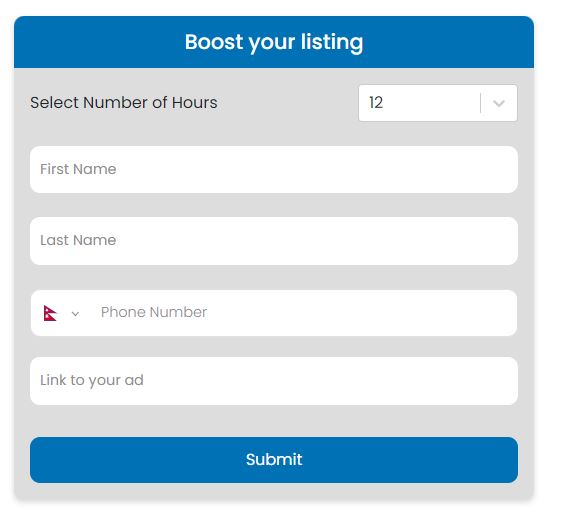 When you know your billing, fill up the form.
Submit details and pay online.
The company might contact you to confirm Boost and get it live.
Boost requests are accepted between 9 AM-5 PM and each request is processed manually. The company says the payment for the boosts is non-refundable. You can pay for the boost via eSewa/FonePay QR.
The cost for the boost increases on an hourly basis. If you want to boost your product for 12 hours, you need to pay Rs 1000. Likewise, a 24-hours boost costs Rs 2000 and a 36-hours promotion requires Rs 3000, etc.
Will the Boost feature draw you more toward Hamrobazar.com? Let us know for any queries in the comments below.