Nepal's prominent digital payment vendor eSewa has teamed up with Skrill to facilitate international fund/money transfers. Read below to learn how to send money from Skrill to eSewa.
eSewa has started a collaboration with Skrill, another UK-based mobile wallet to allow users to wire their money for free between the two accounts. This will, especially benefit Nepalese living abroad who will now be able to transfer money from their Skrill app to eSewa accounts for free. Additionally, Users of Skrill from abroad can also send money to Skrill account holders in Nepal.

Skrill is a UK-based virtual wallet service that has spanned its services in 130+ countries since its inception in 2001. The popular e-wallet lets its uses pay for gaming, shopping, between Skrill accounts. It also allows payment via credit or debit cards. In sum, it is similar to eSewa.

Before this, eSewa and Skrill had signed a pact 4 years ago which allowed eSewa users in Nepal to withdraw money from Skrill into their accounts. This recent deal has now added the service of sending and receiving money giving both e-wallet users more convenience to wire money online from around the world.
Also read: eSewa Partners WorldRemit: Now receive Money From Worldwide
What Does The Partenership Mean?
As mentioned earlier, eSewa's money transfers have been exclusive within its eco-system only. They can send or receive money transfers between legitimate accounts verified by mobile numbers and within Nepal.

But now eSewa and Skrill have brought a much-needed convenience to digital wallet users. This allows Nepalese abroad to wire funds to their family and friends living in Nepal legally. Having the luxury of a digital wallet that lets us send money within a few clicks is a major comfort.
Check out: Top 5 Digital Wallets in Nepal: Updated (2021)
Two Options For Money Transfer
One Key Benefit of Using Skrill is you will get two methods of fund transfer.
Users of the Skrill iT service can directly send money to an active eSewa account in Nepal with just the name and mobile phone number of the recipient for authentication.
Users can also send money to Nepali Skrill wallet users with a name and an e-mail address. Nepalese Skrill users can add eSewa's verified phone numbers to their Skrill wallet and withdrawal funds into eSewa.
How To Send Money From Skrill To eSewa?
Sending money from Skrill to eSewa is very basic and similar to how we do with other e-wallets. The users can apply to follow the steps below to perform a money transfer.
Log in and click 'Send'.
Choose the Money Transfer option to send to a mobile wallet, 'eSewa'
select a country and currency
Enter the amount you're sending
Select a payment method
enter your recipient's name and phone number
Confirm the amount and send.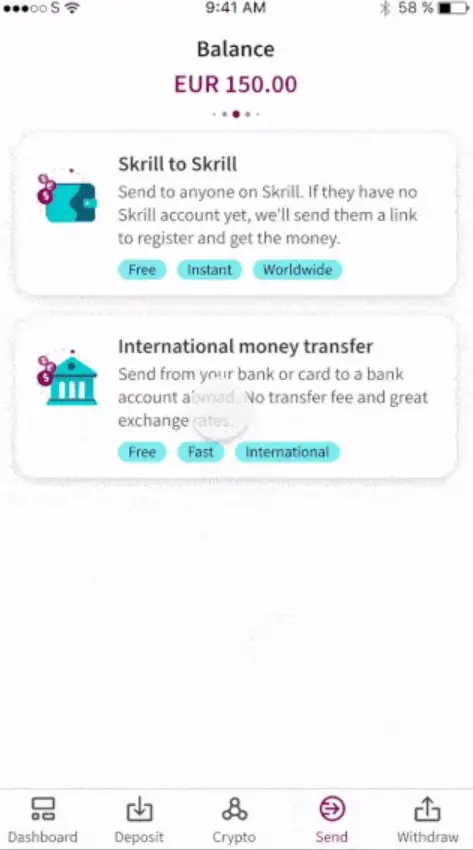 Benefits Of Using Skrill
It is a safe and secure channel.
Offers two options for fund transfer.
Money transfer is instant and the recipient gets the notification via SMS reminding them of the new balance on their account.
Another advantage is immediate its cash-out facility with thousands of agents available round the clock.

Note: A certain amount of cash-out fees may apply depending on the mobile carrier network.
Charges for money transfer between eSewa and Skrill
To the benefit of both eSewa and Skrill users, both sending and receiving the money is free. However, it will charge you 1.45% for withdrawal into eSewa.
Cross-platform digital wallet transfer will bring convenience to many Nepalese around the world to transfer funds easily. Those working or studying abroad from their families are constantly in need of sending or receiving money and Skrill and eSewa partnership will bring significant assistance to them to directly transfer money between these digital wallets.
What is your reaction to this news of Skill and eSewa transfer collaboration? Have you used Skrill before? How do you think it will benefit you to wire funds to eSewa accounts in Nepal? Let us know in the comments below.