NCHL has changed the cheque clearance timing. With new revision, checks submitted by 4 PM on a working day, with payment orders by 5 pm, will be processed the same day. The new time changes will come into effect from Jestha 3 Tuesday.
The time adjustments come following the government's decision to enforce two-day holidays from Jestha 1. With services closing on Saturday, and Sunday, Nepal Clearing House Limited (NCHL) revised policies on electronic cheque clearing (NCHL-ECC, Interbank Payment System (NCHL-IPS), and Retail Payment Switch System.
Besides, NCHL has also made fresh amendments to its existing sessions and arranged new sessions from Monday to Friday. With the new arrangement, checks turned in by 4 pm with payment order assigned by 5 pm, will go through on the same day. Alsso read: Global IME Bank and NCHL Reach Agreement for Payment Switch
New Cheque Clearance Timing
Under the NCHL ECC service, seven sessions have been designated. It includes one regular session, 4 Express sessions, and 2 High-Value Sessions. Under the Regular Session, cheques submitted before 3 pm are cleared after 5:15 pm on the same day.
Similarly, checks submitted in the express session from 10 am to 4 pm will be sold from 11:45 am to 4:45 pm on the same day. Checks ranging from Rs 200 million to Rs 300 million are presented in high-value sessions.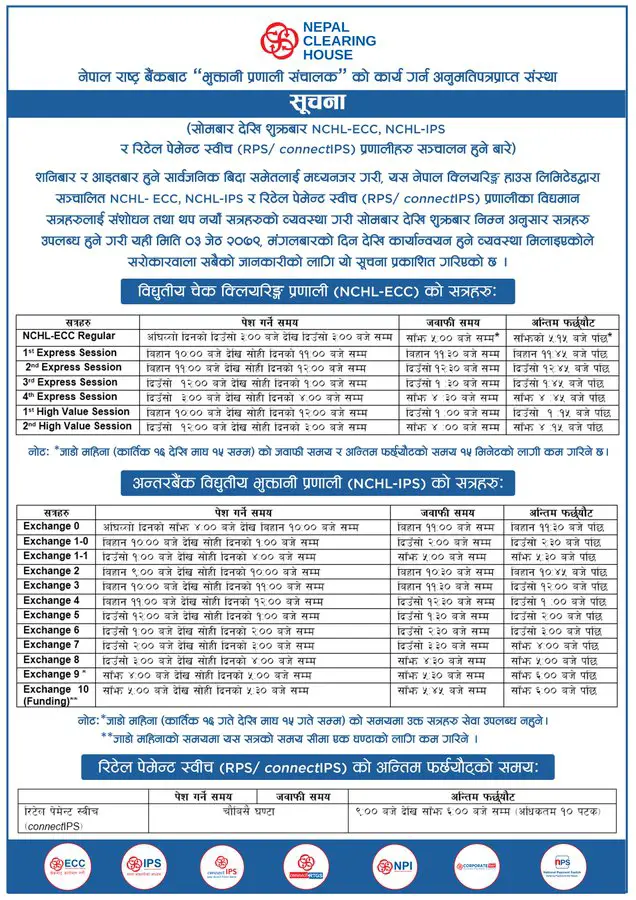 Likewise, the payment orders submitted to Retail Payment Switch or Connect IPS will be sold a maximum of 10 times from 9 am to 6 pm, according to NCHL.