Now you can change your Mero Share password on your own. CDS and Clearing Limited (CDSC) has finally introduced the long-sought feature on its web and mobile platform which will delight millions of MeroShare users. Changing your password to MeroShare takes a basic process. Learn below.
Ever forgot your Mero share password? Or did you ever want to create your own password for a better reminder? Now it is possible. CDSC, the company behind Meroshare has finally catered to the user's ability to change passwords on their own. The company rolled out an update to the Mero share portal and its app to enable the feature just a few days ago.
Read: How To Check IPO Allotment Results In Nepal? Learn 3 Easy Ways
Previously, when a user forgot the password or wanted to reset it, he/she would have to visit the depository or merchant banks from where they created the MeroShare account. The DP would then process it for the user. This was time-consuming and inconvenient as it deprived them of immediate stock engagements. Especially in the times of COVID-19, this on-the-go feature adds even more value to the users.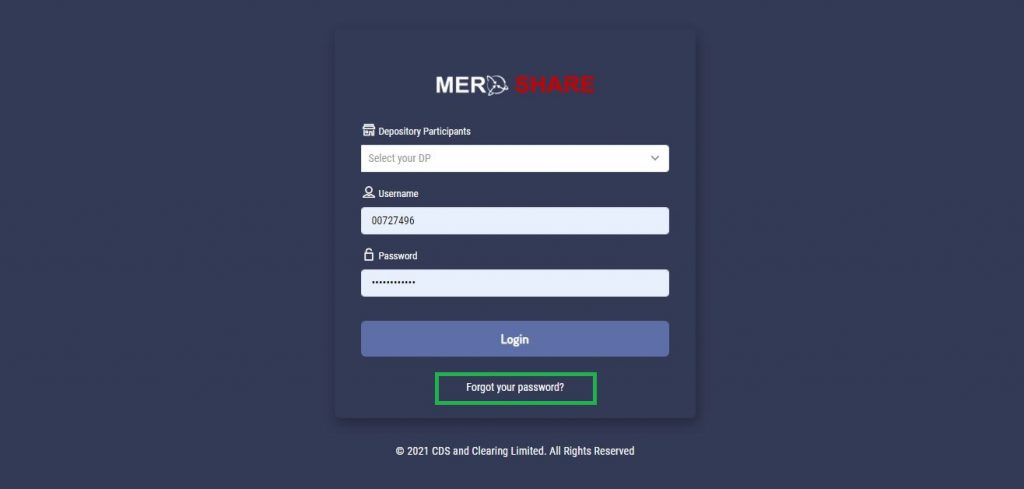 Now, with the feature of changing the password given to the Mero share account holders, they can change their password anywhere in some basic steps.
Don't miss: Meroshare's Portal Issues Persistent Despite Improvements
Steps To Change Meroshare Password
First, go to the Meroshare portal or launch the app
Now click on "Forgot Your Password" that you see under the Login tab
On your screen, you will see a dialogue box. Enter your DP, username, email address, and your date of birth up that match your Meroshare account
Click on send
You will receive an email with a link from CDSC
Click on the link that will help you change your Meroshare password
Enter your new desired password and confirm it
Now, log in to your Meroshare account with the new password to confirm it.
That's it. Now you have a working new password for MeroShare.
Steps To Reset/Change Transaction PIN?
Transaction PIN is a four-digit number that acts as a layer of security for your share-related acts. Without it, one cannot apply for share, or buy/sell stocks. If you feel there is a need to change it, follow the steps below.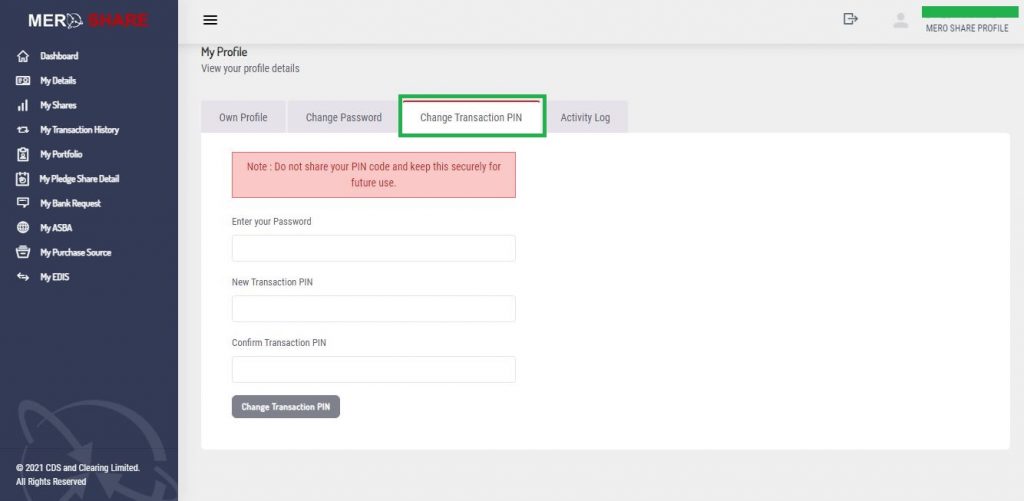 Go to Meroshare login or launch the app
Click on your profile on the top right corner
Click on the Change Transaction PIN tab
Enter New Transaction PIN
Then, click Confirm Transaction PIN
At last, click on Change Transaction PIN at the bottom.
Now you have your new transaction PIN.
The above steps will help you to reset/change MeroShare and Transaction PIN. We hope we have covered you well on these steps.
As per the CDSC's latest figures, Demat accounts have reached while 3,184,421 are using MeroShare services.
Have you considered changing your Mero share or Transaction PIN? If you have, these steps will surely help you. If you have any queries on it, let us know in the comments below.