Seems like Meroshare's portal issues are not waning away as we expected. Despite recent tweaks and twists, the newly developed portal is still not loading causing annoyance and inconvenience to the investors who rely on the portal to check on their IPO results and trade in secondary markets.
Many Nepalese have got a new enthusiasm in share markets. The idea of applying IPOs and selling them in secondary markets for profit has been key in this explosive interest recently. As of now, there are almost 3 million Demat account holders in Nepal.
Dont forget to read Mero Share Login: Apply IPO, Transfer Stocks, Calculate WACC

Learn everything about Mero Share.
Back in January Nepal, Infrastructure Bank released 80 million units of shares that amounted to NRs. 8 billion out of which the general public had access to 75.840 MN units. It subsequently allured huge crowds towards the share market.
Word of mouth, social media aided by the forced lockdown pushed people towards online medium and has resulted in a share market boom in Nepal. As a result, a record 15,29,460 applicants applied for the IPO. Since then Demat and Share market have been the keywords in social media in Nepal. This is perhaps the watershed moment in Sharemarket's soaring status in recent memory. Demat forms are submitted in record number each day while many companies are also issuing their IPOs to reinforce their capital.
Check out: Nagarik App to provide all government services from a single window
Meroshare's Portal Issues: Not Loading, Errors, Crashing
However, the same cannot be said about how it is handled by CDSC. CDS & Clearing Limited shortly known as CDSC created MeroShare as part of digitizing the share market activities that would bring convenience to investors who would be able to check on market status on-the-go either on the web or app on smartphones. But despite porting it from manual registers to the online, it has not catered to the service efficiently. Time and again, the issues of the portal not loading, errors or crashes have been heard. Many have voiced their frustrations on social media over the lack of utility of the platform.
Sharesansar called Mr. Suresh Neupane, spokesperson of CDS and Clearing Limited, a company promoted by Nepal Stock Exchange in 2010 to provide centralized depository, clearing, and settlement services in Nepal. In case you didn't know, this is the company that operates Mero share, the online IPO application, and the share management portal. 
CDSC spokesperson Suresh Neupane once attributed the issues to an incredible number of requests they receive at a time. He said, "The primary reason was the massive volume of requests we get." He further added, "The normal volume was 15 to 16 thousand requests at a time. But this time, we are getting more than 50,000 requests at once."
A Dedicated Portal for IPO Checking
To address the growing frustrations of the general public pertinent to Meroshare's functionalities, especially for checking IPO status, CDSC created a dedicated portal iporesult.cdsc.com.np for IPO status checking. However, it has not addressed the existing issues. Currently, Jyoti Life Insurance's IPO results were out. However, as applicants went to the meroshare portal or app, they were locked out of the service.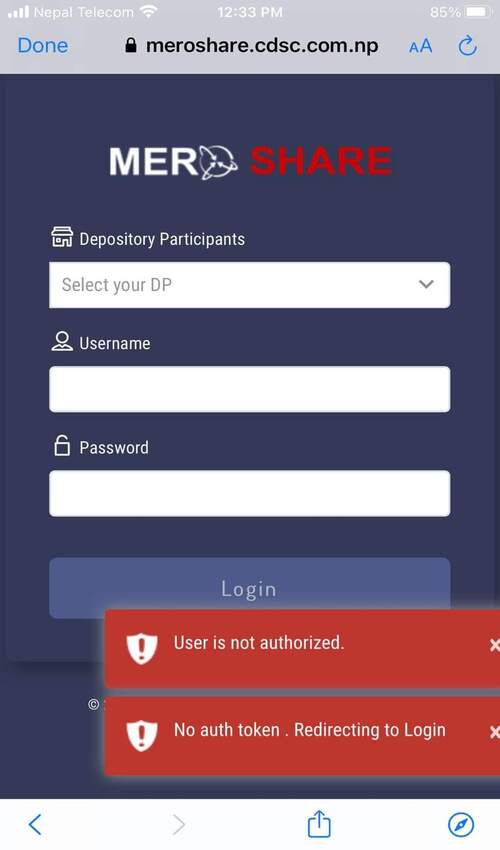 Everyone expected that with a new portal dedicated to IPOs, the existing issues would subside. But it hasn't happened much to the annoyance and displeasure of the share market enthusiasts.
Check out: Connect IPS review: Pay direct from Bank account
It is certain that CDSC is working on it continually to identify the bugs or shortcomings in their system to sort it out but investors want to sooner rather than later. Let's hope they correct the portal soon so that we can log in to the service and check the IPO status without hassles.
How has your experience been on the newly created portal for IPO checking? Are you also experiencing issues as others or you were an exception? Drop your opinions about it in the comments below.