The world's first-ever dual mode vehicle (DMV) travels in Japan courtesy of Asa Coast Railway company. The versatile four-wheeler looks like a minibus and has the capacity to run on both road and rail tracks.
The DMV first made its debut run in Kaiyo, Tokushima in Japan in 2021 after initial tests.
Nothing short of an engineering feat, the versatile transport system has the ability to ply the road with rubber tires and has steel wheels to run on railway tracks.
Shigeki Miura, CEO of Asa Coast Railway said that the DMV can replace the existing commercial transport systems in small towns such as Kaiyo with an aging and shrinking population.
 "This (DMV) can reach the locals (as a bus), and carry them onto the railway as well," CEO Shigeki Miura told Reuters. "Especially in rural areas with an aging population, we expect it to be a very good form of public transport."
The world's first dual mode vehicle comes with a capacity
The DMV can board 21 passengers and runs at 60kmph (37 mph) on rail tracks while it runs around 100kmph (62 mph) on public roads, the company said.
The vehicle is powered by diesel and comes in different color options – red, blue, and green. For now, they run along the coastal part of Shikoku island in southern Japan connecting small towns and offering passengers scenic views of the seaside. Since its operation, many have flocked to the small city to enjoy the ride and the scenic beauty.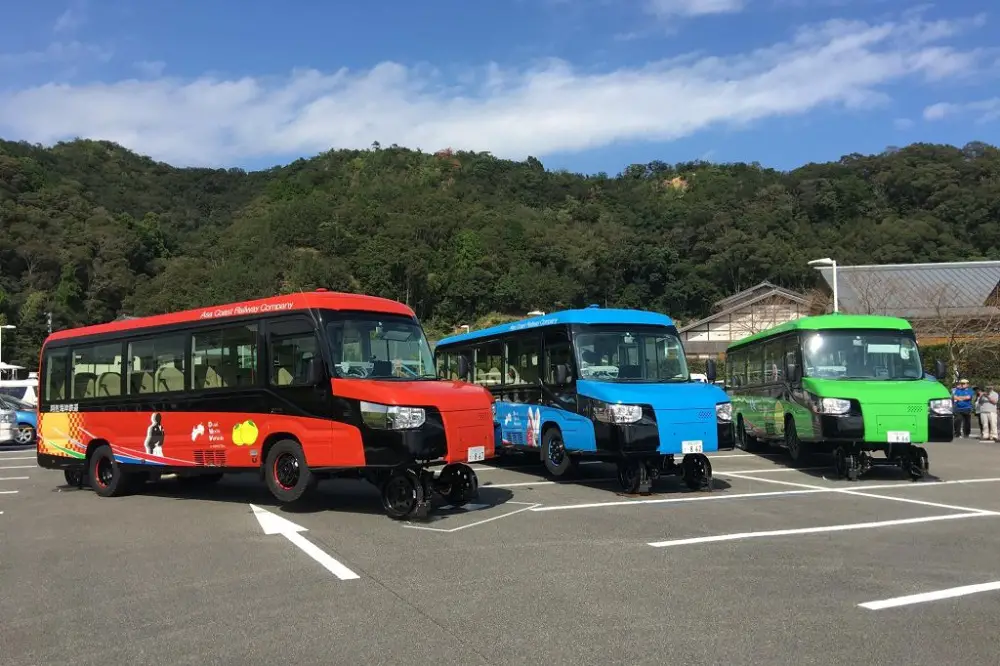 The DMV doesn't require passengers to switch from a bus to a train for travel and this is a major advantage for those riding on it. Additionally, it is time-efficient and convenient. More developments could also be seen in years to come that could raise its prospects further.
Miura expected that the record-setting DMB project could encourage railway fans from around Japan to visit.