Nepal Clearing House Limited (NCHL) has launched NFC payment on the ConnectIPS app's Nepal Pay QR service. Called Nepal Pay Tap, the contactless payment feature will allow users to make payments/transactions without the internet.
The new service was launched at an event recently held in Kathmandu.
The device works on devices that have NFC service. Short for Near Field Communication, NFC establishes communication between devices without the internet. With the service arriving at ConnectIPS, users won't have to bother with the lack of a data pack or internet service. All they need is to enable NFC on their smartphone.
NCHL introduced its NFC payment feature on ConnectIPS with Nepal Investment Mega Bank Ltd and FinPOS.
Also read: Namaste Pay launches Split Bills option for bill payment
NCHL and Nepal Investment Mega Bank launch NFC Payment on ConnectIPS
The NFC payment works more conveniently than QR in the sense that it requires no data connection. The tap & pay feature lets customers pay for products and services at POS terminals without using payment cards.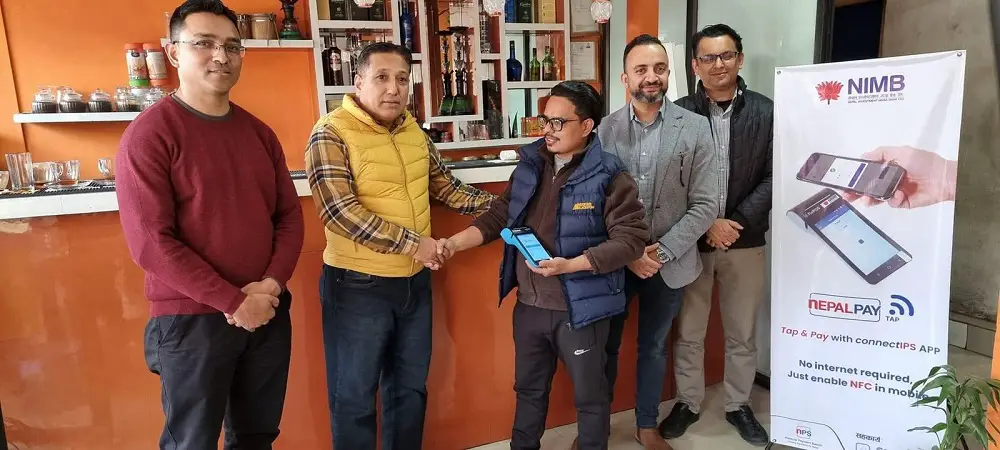 It works when an NFC-supported smartphone comes in close contact with another NFC-activated device. For example, ConnectIPS users with their NFC-enable device can bring their device closer to a POS terminal which establishes a connection between them and allows for a quick and convenient payment.
It's another hallmark for the company towards the Digital Nepal Framework. The government has highly encouraged digital transactions and the latest NFC payment feature in the country's fintech sector is another reinforcement for cashless payment.