The Federation of Computer Association Nepal (CAN Federation) is organizing the "Nepal Blockchain Conclave" on Bhadra 31 to promote awareness and empower blockchain technology in Nepal.
The event will involve an international-level interaction among the stakeholders, says CAN.
Clock B Business, which has been working in Blockchain Technology for 8 years is co-organizing the event. Blockchain Community Nepal is serving as the Community Partner.
Ranjit Podar, Chairman of CAN Federation said that the event will raise awareness about blockchain applications. He added that it will also serve as a chance for experts to share their knowledge on the technology, discuss its challenges and opportunities, and explore new space for its usage, etc.
Nepal Blockchain Conclave Highlights
Companies, experts, technology entrepreneurs, educational institutions, policymakers, and commissions from Nepal Government will attend the program. Discussions and sharing of knowledge regarding the technology among the experts will help promote blockchain and expand it, said Yuvaraj Acharya, Business Technology Chief at Cock B Business.
The event will feature a note speech and panel discussion on multiple blockchain-related topics. Similarly, there will be presentations by experts on finance, health, supply chain management, blockchain applications, etc.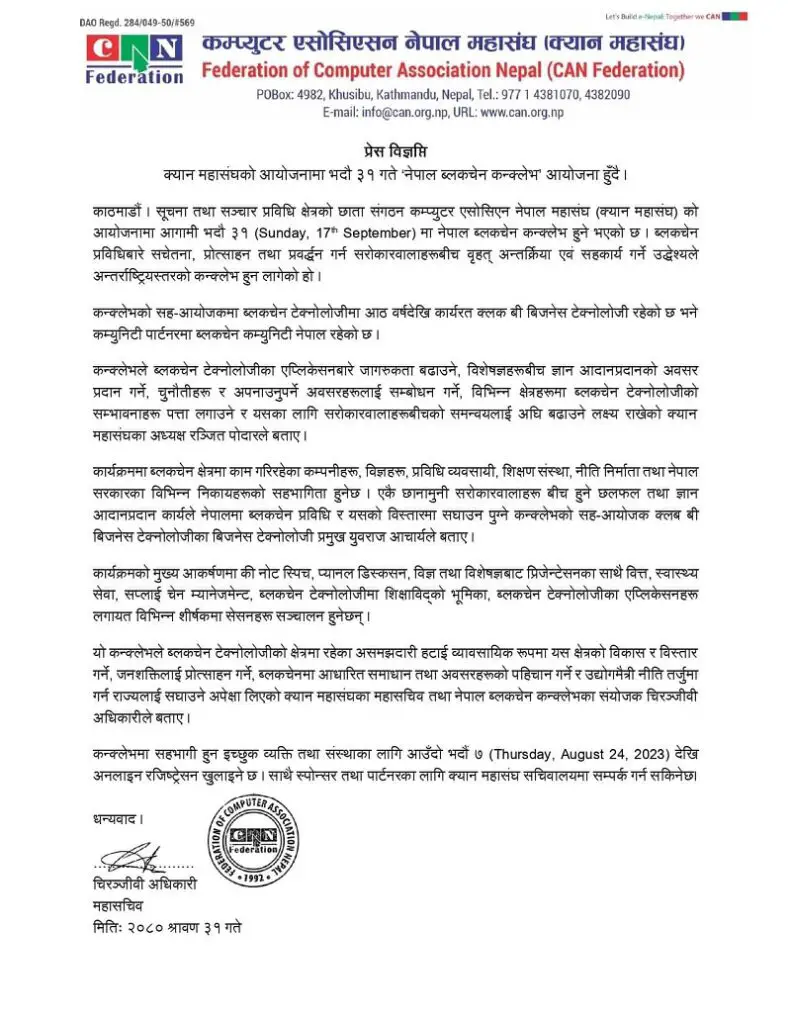 CAN Federation General Secretary and Nepal Blockchain Conclave Coordinator Chiranjivi Adhikari said that the flagship event will iron out misunderstandings regarding blockchain technology and help promote it for businesses, empower human resources, and explore opportunities, and help form new policies. He added that the technology could help the government in devising industry-friendly plans.
How to participate in Nepal Blockchain Conclave 2023?
Interested individuals and organizations can participate in the Nepal Blockchain Conclave 2023 by registering online which will open from Thursday Bhadra 07 (August 24). To become a sponsor and partner, the secretariat of the CAN Federation has to be contacted as per Adhikari.