Namaste Pay 10% Cashback Offer is live now. The offer from this government-owned e-wallet is applicable for recharge from Rs.50 on NTC numbers. Users can now also win a Mi Watch Lite smartwatch every week. Okay, let's know more about Namaste Pay 10% Cashback Offer below.
Namaste Pay 10% Cashback Offer on NT Recharge
Namaste Pay has been trying to uplift its services after the major backlash faced by the company during its half-baked app launch. So, the Namaste Pay 10% Cashback Offer is brought by the company which is providing 10% guaranteed cashback for recharge above Rs.50 on Nepal Telecom numbers. Hence, users can get flat Rs.5 cashback for Rs.50 top-up. Similarly, users will get Rs.10 cashback after recharging Rs.100. The scheme is valid from Feb 3rd to March 3rd.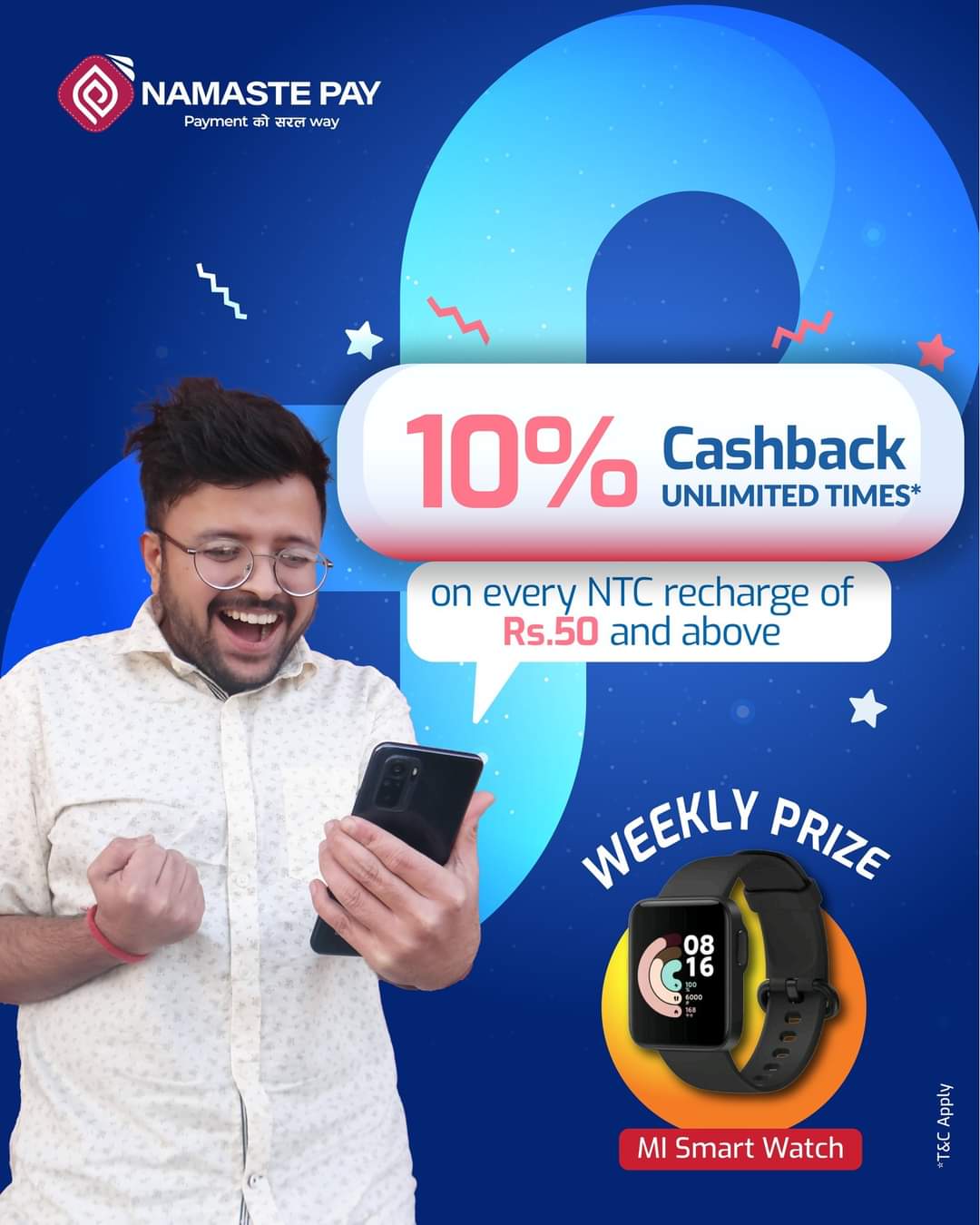 With every NT recharge, users will also stand a chance to win the Mi Watch Lite smartwatch from Xiaomi, every week. Each transaction counts as one entry & the higher the number of entries, the higher the chance to win Mi Watch Lite. The smartwatch was launched by Xiaomi Nepal in 2021. It features an LCD display and comes with heart rate monitoring & inbuilt GPS.
Terms & Conditions on Namaste Pay 10% Cashback Offer & Mi Watch Lite Gift
Each Recharge should be Rs.50 or above, and only be applicable for Nepal Telecom mobile numbers.
10% Cashback is provided on every recharge from Rs.50.
The offer is valid from February 3rd to March 3rd 2022.
Each transaction counts as one entry for winning Mi Watch Lite, every week.
Winners have to bear 25% gift tax for Mi Watch Lite.
The prize shall be distributed after 14-28 days from the day of winner announcement.
Users can also recharge others' NTC numbers for entry.
Top-ups can be done both online via the App and offline via USSD *500#.
About Namaste Pay & Recent Update
Namaste Pay was introduced in Bhadra 2077 by the collaboration of Nepal Telecom & Rashtriya Banijya Bank. This digital wallet has the biggest paid-up capital of 400 million. But the initial launch was full of bugs. The app was half-baked with no support for Android 11. Even linking bank accounts faced hassles in the initial time. With monthly updates, the problems got resolved step by step. Still, the UI is basic and offers limited payment options.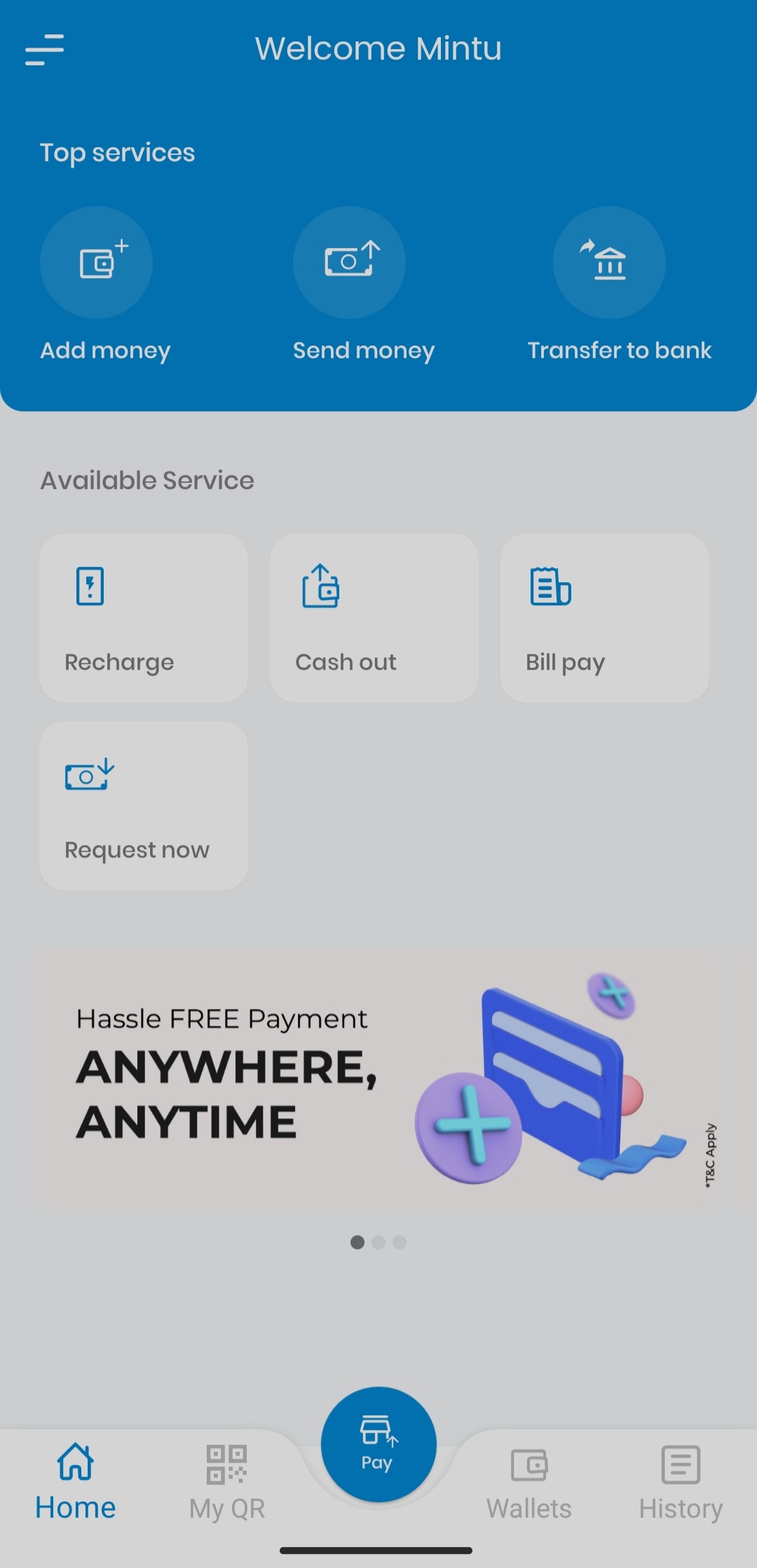 Also Check:- Digital Payment: Advantages and Disadvantages
The recent update was a noticeable one with support for loading money from more than 40 plus financial institutions. Bank linking options are still limited though. Additional features include bank transfer via Connect IPS to other banks, cash in via NIC Asia's internet & mobile banking options. The app aims for more features in nearby future. The USSD offline feature is the most distinctive one on this app. Dialing *500# allows users to register an account for the new users as well. For the registered ones, it can be used for mobile recharge, bank transfers, cash in from linked banks, etc.
Also Read:- Top 5 Digital Wallets in Nepal: Updated
Among the already competitive e-wallet market scenario in Nepal, Namaste Pay needs to take a huge leap in terms of adding new services, better UI & more exciting offers like this one. eSewa, Khalti & IME Pay are already leading the digital wallet market. Even other new digital wallets are emerging every month. The national Telco-backed Namaste Pay has ample prospects & budget to take the lead. I Hope, the abundant resources shall be utilized in the right manner at a faster pace.
Download Namaste Pay Here! (For Android Only, iOs launch is still due)