IME Pay has launched the Visa Card service bringing another digital payment option for its customers. It also makes it the first digital wallet in Nepal to introduce a Visa card service.
The service is useful for people who are still skeptical of mobile banking and digital wallets. So far, only banks and financial institutions have been providing different cards for services. It is the first time a digital wallet has begun such a service.
The company has focused on two types of customers – a virtual Visa card to pay for eCommerce shopping, and another physical card serving as a point-of-sale transaction.
IME Pay CEO Amod Bhattarai claims that getting the same Visa card is more straightforward at the company than obtaining one from a bank.
Do read: Mobile Banking vs Internet Banking, Which One is Better?
IME Pay Visa Card is easy and convenient
 "It is very easy to receive a Visa Card from IME Pay. Any agent on our network can go to a "location" get the card and enable it. Banks also provide the same card, but it's feasible with us," Bhattarai added.
Similarly, the company's marketing manager Ajay Thapa also capitalized. He said, "For instance, you had a bank account number. If you need a card on the same day, you would have to fill out a form and the whole process would take around a week. It also costs a charge. At IME Pay, we provide the service for free. After getting the card, it should be inserted into an ATM machine and the PIN must be reset to start using the service."  
Subscribers can also use IME Pay to limit the transaction amount, PIN reset card lock, etc. Besides, there are options to enable performing online payments, cash withdrawals from ATMs, POS payments, etc.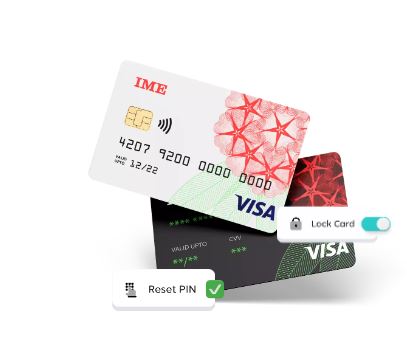 The company is focused on the mode of penetration to widen access so the service is made free. Mr. Bhattarai shared that the physical Visa Card is targeted at students.
 He said, "Students without a bank account are our main targets for the service. Those who need to make large transactions and without a bank account can benefit from our service."
Check out: Top 5 Digital Wallets in Nepal: Updated (2022)
How to enable Visa Card service on IME Pay?
IME Pay provides details of Visa cards to the willing subscribers. They also get a QR code. Upon scanning the QR, the customer needs to submit details. After this, the amount can be loaded into the app, and start transaction through a Visa card.
There are limits for transactions too. Through the IME Pay app, users can pay for eCommerce and POS up to Rs 2 lakh a session, Rs 5 lakh daily, and Rs 10 monthly. Likewise, through ATM, Rs 5 thousand 2 hundred, daily Rs 25,000, and monthly Rs 25,000 have been set as a limit.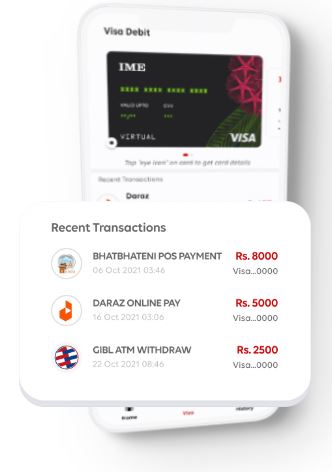 The payment through IME Pay is free for two different transactions. After that, fees will be charged for services. 
You can apply for Visa Card service via the IME Pay app and only KYC-verified users are eligible for it. If you have any queries, let us know in the comments below.