Gyanendra Dhungana has been appointed the new CEO of Nabil Bank Limited.
The successful banker will replace the outgoing Anil Keshary Shah
He will now play a role in the merger of Nabil Bank with the Nepal-Bangladesh Bank
Nabil Bank Limited has appointed Gyanendra Dhungana as its new CEO. The special general meeting held on Jestha 7 agreed on his appointment as the next leader of the leading commercial bank.
Dhungana, a former Nepal Bangladesh server is replacing the outgoing CEO Anil Keshary Shah by this month.
The newly appointed CEO Dhungala will take reigns on July 1 (Ashar 17th) at Nabil Bank.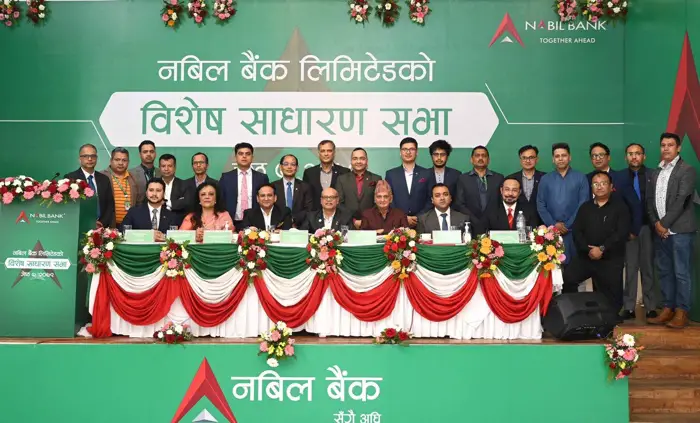 Also read: Nabil Bank Agrees with USDA, to Get a GSM 102 Listing
Dhungana's prestigious banking profile
Dhungana has served a decade in a managerial post at Nepal-Bangladesh Bank. While there, he worked on lifting the financial condition of the bank.
In Poush, Dhungana retired as the CEO of Nepal Bank. After this, he worked as the General Manager of Nepal Credit and Commerce (NCC). After a year stint, he went to the Nepal-Bangladesh Bank as the CEO.
Now, he will lead one of Nepal's most prominent commercial banks. Likewise, his 30 years of experience in banking speaks volumes of his credentials to lead the bank to further heights.  
Dhungana's "cooling period" is coming to an end on Ashar 12 following his resignation from the NB Bank on Poush 12. Then from Ashar 17 onwards, he will start his next glorious venture as the CEO of the Nabil Bank.
He will now lead the path to the merger with the NB bank as stipulated in the terms of the partnership. He will serve for years beginning July 1st.
What is your opinion on the appointment of the new CEO of Nabil Bank? Do share in the comments below.