Asia's first hydrogen train is launched in China with a top speed of 160 Kmph. The remarkable transport feat is developed by CRRC Changchun Railway Co and Chengdu Rail Transit.
Hydrogen technology is swiping through the industry. In August 2022, Germany launched its first-ever hydrogen-powered trains. Now, the Asian giant has boasted its own off-Chengdu CRRC production facility in Xinjin, Chengdu.
The semi-hydrogen train was demonstrated in November 2022 at the automobile exhibition of the 5th China International Import Expo (CIIE).
The historic transport system is powered by clean hydrogen energy and boasts zero-carbon renewable energy. It has a built-in system of hydrogen power which offers a range of 600 km with a top speed of 160 Kmph. The train uses its technology from the 'Fuxing' high-speed train.
It is estimated that the train can reduce carbon emissions by over 10,000 Kgs a year while running over 500 Kms.
Also read: Rolls Royce tests Jet Engine Running on Hydrogen
The capacity of the hydrogen train launched in China
China's first-ever hydrogen-powered train can carry 1,502 passengers and comes in with distinct features. It has automatic wake up, start and stop and return to depot.
Its other notable features include an intelligent monitoring system and sensors, 5G train-to-ground communication, and bio-data checks to assure everyone's safety.
The train gets its energy via a combination of hydrogen and oxygen through a chemical reaction in the hydrogen fuel cell. It is also low on noise.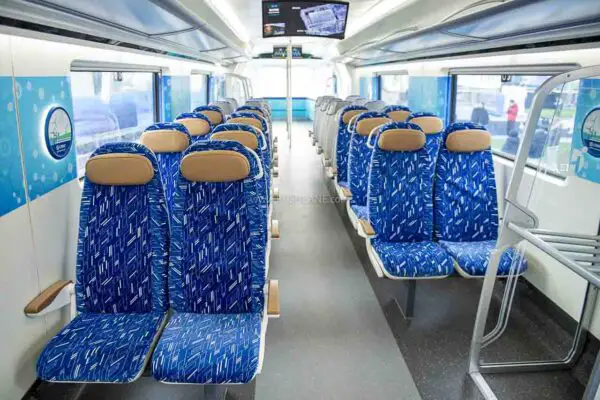 China has emphasized its hydrogen-based transport industry having already planned to build 50 thousand Hydrogen Fuel Cell Vehicles by 2025.
As the world turns its eyes towards clean energy, hydrogen could be the game changer in technology. The industry is estimated to get valued at $34.7 billion by 2030. Likewise, it is predicted to grow at a CAGR of 10.4% from 2031 – 2040 to reach $87.3 billion by 2040. Hydrogen's popularity owes to its capacity of minimizing carbon emissions.
Don't miss: World's First Electric Plane Alice Takes Off, 250 Miles Range
The technology's popularity is also growing in India. The country's railways authority plans to roll out hydrogen-based trains named Vande Bharat Express by the end of 2023.
In Nepal, Nepal Electricity Authority has also announced plans to work on Hydrogen technology.
As world transport looks towards eco-friendly, the eyes have turned towards electric and hydrogen-based vehicles.