Sikles, a popular tourist hotspot in Kaski, will have a cable car system constructed at Rs 7 billion. Sikles Cable Car Private Limited will build the ropeway system in Madi Rural Municipality, Kaski.
The company has submitted the project's possible environmental impact report to the Forest and Environment Ministry. The transport system will span across ward no. 1, and ward no. 2 in the Madi Rural Municipality. The total length of the project will be 6.41 km.
Once completed, it will further promote tourism in the area. Sikles has become an immediate popular destination for those seeking a respite. The number of people flocking to the area from around Kaski and beyond is on the increasing trend in recent years. It is a peaceful Gurung village with a scenic green atmosphere.
The cable car will have the lower station at ward no. 1 of Madi Rural Municipality and the upper station will be at ward no.2 of the same village. It will connect Pwaryum and Kori hill.
Check out: Langtang-Gosaikunda Trail Ready, a 40km road constructed  
A nearly Rs 7 billion project
The project will cost over Rs 6.90 billion and cover a 27.99-hectare area. The tower of the cable car will occupy 12.73 hector land. The lower station, mid-station, and upper station will cover 7.46 hector, 2.04 hector, and 5.76 hector area respectively.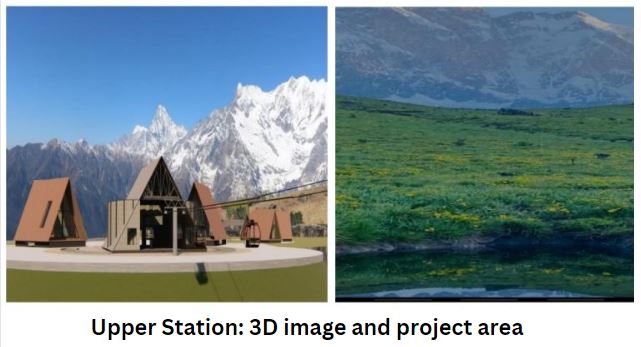 The Sikles cable car project will be 30 km away from Pokhara International Airport. There is a trail for hiking from the lower to the upper station of the project. The report shows that it will require the clearing of 3,801 trees and poles in between. The company will replenish the fallen trees with afforestation in a designated area.
Also read: Bandipur cable car operation and its IPO to open together
The Sikles Cable Car capacity and construction time
The cable car will have 60 boxes each capable of 8 passengers inside. Per day, it will offer services to 6000 visitors, the company said. The construction will be completed in phases. The first phase which consists of pre-construction planning is set to be completed within 1 year. The construction duration is set for 1.5 years and financial preparation will take 1 year. In total, the cable car will be ready in 3.5 years as per the plan.
The company says the project will benefit Sikles, Gandaki province, and the area's tourism sector.
The project is designed to operate for up to 30 years.