ICT Award 2021 nominations have opened in 11 categories. It is the 6th edition of the ICT Award that marked its beginning in 2016.
Nominations for the 6th edition of the prestigious ICT Award 2021 have officially begun from Ashadh 8, 2078 (June 22, 2021). The organizing committee announced the news via a virtual press meet. Aspiring Nepali individuals will vie for this much-lauded accolade in 11 different categories. Living with ICT is organizing this year's ICT Award 2021 in collaboration with various other government and private organizations.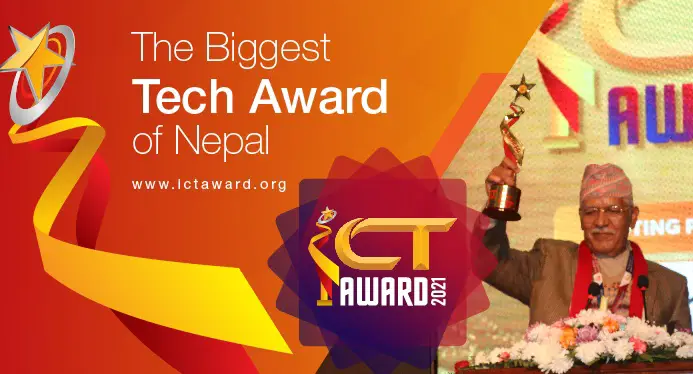 Despite COVID-19 forcing cancellations of various events last year, the ICT winners in 12 categories were honored at an exclusive ceremony at Soltee Hotel on December 23, 2020. The applications and nominations proceeded virtually. As the second wave of COVID-19 cases has finally come shrinking, the applications have been opened up for the current installment for the ICT Awards for this year. The deadline to apply for the award is set for 16, Shrawan, 2078 (31 July 2021).
With COVID-19 lockdown still in effect, most of the selection committee's meetings will remain virtual for this year as well. The selection committee comprises 2 dozen juries and advisors to honor the ICT award winners in 2021.
ICT award 2921 Two Broad Categories:
ICT Award entertains applications from young students, products, services, start-ups, etc. But there are some criteria set to receive the winner's award. Broadly there are two sets of awards presented: one for individual candidates, the other for private or public sectors.
Startup ICT Award, Product ICT Award, Rising Student ICT Award are the awards categories related to innovations and startups. Likewise, Pioneer ICT Award, Nepali Diaspora ICT Award, Entrepreneur ICT Award, and Media Person ICT Award are given to the individuals.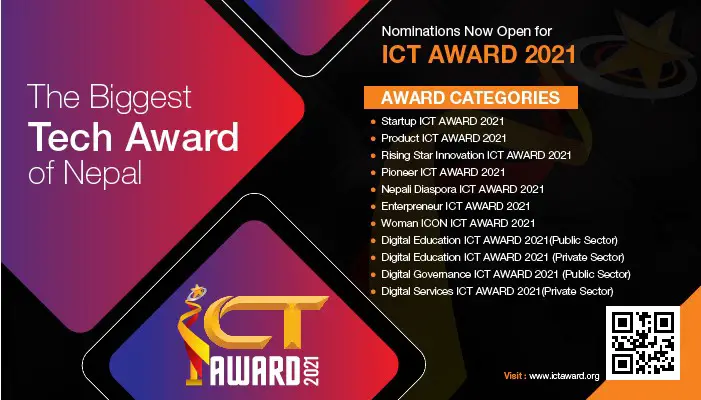 Similarly, the awards given to the government and private organizations include Digital Education ICT Award (Public Sector), Digital Education ICT Award (Private Sector), Digital Governance ICT Award (Public Sector), and Digital Governance ICT Award (Private Sector)
Nomination Of The winners
ICT Awards began in 2016 and has so far honored more than 50 individuals, organizations, companies, and products in various categories. Last year, Huawei ICT Award 2020 had received more than 400 online applications in 12 categories.
This year there is a more refined effort to make the selection process more systematic and fair. a jury team of more than 12 members will select the winners in different stages in the different selection processes for 3 months. After 3 rounds of selection in the Startup, Product, Student Star Innovation category, public voting will be conducted by declaring the top 5. Similarly, in other genres, 4 different stages of virtual selection and also a field visit will be carried.
Fairest Of The Awards
The organizers announced the opening of the ICT Awards via a virtual press conference. Razan Lamsal, the coordinator of the organizing committee, noted the awards need to be refined and expanded every year to explore more possibilities and excellence in the ICT field.
Similarly, Jury Coordinator Sushil Pokharel and Chief Jury Coordinator Hempal Shrestha opined the ICT Award should be made standard and credible from all quarters. Ph.D.Dr. Shuvarna Shakya said that the ICT award was the most reliable and fairest of the awards held in Nepal.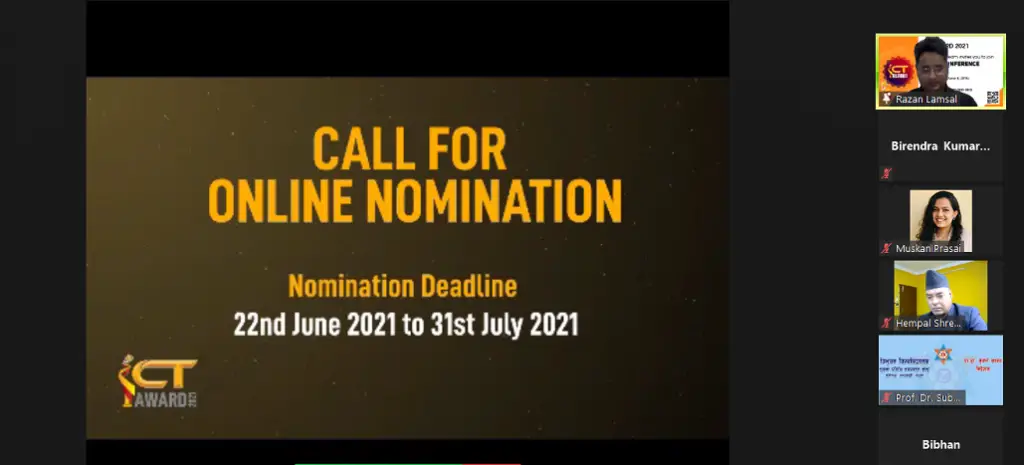 Speaking on the occasion, former Minister Ganesh Shah said that the ICT sector should be expanded, and this award has been making it meaningful. Similarly, Anil Dutt, Joint Secretary at the Ministry of Communications, and Information Technology, said that the ICT Award would promote Nepal's ICT sector and make the Digital Nepal campaign meaningful in collaboration with the private and public sectors. Former Joint Secretary Birendra Mishra, First President of CAN Federation Bimal Sharma, First Pioneer ICT Award winner Muni Shakya and others spoke on the importance of the award as well.
Award winners will be subject to various services and facilities with special honors. Winners of Startup, Product, Rising Star categories will also get concessional loan facility and investment opportunity.
Read: Satkar mobile app launched, a touch-free solution in the hospitality industry
How To Apply for ICT Award 2021?
The ICT Awards are not just for individuals. Interested candidates can also apply for their companies, products, or organizations in 11 separate categories. The deadline for applications is set for 16th Shrawan, 2078. For convenience, individuals or someone else can also register nominations on their behalf for the selections. To register for themselves or their organizations for awards, they need to visit ictaward.org, select their preferred category, and fill-up the form.
As mentioned, ICT Awards 2021 will honor winners in 11 categories. Below, we have more detail about each category and the winner from the previous year in it.
Startup ICT Award
This category promotes newly established ICT-related companies for their further growth. If you want to nominate your startup for this category, make sure your company is registered and operational under the prevailing laws of Nepal. Companies that are three years running can apply for awards in this category. Cryptogen Nepal Pvt, Ltd, was declared the winner last year.
Product ICT Award.
This category recognizes innovative products developed by Nepalese. Any company, organization, group, or individual can register their product for this Award. Remember that the product must have been made public from Baisakh 2077 to mid-Chaitra 2078. Last year CPFDS AML & KYC Management System took the prize in this category.
Rising Star Innovation ICT Award
This category invites applications from aspiring youth for their research, innovation, and projects prepared by college or university students under 30 years. Last year, St. Xavier's College's Student 'Sanchai Chhau' won the award in this category.
Pioneer ICT Award
The Pioneer ICT Award is presented to those for their distinguished contribution in the field of information and communication technology. Last year, Nilkantha Upreti was honored with this award.
Nepali Diaspora ICT Award
As the title suggests, the Nepali Diaspora ICT Award is presented to an individual of Nepali origin living abroad to mark her/his contribution to the ICT. Last year, Nepali Gaurav Raj Upadhyaya working at Amazon received the award.
Entrepreneur ICT Award
Entrepreneur ICT Award will be given to Nepali entrepreneurs active in the field of information technology. Last year, Vinay Bohara, Managing Director of Vianet, was the winner in this category.
Woman ICON ICT Award
Encouraging Nepalese women's participation in the ICT and promoting more inclusivity, this honor is presented to a woman for her remarkable effort in the ICT. Last year, Prof. Timila Yami Thapa was honored in this category.
Digital Education ICT Award (Public Sector)
The Digital Education ICT Award is given to the government and community educational institutions with the objective of encouraging the education sector to become digital and technology-friendly. Last year, Budhanilkantha School received an award in this category.
Digital Education ICT Award (Private Sector)
The Digital Education ICT Award (Private Sector) category is the newly added category this year with the aim of encouraging private sector educational institutions as well. Private schools, colleges, and educational institutions will be able to register nominations for this category.
Digital Governance ICT Award (Public Sector)
Successful government agencies, bodies, departments, or municipalities will be able to register nominations in this category by digitizing government services and facilities to provide technology-friendly services to the citizens. Last year, the Inland Revenue Department received the Digital Governance ICT Award.
Digital Services ICT Award (Private Sector)
In this category, private sector organizations, limited companies, or companies serving the public can register nominations. Apart from IT and software companies, other service-oriented private sector companies will also be able to participate in this category, which was added from this year.
Besides these, last year, Covid 19 targeted genre, Ncell Innovation Driven Crisis Response ICT Award was awarded to Paila Emergency Resuscitator. Kiran Acharya and Hamro Swasthya received the Media Person Award and Jury Mention Award 2020 respectively.
ICT Award is a very distinguished event for all Nepalese with a keen interest in ICT. The ceremony brings Nepali entrepreneurs, their tech, and innovations from all over the country under one roof and gives them the recognition they deserve. From pioneering individuals to startup enterprises, and diasporic Nepalese or women inside the country, the organization makes sure it is as inclusive as possible. The event can even be one catalyst for many aspirants who are looking for a vital boost in their ICT careers.
Are you also vying for the ICT Award 2021? Hurry up and sign up for it before the deadline. If you have any queries regarding the event, you can relay this in the comments below.