Just recently, Canon has officially launched its lineup of Digital Compact Cameras in India targeting Vlogging and Digital Creators. Launching officially in India thereby directly indicates its high chances of entering the Nepalese market sooner or later. Find Canon PowerShot V10 Camera Price in Nepal below.
The Canon PowerShot V10 is a powerful digital compact camera that is giving tough competition to GoPro and Insta 360 in its segment. GoPro and Insta 360 have been the OGs of Action Cameras and the Digital Compact Camera segment but the scenario now has completely been changed because of PowerShot V10's arrival. Let's look at what the new protagonist in the game is bringing to the table.
Don't Miss: Asus Zenbook 14 (2023) Price in Nepal
Canon PowerShot V10 Overview
Compact and Lightweight Design
The Canon PowerShot V10 is a powerful and advanced digital compact camera that is designed to revolutionize the vlogging industry. With its compact and lightweight design, this camera easily fits into your bag or even your pocket, weighing only about 211g. The camera is available in two colour variations; Black and Silver, providing a sleek and stylish look.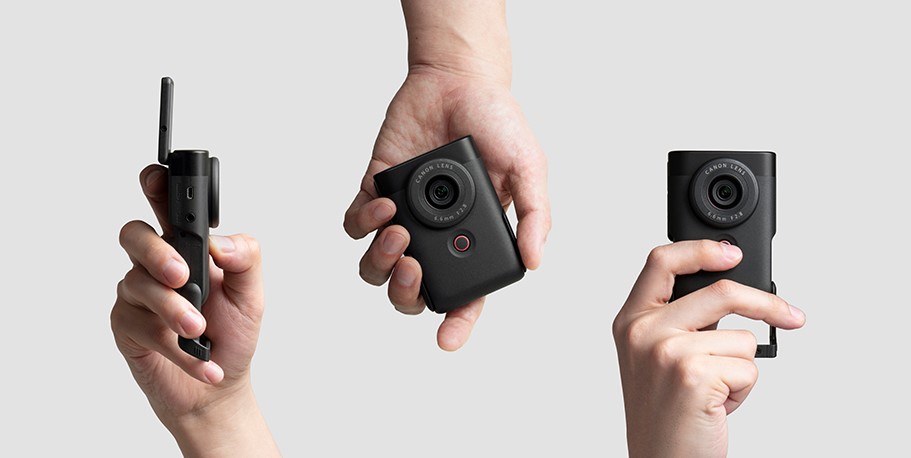 The PowerShot V10 was created with ergonomics in mind, making it incredibly comfortable to hold for both vertical and horizontal recording. You can easily record for longer periods with just one hand, thanks to the camera's lightweight and compact design. This means that you no longer have to fumble around with heavy gear when a good vlogging moment arises. The camera's inconspicuous design allows you to blend in with the crowd when shooting in public, providing a discreet and professional look.
Designed specifically for vloggers, the PowerShot V10 features 14 different aspect marker options, ensuring that your framing is always optimized for the social media platform of your choice. The camera's advanced features and ease of use make one-handed shooting while on the go extremely practical.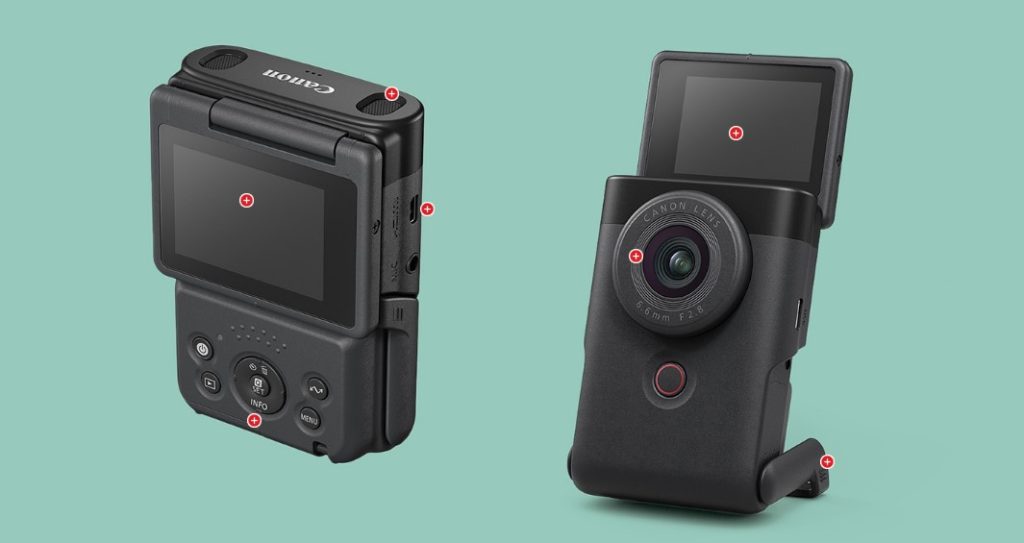 One of the most impressive features of the PowerShot V10 is its integrated retractable stand, which lets you set up your camera anywhere without the need for a separate tripod. This feature provides an incredible amount of flexibility, allowing you to shoot from a variety of angles, whether it be a lower angle or a higher angle. The stand can also be used as a grip when shooting with your hands, providing additional stability and control. Overall, the Canon PowerShot V10 is an excellent choice for content creators and vloggers who demand the best in terms of advanced features and ease of use.
4K Recording in Your Palm
The PowerShot V10 is a high-performance camera that allows you to capture stunning footage in the palm of your hand. With its 4K ultra-high definition resolution, four times that of full HD, the PowerShot V10 delivers crystal-clear and lifelike video. The camera is equipped with a 25.4-mm CMOS sensor and a DIGIC X image processing engine, allowing you to capture every detail with precision and accuracy. The camera also features Canon's colour reproduction technology, which is used in the EOS series, providing accurate colour representation and vivid footage. Whether shooting video or still images, the PowerShot V10 delivers stunning results even in low-light environments.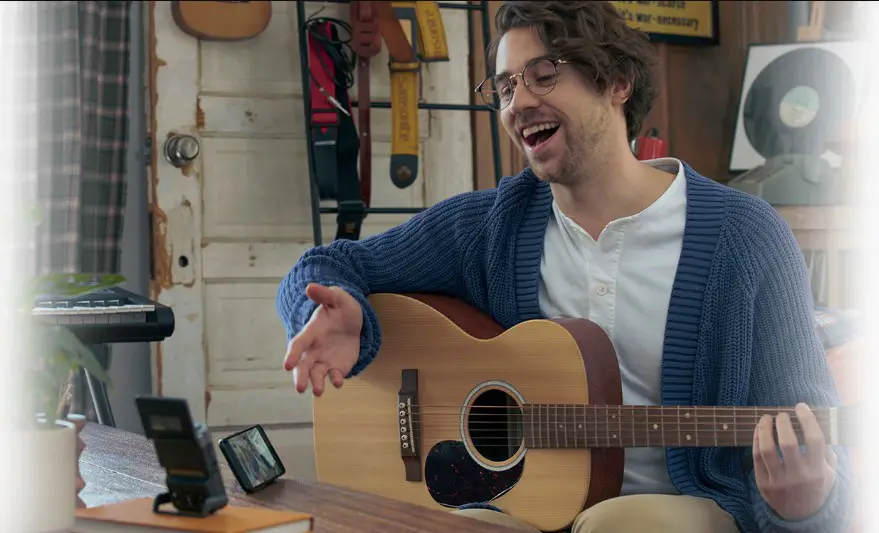 With various shooting modes, including auto and manual exposure, and up to 14 colour filters, the PowerShot V10 is equipped to help you achieve your ideal results regardless of your skill level or the extent to which you intend to edit your footage. The camera's tilt-type monitor allows you to experiment with different camera angles, giving you the flexibility to capture both high- and low-angle shots comfortably.
The PowerShot V10's autofocus makes it easy for even beginners to capture clear and focused footage. The Face Tracking AF automatically detects and keeps your face in the frame, while the Specified Frame AF lets you focus on specific points by tapping on the screen. The camera's Movie Auto ND filter automatically turns the built-in 3-stop ND filter on or off according to ambient brightness, providing perfectly exposed transitions from dim indoors to bright outdoor lighting in one smooth take.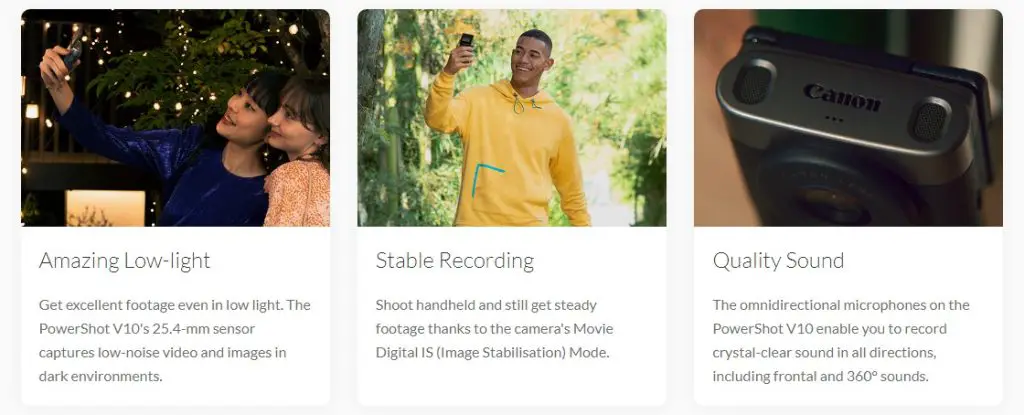 The camera's ergonomic vertical grip provides a comfortable and stable hold for both right- and left-handers, perfect for taking long handheld videos or trying out new transitions. The wide-angle-of-view lens allows you to record yourself, your friends, and the background behind you, all from a natural and comfortable arm position. The PowerShot V10 is also equipped with 14 aspect ratio markers, ensuring that your footage is perfectly framed for any sharing platform.
Easy Livestreaming & Connection
The PowerShot V10 is the perfect tool for content creators who need to share their footage in real-time, thanks to its support for multiple delivery methods. Live streaming, for example, can be done directly to popular platforms such as Facebook or YouTube through the Camera Connect app with minimal setup required. You can even live stream from the camera while on the go, simply by tapping into your smartphone's mobile network.
Another useful feature is the PowerShot V10's ability to function as a plug-and-play webcam, thanks to its USB-C connection. This means you can easily connect the camera to your computer and use it as a high-resolution webcam for live streaming or video conferencing. You can also use the wireless connection between the camera and the Canon Camera Connect app to transfer videos and photos directly from the camera to your smartphone, making it easy to share your content with your audience.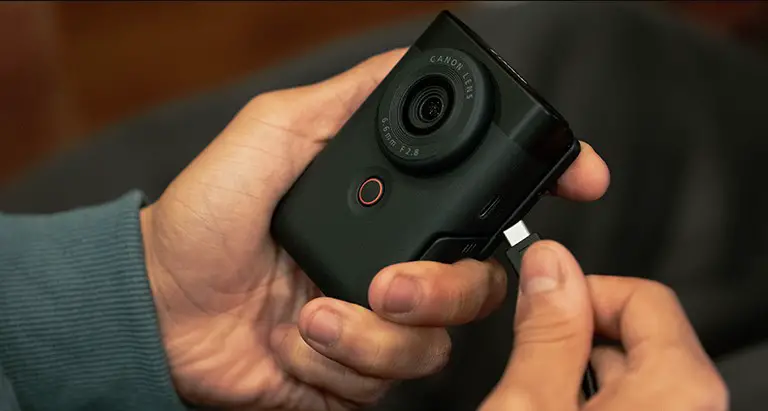 The image.canon Plug & Play Webcam feature lets you transfer your data to various online platforms such as Google Cloud, YouTube, Flickr, or Frame.io. The PowerShot V10's built-in stand can be used to prop up the camera when using it as a webcam. The camera's 25.4-mm CMOS sensor ensures that your footage is of high quality and accurate colour reproduction.
In addition, the PowerShot V10 comes with a USB Type-C charging port, which allows for easy charging using a compatible USB Type-C cable with a wall power point or portable power bank. With these advanced features, the PowerShot V10 makes it easy for you to create and share your content with your audience, no matter where you are.
Canon PowerShot V10 Camera Specifications
LCD Monitor: 2.0-inch tilt up, 460k resolution
Weight: 211g
Camera Sensor: 1.0 inch, 25.4-mm CMOS sensor, 19,, Angle of View Equivalent
Effective Megapixels: 13.1MP (Movie), 15.2MP (Still Photos), f/2.8 Max Apreture
Max Video recording: 4K UHD 30p/ FHD 60p
Image Processor: DIGIX X
Effective ISO: Still (125 – 12800), Movie (125 – 6400, Max ISO 3200 for 4K Movie)
Image resolution: 5472×3648 (L), 3648×2432 (M), 2736×1824(S1), 2400×1600(S2)
Image Stabilizer: Movie: Movie Digital IS
AF Method: Contrast AF
Mic: 2 large diameter microphones
Digital Zoom: 1.5x / 2.0x / 3.0x
Memory Card Type: Single Card Slot (microSD/microSDHC/microSDXC)
Connectivity: USB Type-C, USB 2.0, External Microphone IN, HDMI micro (Type D)
Colour Options: Black and Silver
Canon PowerShot V10 Price in Nepal: Rs. 65,000 (Expected)
Don't Miss: Google Message's Magic Compose AI
Canon PowerShot V10 Camera Price in Nepal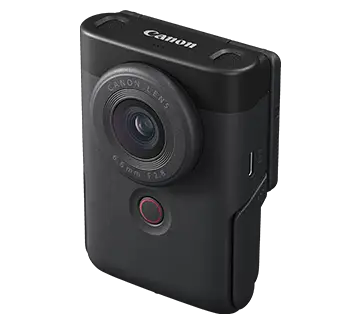 | | |
| --- | --- |
| Canon PowerShot V10 Camera | Price in Nepal (Expected) |
| Standard Kit | Rs. 65,000 |
In India, the Canon PowerShot V10 officially debuted at INR. 39,995. However, the Digital Compact Camera is only set to hit the shelves starting the month of June 2023. Therefore, we expect the Canon PowerShot V10 Price in Nepal to be around Rs. 65,000 after it enters the Nepalese market.
Our Verdict
The Canon PowerShot V10 can be a great alternative to GoPro and Insta 360 cameras for those who are looking for a compact, lightweight camera that can shoot high-quality video and photos. With its 4K UHD recording capability, 25.4-mm CMOS sensor, and DIGIC X image processing engine, the PowerShot V10 can produce stunning, clear footage and photos with vivid colours even in low light. 
It also has various shooting modes, as well as 14 colour filters and aspect ratio markers, that can help users achieve their desired results regardless of their skill level or editing needs. Additionally, the PowerShot V10 supports real-time delivery methods such as live streaming and can be used as a webcam via a plug-and-play USB-C connection, providing users with more flexibility and convenience in their content creation.
Don't Miss: Mobile Banking in Nepal