TVS iQube Electric Scooter is launched in Nepal. It is the first electric scooter from the brand in Nepal. Jagdamba Motors is the authorized distributor of TVS scooters in Nepal. The electric scooter comes with various attractive specs and features. So in this article, we will have a discussion about the TVS iQube price in Nepal, specifications, features, and availability.
Read: Pure EV Etryst 350 Price in Nepal | Electric Bike, Specs
TVS iQube Overview
Design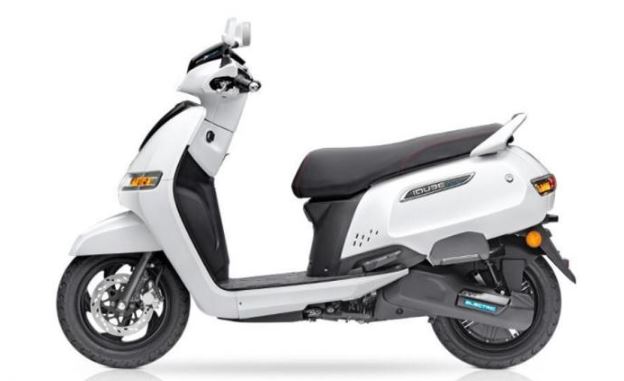 The TVS iQube has a modern design that is sure to turn heads. The scooter's dimensions of 1805 mm x 645 mm x 1140 mm (L x B x H) make it compact and agile, perfect for maneuvering through narrow lanes and tight spaces. The scooter's seat height is 770 mm and has a wheelbase of 1301 mm, so the iQube offers excellent stability, making it an ideal choice for urban commuting.
The TVS iQube's design exudes elegance and innovation with features such as the Smart LED Headlamp, integrated LED side indicators, strategically positioned LED Daytime Running Lights (DRL) at the handlebar and a sleek LED taillamp with integrated indicators. This electric scooter showcases a harmonious blend of style and functionality, setting a new standard for aesthetics and appeal. The electric scooter is available in different color options like White, Yellow, Copper, Blue, Grey, and Red for Standard and S variants.
Performance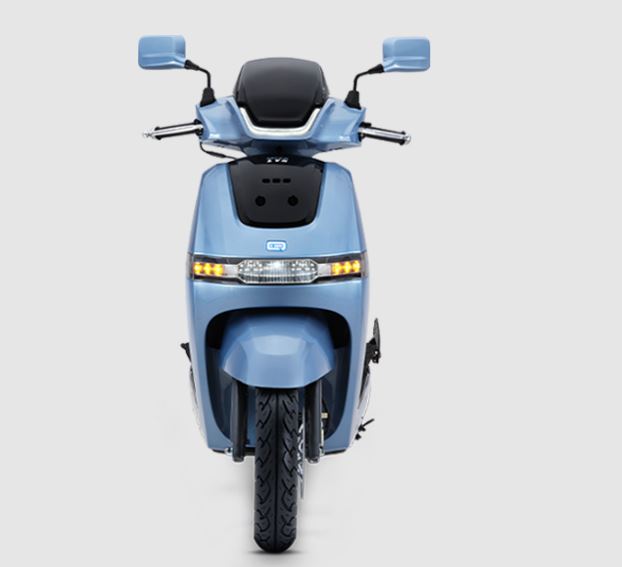 The TVS iQube comes equipped with a robust 3 kW BLDC Hub Motor, ensuring a smooth and responsive ride. This electric scooter has a peak power of 4.40 kW and a peak torque of 140 Nm, providing plenty of acceleration and smooth handling. With a top speed of 78 km/h, the TVS iQube makes it simple to maneuver through traffic. The iQube achieves the ideal mix between speed and safety whether you're navigating congested streets or cruising on broad roads. There is also additional support for a 950W charger.
This scooter has tubeless tires with a size of 90/90-12, which increase stability and traction while assuring a comfortable ride on a variety of road surfaces. The iQube incorporates regenerative braking technology, optimizing energy consumption and increasing overall efficiency. As for suspension, it has a Telescopic front Fork suspension and a Hydraulic twin-tube shock absorber at the rear. The vehicle boasts a ground clearance of 157 mm and comes with a 17-liter under-seat storage.
Battery Life
The TVS iQube boasts a 3.04 kWh non-removable lithium-ion battery, which provides sufficient energy to cover a range of 75 km to 100 km on a single charge. It has cutting-edge charging technology that makes charging simple and convenient. You can reduce downtime and improve your riding experience with a charging time of about 4.5 hours (0 to 80%).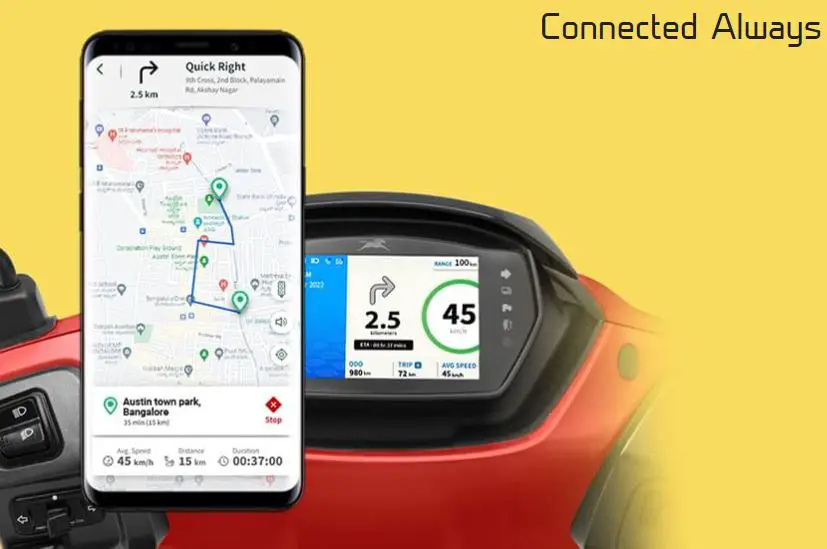 The TVS iQube electric scooter boasts a range of precise features that enhance convenience, safety, and connectivity. It guarantees durability and visibility with IP67 water and dust resistance, BMS-controlled battery protection, and an effective LED lighting system. Clear information is provided by the 5-inch or 7-inch TFT display, and SmartXonnect networking offers navigation and vehicle health monitoring. A 10-degree gradability, Power/Eco riding modes, reverse mode, 17 liters of under-seat storage, USB charging, anti-theft protection, disc-drum braking, and regenerative braking are all features of the scooter. 
Also Read: Best Electric Cars Price in Nepal | Latest 2023 Update
TVS iQube Technical Specifications
Dimension: 1805 mm x 645 mm x 1140 mm (L x B x H)
Ground Clearance: 157 mm
Wheelbase: 1301 mm
Seat Height: 770 mm
Weight: 117.2 Kg
Motor: 3 kW BLDC Hub Motor
Peak Power: 4.40 kW
Peak torque: 140 nm
Top Speed: 78 Kmph
Battery Capacity: 3.04 kWh
Battery Type: Lithium Ion (Non-Removable)
Range: 75 Km -100 Km
Charging Time:  4 hours 30 minutes (0 to 80%)
Tyre: 90/90-12 – Disc – Drum
Tubeless Tyres: Yes
Suspension: Telescopic Front Fork and Rear Hydraulic twin-tube shock absorber
Braking Type: Regenerative Braking
Colors: White.
TVS iQube Price in Nepal: Rs. 4,29,900 
TVS iQube Price in Nepal and Availability
The TVS iQube price in Nepal is Rs. 4,29,900. It will be available in a single variant in Nepal.
| | |
| --- | --- |
| TVS iQube | Price in Nepal (Official) |
| TVS iQube  | Rs. 4,29,900 |
TVS iQube Price in Nepal
Don't Miss: TVS Scooters Price in Nepal | Latest 2023 Update
The TVS iQube electric scooter is a standout choice for urban commuters. Its sleek design, powerful performance, and eco-friendly features make it an exceptional option in the market. With a robust motor and long-lasting battery, it delivers a smooth and efficient ride. The scooter's regenerative braking system and SmartXonnect connectivity add convenience and sustainability. Furthermore, its advanced technology, including BMS-controlled battery protection and IP67 water and dust resistance, ensures reliability and durability. All things considered, the TVS iQube provides a chic and environmentally mindful riding experience that is ideal for traversing city streets.
Do read: Best Electric Scooters Price in Nepal
TVS iQube is now available for sale in Nepal. If you want to learn more about the TVS iQube visit TVS showrooms near you.