Virtual RAM on Android smartphones is a make-do feature to extend the system memory of the device to make it run smoothly. If your device is lagging, and apps running glitchy, you can increase its memory to boost its performance. Let's find out more in detail.
A few years ago, Android phones came with 512 MB of RAM and still did the work. But that was then. Smartphones today have become a far more powerful beast with massively increased computational power. That requires more system memory than what it used in yesteryears. This is why smartphone OEMs have increased the RAM on their smartphone and also integrated the temporary memory feature to complement system memory.
In 2023, it's almost become common to see many mid-range and upper mid-range handsets come with 6 GB RAM or more. Premium devices such as Galaxy S23 Ultra comes with up to 12 GB RAM. OPPO Reno8 Pro 5G and Xiaomi 13 Pro also feature double-digit RAM options. However, still it might not meet the demands while multi-tasking or running graphic intense apps. That is when virtual memory on Android becomes handy.
What is virtual RAM on Android?
As stated, virtual RAM on Android is not present physically. It's a software-based solution to temporarily increase the system memory. Whenever your device feels a memory crunch, the system of the phone activates the extended memory to boost performance.
Having an extra dose of memory available means apps load and run faster too. Multi-tasking, split apps, and "floating app" features also run more smoothly. Once the power-heavy apps or operations end, the memory operation comes back to normal.
How does RAM work on Android?
In simpler terms, the virtual RAM distributes the memory among the apps. But let's delve deeper and learn first how RAM works on Android.
An Android smartphone has three different types of memory- RAM (LPDDR4, LPDDR4x), internal storage (eMMC or UFS), and zRAM. zRAM is another partition inside RAM which stores compressed data in the background. It allows for more space on your RAM to run in the foreground.
Check out: Redmi Note 12 Pro Launched in Nepal | Price and Specs
Android system uses memory management for RAM
Also, understand that the Android OS uses paging for memory management. The process breaks RAM into pieces called "pages" which carry around 4KB in size. The number of active pages determines the amount of used RAM on an Android phone.
These pages are classified into two types- 1. clean pages and 2. dirty pages. Clean pages save an unmodified copy of data in the storage and the data is static while dirty pages store modified copies and the data is dynamic and changes. The Android system replenishes clean pages when they don't need access to memory which eventually frees up RAM space.  
To illustrate better, if you launch apps such as Facebook app, it uses clean pages and remains static in the background when you use another app say Twitter. Now, the Facebook app is in the background and it's stored in RAM, but it doesn't refresh in the background.
When you select the Facebook app again, you get the timeline where you left off last.
However, apps like YouTube use dirty pages and keep running even when you don't actively use them. That means the RAM of such apps uses dirty pages and can't be closed. This is why, to save space, the system compresses such apps and stores them in zRAM so as to ensure that they keep running in the background.
How does virtual RAM work on Android?
Now you have understood the essence of zRAM on Android, it's easier to learn the operation of virtual memory. Extended or virtual RAM utilizes internal storage on the device by creating a partition that acts like zRAM.
Affordable devices come with "less RAM" (if you consider 6 GB less) so phone makers include the extended RAM feature in the system of those devices. Remember that the activated virtual RAM doesn't increase the physical memory of your Android rather it only uses the solution to keep you smooth when it has required more memory.
Is virtual RAM beneficial?
Yes, virtual RAM is certainly beneficial for phones. While it's certainly as assuring as the service provided by hardware, extended RAM does serve to make the device run faster. Especially, virtual RAM helps run gaming apps, multi-tasking, and camera processing faster.
How to enable virtual RAM on Android?
Activating virtual RAM on Android varies from brand to brand. However, they are accessed through Settings. In the past, the privilege was available only on rooted Android phones however, now, the phones come with the feature onboard.
Below, we list the steps to activate the feature on some popular Android smartphone brand phones.
How to enable virtual RAM on Redmi, Xiaomi, and Poco
Follow the steps below to extend the virtual RAM on your Xiaomi/Redmi/POCO phone:
Launch the Settings app on your Xiaomi, Redmi, or POCO phone 
Scroll to the bottom and find 'Additional Settings' and tap on it
Now, you see the 'Memory extension' option
Check it to activate and extend the RAM on your phone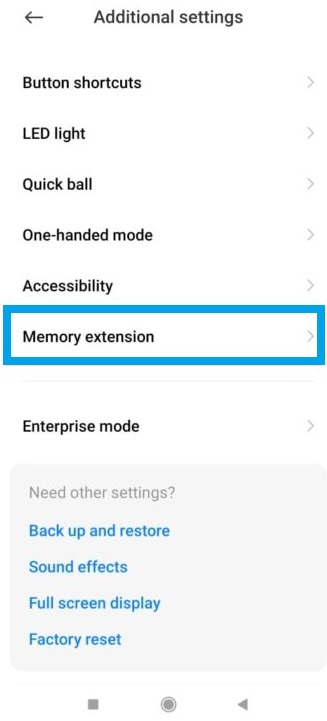 Also find: Xiaomi Mobile Price in Nepal | Latest 2023 Update
realme
Here's how you can extend the virtual RAM on your realme phone:
Launch the Settings app on your Realme handset
Tap on 'About phone' at the bottom, tap on it
Find RAM info and select it
Turn ON the switch
Now, you can extend your realme phone's RAM up to 3GB
Restart the device for the change to take effect
Check out: Realme Mobile Price in Nepal | Latest 2023 Update
OnePlus
Check out the steps below to expand virtual RAM on OnePlus:
Open the Settings app
Go to 'About phone' and tap on it
Choose the RAM option
Enable the feature
Slide your finger to choose the option among 2GB, 3GB, and 5GB to increase the memory
You need to reboot the device apply the changes
Don't miss: OnePlus 11 in Nepal | Price and Specs
How to enable virtual RAM on Samsung?
Samsung's RAM Plus, its version of extended RAM is now available on almost all Galaxy smartphones. Find out how you can enable it on your Galaxy mobile phone.
Tap on the Settings app on your Samsung Galaxy phone
At the bottom, you can see 'Battery and device care', tap on it
Select the 'Memory' option
Select 'RAM Plus'
Choose among the 2GB, 4GB, 6GB, and 8GB options to increase the virtual RAM
'Restart now' to let the changes take effect
Also read: Samsung mobile phone price in Nepal | Latest Update 2023
OPPO
Here are the steps to enable virtual RAM on OPPO:
Open the Settings app on your Oppo device
Tap on 'About phone' at the bottom
Tap on 'RAM'
Toggle on the RAM expansion option
Decide the amount of RAM you want to extend by sliding among 2GB, 3GB, and 5GB
Restart your device
vivo/iQOO
Vivo and iQoo devices with FuntouchOS also let you expand RAM virtually. Follow the option below:
Open the settings app
Find 'RAM and storage space' option and tap on it
Tap on the 'RAM' option
Enable the option not to expand the extended RAM on your vivo/iQOO phone