The post lets you know how to watch FIFA Football World Cup in Nepal (on TV, apps, streaming, and more) and also see the fixtures of WC 2022 in local Nepali time.
Football's greatest competition is set to kick off on November 20. As usual, it will attract over a billion viewers for around a month's time during the competition with the final match drawing the highest viewers count. Different countries have different TV channels and OTTs air the matches from Qatar.
In Nepal, the broadcasting of the World Cup matches will be slightly different. Nepali viewers have mostly watched live action on various channels including Indian TV channels. In the yesteryears, there was the privilege of watching different TV channels. But this time, so far, Himalaya TV is the only platform confirmed to air the matches from Qatar. To watch the World Cup, you need to pay Rs 500 + 13% VAT = Rs 565 to watch the World Cup Matches as Media Hub has implemented a subscription-based model for this edition.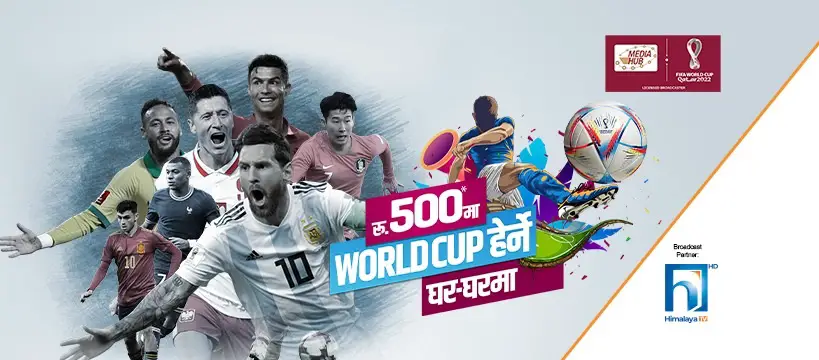 For the ardent, the pay-per-view scheme will still be a roadblock. They will buy the subscription to watch their favorite team battle it out. But for the unversed, we are going to detail different ways you can watch the World Cup matches in Nepal.  
Table of Contents
How to watch the FIFA Football World cup in Nepal 2022?
As stated above, first you need to buy a subscription to watch Football World Cup matches in Nepal. If you pass the requirements, you can avail yourself of a few different digital media options to watch the games at your convenience. Foreign channels airing the same content won't be allowed in Nepal as Media Hub has the sole rights to the broadcasting of all the matches, mascots, promotions, etc.
IPTVs
You can watch all the Football World Cup matches on your IPTV platform. Gone are the days when cable TV was the sole option. Now, IPTVs have wide availability around the country and offer a better TV viewing experience.  
NetTV and ViaTV are some of the more popular IPTV platforms and are going to air World Cup matches live. Both IPTV services come with internet packages from major ISPs in Nepal. NetTV comes with WorldLink and with many ISPs.
So, to be able to watch World cup football matches on your NetTV, you need to subscribe to the NetTV Prime package (with a FIFA World Cup subscription) on your STB.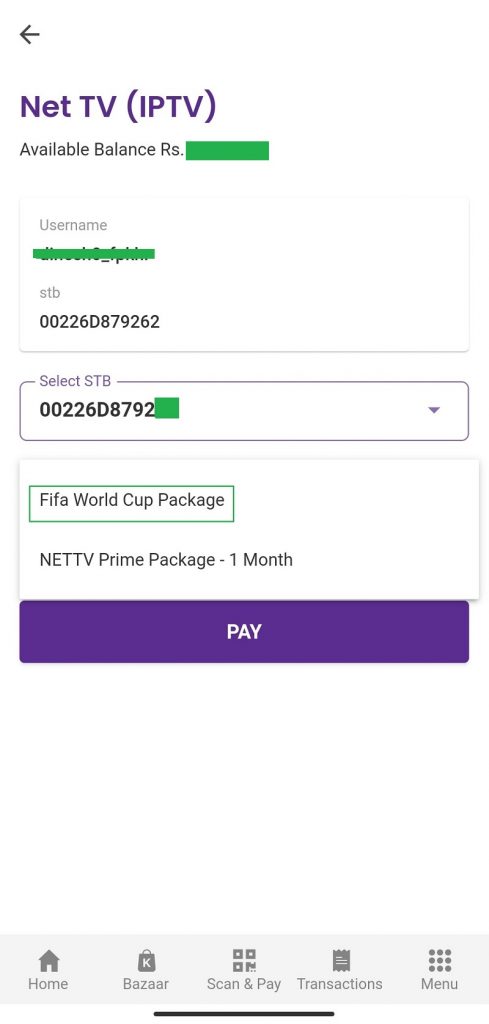 ViaTV has also announced a World Cup offers to cash in on the growing football fervor. It comes with Vianet internet packages. If you are an existing internet user, you probably have the option to watch the games on your TV. All you need to do is, buy Himalaya TV Premium HD packages from the options and secure a month of the sporting fest on your TV screen.
OTT Apps
If you want to watch games on your handheld devices, that is also possible on NetTV, and ViaTV apps. Both the platforms have apps on Android and iOS platforms and if you buy a subscription, you will have the privilege of watching the matches on the go.
ALSO READ: CGNET FTTH Offer is Here, FIFA World Cup Centric Package!
What for cable TV viewers?
So far, we have no confirmation regarding cable TV operators signing an agreement with Media Hub for the World Cup matches. That unfortunately means those on cable TV might not be able to enjoy the live matches unless a deal takes place.
Meanwhile, Dish Home has announced that it will also be airing World Cup matches but it hasn't revealed many details. We expect Action Sports to broadcast the matches.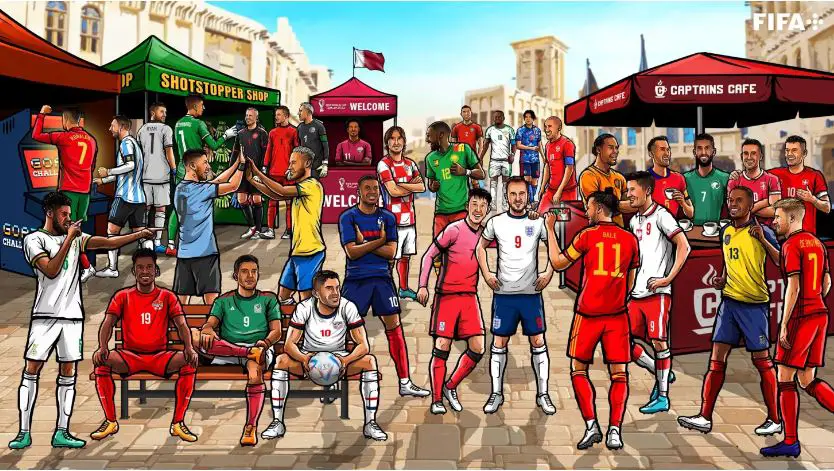 Third-Party apps
There are tons of third-party apps on app stores that stream football matches. If you want to avoid paying, resorting to those apps could be your lifesaver but they come with a caveat. Third-party streaming apps can be slow to start the matches and are susceptible to lags, and glitches. They are your options but certainly not the most reliable.
Facebook and other sites
Social media could be your other option to skip the paywall. While some could air the actual matches, others might redirect you to adware and malware, so be careful of choosing social media for the world cup matches.
FIFA Football World Cup Groups
Similar to last year, a total of 32 national teams will participate in the competition in Qatar. Through a draw, the teams are categorized into groups A with each group having four teams in it.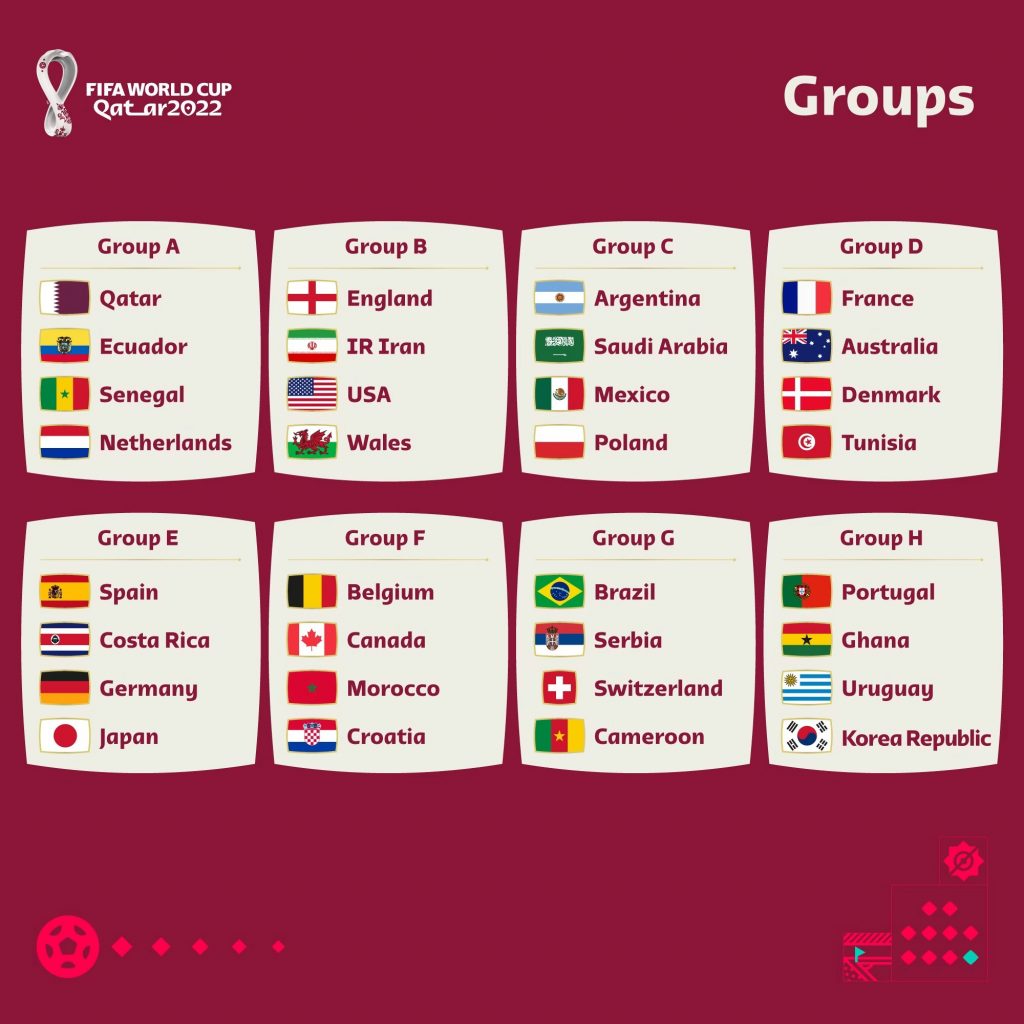 FIFA Football World Cup 2022 Fixtures in Nepali time – Group Stage
There will be 64 matches in the Group Stage which will decide the teams for the next stage of Round 16. Below are the Group Stage fixtures of the Football World Cup with Nepali time.
FIFA World Cup 2022 Starts – 20th November 2022 (Mangsir 4, 2079)
FIFA World Cup 2022 Ends -18th December 2022 (Poush 3, 2079)
Sunday, 20th November 2022 (Mangsir 4, 2079)
| | | | |
| --- | --- | --- | --- |
| Match No. | Group | Opening Fixture | Nepali Time |
| Match 1 | Group A | Qatar vs. Ecuador | 9:45 pm |
Monday, 21st November 2022 (Mangsir 5, 2079)
Match No.
Group
Fixtures
Nepali Time
Match 2
Group A
Senegal vs. Netherlands
9:45 pm
Match 3
Group B
England vs. IR Iran
6:45 pm
Match 4
Group B
USA vs. Wales
12:45 am
(22nd November)
Tuesday, 22nd November 2022 (Mangsir 6, 2079)
Match No.
Group
Fixtures
Nepali Time
Match 5
Group D
France vs. Australia
12:45 am
(23rd November)
Match 6
Group A
Denmark vs. Tunisia
6:45 pm
Match 7
Group B
Mexico vs. Poland
9:45 pm
Match 8
Group B
Argentina vs. Saudi Arabia
3:45 pm
Wednesday, 23rd November 2022, (Mangsir 7, 2079)
Match No.
Group
Fixtures
Nepali Time
Match 9
Group F
Belgium vs. Canada
12:45 am
(24th November)
Match 10
Group E
Spain vs. IC Play-off 2
9:45 pm
Match 11
Group E
Germany vs. Japan
6:45 pm
Match 12
Group F
Morocco vs. Croatia
3:45 pm
Thursday, 24th November 2022 (Mangsir 8, 2079)
Match No.
Group
Fixtures
Nepali Time
Match 13
Group G
Switzerland vs. Cameroon
3:45 pm
Match 14
Group H
Uruguay vs. Korea Republic
6:45 pm
Match 15
Group H
Portugal vs. Ghana
9:45 pm
Match 16
Group G
Brazil vs. Serbia
12:45 am
(25th November)
Friday, 25th November 2022 (Mangsir 9, 2079)
Match No.
Group
Fixtures
Nepali Time
Match 17
Group B
Wales vs. IR Iran
3:45 pm
Match 18
Group A
Qatar vs. Senegal
6:45 pm
Match 19
Group A
Netherlands vs. Ecuador
9:45 pm
Match 20
Group B
England vs. USA
12:45 am
(26th November)
Saturday, 26th November 2022 (Mangsir 10, 2079)
Match No.
Group
Fixtures
Nepali Time
Match 21
Group D
Tunisia vs. Australia
3:45 pm
Match 22
Group C
Poland vs. Saudi Arabia
6:45 pm
Match 23
Group D
France vs. Denmark
9:45 pm
Match 24
Group C
Argentina vs. Mexico
12:45 am
(27th November)
Sunday, 27th November 2022 (Mangsir 11, 2079)
Match No.
Group
Fixtures
Nepali Time
Match 25
Group E
Japan vs. IC Play-off 2
3:45 pm
Match 26
Group F
Belgium vs. Morocco
6:45 pm
Match 27
Group F
Croatia vs. Canada
9:45 pm
Match 28
Group E
Spain vs. Germany
12:45 am
(28th November)
Monday, 28th November 2022 (Mangsir 12, 2079)
Match No.
Group
Fixtures
Nepali Time
Match 29
Group G
Cameroon vs. Serbia
3:45 pm
Match 30
Group H
Korea Republic vs. Ghana
6:45 pm
Match 31
Group G
Brazil vs. Switzerland
9:45 pm
Match 32
Group H
Portugal vs. Uruguay
12:45 am
(29th November)
Tuesday, 29th November 2022 (Mangsir 13, 2079)
Match No.
Group
Fixtures
Nepali Time
Match 33
Group B
Wales vs. England
12:45 am
(30th November)
Match 34
Group B
IR Iran vs. USA
12:45 am
(30th November)
Match 35
Group A
Ecuador vs. Senegal
8:45 pm
Match 36
Group A
Netherlands vs. Qatar
8:45 pm
Wednesday, 30th November 2022 (Mangsir 14, 2079)
Match No.
Group
Fixtures
Nepali Time
Match 37
Group D
Australia vs. Denmark
8:45 pm
Match 38
Group D
Tunisia vs. France
8:45 pm
Match 39
Group C
Poland vs. Argentina
12:45 am
(1st December)
Match 40
Group C
Saudi Arabia vs. Mexico
12:45 am
(1st December)
Thursday, 1st December 2022 (Mangsir 15, 2079)
Match No.
Group
Fixtures
Nepali Time
Match 41
Group F
Croatia vs. Belgium
8:45 pm
Match 42
Group F
Canada vs. Morocco
8:45 pm
Match 43
Group E
Japan vs. Spain
12:45 am
(2nd December)
Match 44
Group E
IC Play-off 2 vs. Germany
12:45 am
(2nd December)
Friday, 2nd December 2022 (Mangsir 16, 2079)
Match No.
Group
Teams
Nepali Time
Local Time
Match 45
Group H
Ghana vs. Uruguay
8:45 pm
18:00
Match 46
Group H
Korea Republic vs. Portugal
8:45 pm
18:00
Match 47
Group G
Serbia vs. Switzerland
12:45 am
(2nd December)
22:00
Match 48
Group G
Cameroon vs. Brazil
12:45 am
(2nd December)
22:00
FIFA Football World Cup 2022 Fixtures in Nepali time – Round 16
Saturday, 3rd December 2022 (Mangsir 17, 2079)
Match No.
Fixtures
Nepali Time
Match 49
1A vs. 2B
8:45 pm
Match 50
1C vs. 2D
12:45 am
(4th December)
Sunday, 4th December 2022 (Mangsir 18, 2079)
Match No.
Fixtures
Nepali Time
Match 51
1B vs. 2A
12:45 am
(5th December)
Match 52
1D vs. 2C
8:45 pm
Monday, 5th December 2022 (Mangsir 19, 2079)
Match No.
Teams
Nepali Time
Match 53
1E vs. 2F
8:45 pm
Match 54
1G vs. 2H
12:45 am
(6th December)
Tuesday, 6th December 2022 (Mangsir 20, 2079)
Match No.
Fixtures
Nepali Time
Match 55
1F vs. 2E
8:45 pm
Match 56
1H vs. 2G
12:45 am
(7th December)
FIFA Football World Cup 2022 Quater-Finals in Nepali
Friday, 9th December 2022 (Mangsir 23, 2079)
Match No.
Fixtures
Nepali Time
Match 57
Winner 49 vs. Winner 50
12:45 am
(10th December)
Match 58
Winner 53 vs. Winner 54
8:45 pm
Saturday, 10th December 2022 (Mangsir 24, 2079)
Match No.
Fixtures
Nepali Time
Match 59
Winner 51 vs. Winner 52
12:45 am
(11th December)
Match 60
Winner 55 vs. Winner 56
8:45 pm
FIFA World Cup 2022 Semi-Finals in Nepali Time
Tuesday, 13th December 2022 (Mangsir 27, 2079)
Match No.
Fixture
Nepali Time
Match 61
Winner 57 vs. Winner 58
12:45 am
(14th December)
Date: 14th December 2022 (Mangsir 28, 2079)- Wednesday
Match No.
Fixture
Nepali Time
Match 62
Winner 59 vs. Winner 60
12:45 am
(15th December)
FIFA World Cup 2022 Play-off for third place in Nepali Time
Saturday, 17th December 2022 (Poush 2, 2079)
| Match No. | Fixture | Nepali Time |
| --- | --- | --- |
| Match 63 | Runner Up 61 vs. Runner Up 62 | 8:45 pm |
FIFA World Cup 2022 Final in Nepali Time
Sunday, 18th December 2022 (Poush 3, 2079)
| Match No. | Teams | Nepali Time |
| --- | --- | --- |
| Match 64 | Winner 61 vs. Winner 62 | 8:45 pm |