Renowned two-wheeler company, TVS organized an exciting AOG ride event in Dhangadi for its respected riders. Short for the "Apache Owner Group, the event spanning Bageshwori Automotives Pvt. Ltd. to State 7 Hotel, Godawari drew 40 amazing riders. The popular event took place on August 27.  
The ride event attracted passionate and popular riders. Among the participants in it were YouTuber Rupesh BK, Vlogger Chiranjibi Upadhyaya, and TikToker Lokesh Thakuri who completed the enthralling ride and shared their experience. They said, "Through this event, they've got an amazing opportunity to gain information about road safety. This is a matter of pride for us. It is really appreciated and welcoming that, this kind of program is being organized in a tourist place in Nepal, Dhangadi. We expect such programs to be held in the future as well."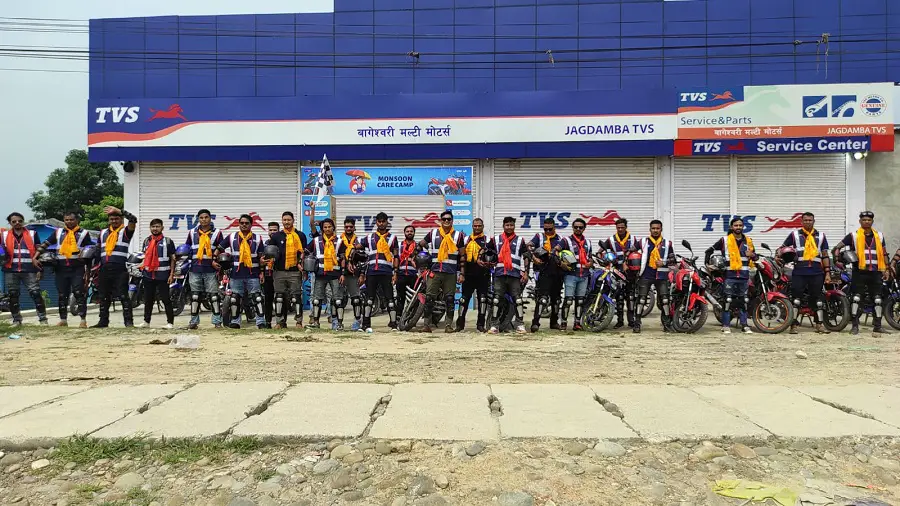 Likewise, they expressed their joy for being part of the event and extended gratitude to TVS for organizing the event in Dhangadi especially, as no other brands have come up with such an initiative yet.  
Also see: Yatri Project 0 Bike; Find Price and Features
After the AOG ride event in Dhangadi, more will follow in other areas
To date, the popular two-wheeler brand has completed the AOG ride program in Kathmandu, Koshi, Lumbini, and Narayani. The company plans to hold this much-loved event soon in other regions too.
Jagdamba Motors Pvt. Ltd. is the only official distributor for TVS two-wheelers in Nepal. It has a strong nationwide distribution network comprising of more than 132 dealers across Nepal. TVS has been able to maintain its stronghold in the market and in the meantime has been successful in securing a strong place in the minds of Nepali customers. Today, TVS Nepal is one of the most loved and preferred two-wheeler brands in Nepal. The brand is the favorite for two-wheeler riders for the highest customer satisfaction through quality products, extensive after-sales service, and availability of spare parts across the country.
Would you love for TVS to organize such ride events in your area? Let us know in the comments below.