SEE Result 2078/79 on Sparrow SMS is happening. National Education Board and Sparrow SMS Pvt Ltd have signed an official agreement, enabling students to view SEE Result 2078/79 on Sparrow SMS. Now, the SEE appeared students can obtain their results on their mobile. Let's know more about this below.
SEE Result 2078/79 on Sparrow SMS
Sparrow SMS has been a reliable platform for viewing SEE/SLC results for a decade. The SMS tech company is a well-known name among Nepalese students. With SEE results coming near, this service will avail thousands of students in the country.
Manoj Thapa, CEO, Janaki Technology (Sparrow SMS) stated, "Getting to know your result within a second is the most exciting and thrilling experience, SPARROW SMS is proud to share those feelings with millions of students."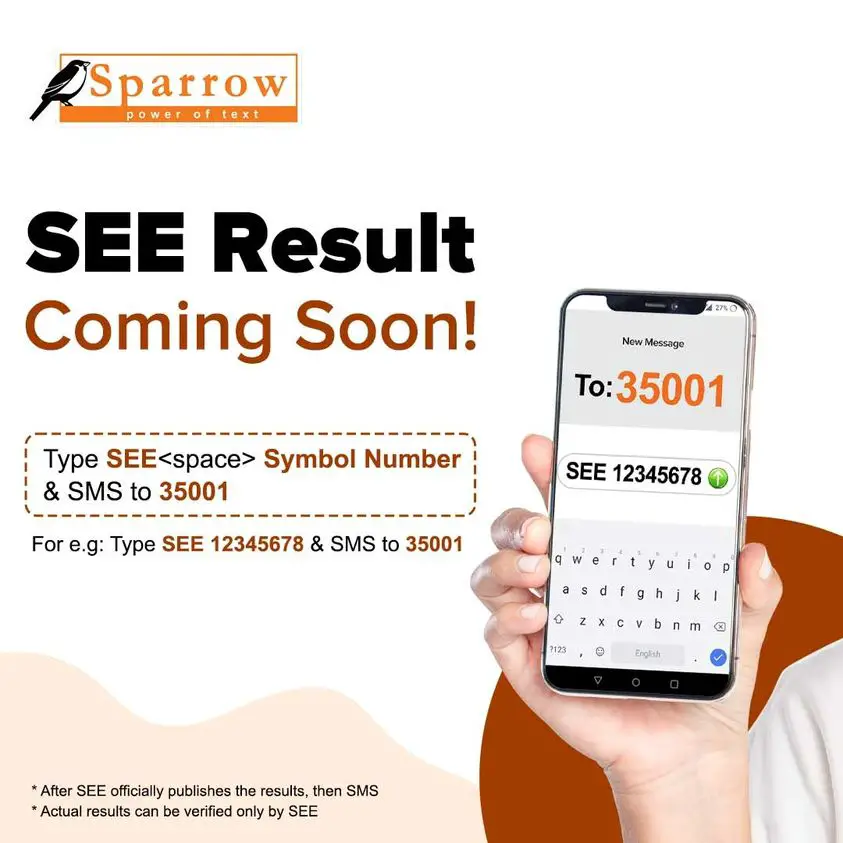 Also, Read:- Engineers Will Need to Pass a License Exam for Work
How To Get SEE Result 2078/79 on Sparrow SMS?
To view your SEE(SLC) result 2078/2079 on Sparrow SMS, you can follow the following steps:
Head toward your mobile messages (SMS) box
Write a new message
Type your SEE <space> Symbol Number (For example, SEE 987456123)
Send an SMS to 35001 using SIM 1 or SIM 2
After you have sent the text, you will be notified by Sparrow SMS after some minutes with your grades. But note that the SMS service will only commence after NEB publishes the results officially.
Check out: How to check SEE results Marksheets Online? | Ntc Call, SMS, websites
About Sparrow SMS
Sparrow SMS is a pioneer company in Nepal which is specialized in providing bulk SMS service to both government and private firms/companies. A popular name among school and college-level students, Sparrow SMS has been the go-to choice for viewing exam results of various study levels.
Just a while ago, it introduced a bulk voice messaging service. It allows users or organizations to send voice messages to a large number of recipients at once. The company is soon bringing Sparrow Voice and Viber Business Messaging Service.
Have a Read:- Kantipur Television IPO Worth Rs.75 Million Launching Soon!
So that was all about SEE Result 2078/79 on Sparrow SMS. This is indeed a great option for not only those living in city areas but also for those living in rural ones. Many Himalayan and hilly mountains are still far from broadband internet. Hence, the service will be pretty handy to get the results using a mobile network and a simple keypad phone.
We wish all the best to all SEE appeared students for the results and future endeavors. Tell us what do you think about SEE Result 2078/79 on Sparrow SMS. If you have any queries, do not hesitate to ask in the comment section below. Also, you can leave your thoughts and opinions.